Mudavadi 'earthquake' has created major upset in OKA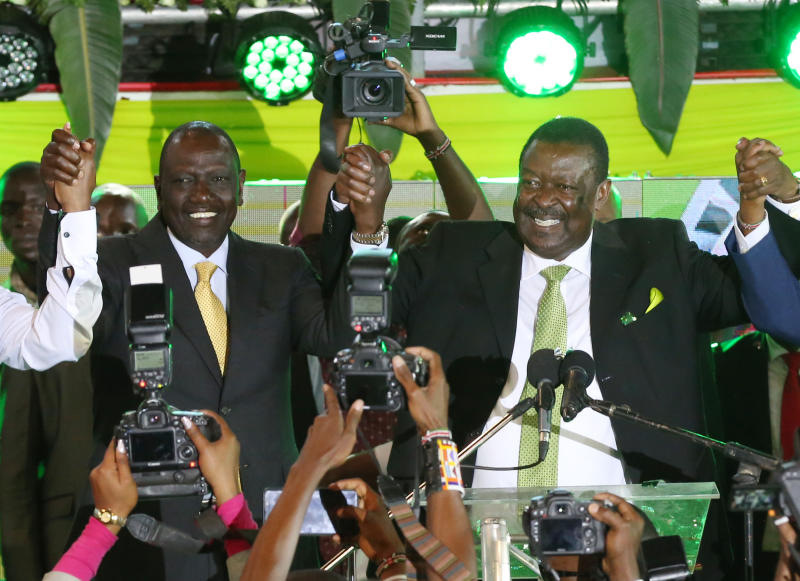 Political jokes, correctly delivered, assuage tensions while conveying serious messages. Levity is dependent on the panache of the deliverer and their ability to communicate succinctly. The most effective speakers are those who express themselves in tones with nuanced meanings that are easily understood by their audience.
Former President Mwai Kibaki was master of the political punchline. Asked whether he thought the removal of the then ruling party Kanu was imminent, he famously retorted that it was like "trying to cut down a Mugumo tree with a razor blade." With a humorous one-liner, he threw the futility of such action into stark relief!
West Pokot Governor John Lonyangapuo, ridiculed a fierce critic by referring to him as "Mulmulwas". His audience understood the reference to mean an indolent, stocky good-for-nothing fellow. In one fell swoop, he humourously defanged an adversary and ensured a relatively trouble-free tenure.
Senior politician Musalia Mudavadi has been the butt of jokes lately. As head of ANC, a political party, he promised an earth-shattering pronouncement at the party's national conference. This pronouncement made him the object of derisive comments with many "waiting for the earthquake with bated breath."
Perhaps those deriding Mudavadi's "earthquake" do so because they cannot reconcile his image with that of the typical Kenyan politician. Where there are loud, angry recriminations, he is the voice of reason. His soft, measured tones make him sound erudite on any topic of discourse. In a country of fractious and often violently confrontational politics, Mudavadi is the antithesis of the quintessential forceful politician; an archetype of Kibaki, "the gentleman of Kenyan politics."
But Mudavadi's cherubic features and avuncular demeanour belie a cunning that has kept him in national limelight for decades on end. That he has been in active politics for more than 30 years, 15 of which without an elective office, is no mean feat. It speaks to his ability to stay relevant; to command a sizeable chunk of the Western Kenya vote which positions him strategically for political purposes.
His putative Achille's heel has been the prevarication on important issues. In the past, it cost him dearly. For instance, when at the last minute, he threw in his lot with the then unpopular Kanu, he lost his parliamentary seat and suffered a stint in the political cold. In another instant, he got into a presidential race at the eleventh hour, ceding all momentum to others and eventually finishing in third place.
However, following Sunday's "earthquake" declaration, he seems to have turned over a new leaf. Abandoning his One Kenya Alliance (OKA) colleagues who are still dithering on who to join, Mudavadi has joined forces with Deputy President William Ruto. He has resolutely decided that going forward, ANC and the DP's UDA party will hold joint political rallies with a view to participating in the forthcoming national elections as allies.
The "earthquake" has created a major upset in OKA. Ambivalent about their political affiliations, the remaining principals must now choose a side. Either go with the DP, as Mudavadi has done, or join the opposing Azimio la Umoja side and back former PM Raila Odinga"s bid for the presidency. Whichever way, Mudavadi has upstaged them by a sleight of hand. Should they join the DP, they will be below him in the pecking order. Should they go with Raila, they may have to be content with bargaining for lesser positions because Odinga appears set to pick a running mate from Central Kenya.
Should Mudavadi become Ruto's running mate, he would bring infinite value to the latter's campaign by uniting the populous Luhya vote. Should he go it alone, he could be the beneficiary of a protest vote from those dissatisfied with current lead presidential contenders. Either way, Mudavadi gets to laugh last at those who found his "earthquake" pronouncements risible. The joke is, after all, on them. A quote from King Henry the 7th puts this in perspective; "the problem with political jokes is they get elected."
Mr Khafafa is a public policy analyst