The corrupt have been having the ball.... how judge Koome will deal with the vice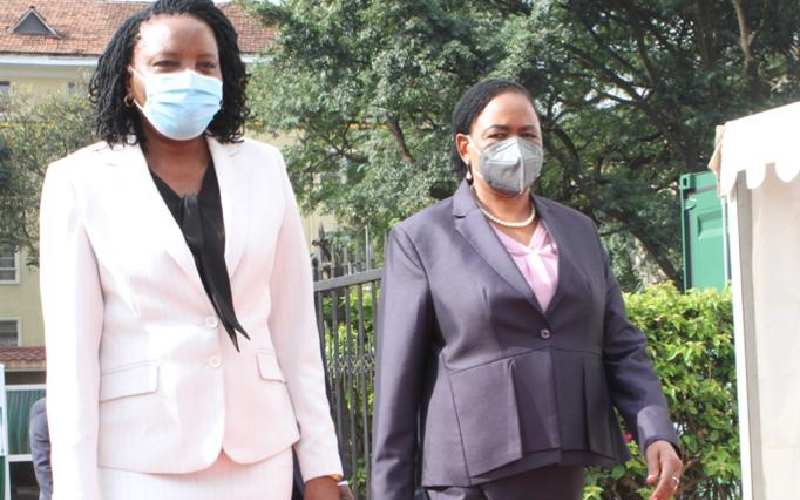 The Court of Appeal Judge Martha Koome has said she will make corruption cases time-bound if she gets the Chief Justice job.
Koome who is seeking to take over from retired Chief Justice David Maraga said the corrupt have been having their days in court while the Judiciary is being accused of doing little.
She said in her tenure as the Chief Justice, she will make corruption an expensive affair.
Koome who is trying her second stab at the position said corruption cases have delayed in courts because there are no proper guidelines on how the cases should be handled.
She was appearing before the Judicial Service Commission vetting panel at the Supreme Court Building on Wednesday.
" I will make corruption an expensive affair and ensure there are stiffer punitive measures put in place. For instance, if those mentioned in corruption lost their jobs, it would serve as an example to others and at the end, it would deter this massive corruption," she said.
With a 33-year experience in matters law, Koome said it is amasing that cases like presidential petitions are given timelines yet corruption cases that have become rampant to the country and economy delay in the same courts.
Take a quick survey and help us improve our website!
Take a survey
"We have very many corruption cases in the courts and the perception out here is that the Judiciary is not doing enough. I will ensure that we develop timeframes in which these cases will be dealt with," she said.
"I will strive to end the blame games that have persisted over the years between all the agencies mandated to fight the vice," Koome added.
She was responding to a question from Attorney General Kihara Kariuki who sought to know how she will deal with corruption challenges within the Judiciary.
Koome said for the judges who are implicated in corruption, she will ensure the office of the Ombudsperson and the JSC move with speed to investigate the matter in good record time.
"I will ensure systems to manage and finalise the cases are put in place, look at the existing problems that have contributed to the delays and fix them," Koome said.
The judge said she will put a robust five-year transformative agenda to ensure the transformation initiated by former Chief Justices Willy Mutunga and David Maraga is taken to fruition.
"This office needs a reform-oriented Chief Justice to carry the transformative agenda laid down. We can lose everything and slide back to where we were if not careful," she said.
She said there is a great need to evaluate what has been done especially with regard to the mandate of the Judiciary.
Koome said the current collaboration and linkages with other arms of government need to be understood and separated from the independence of the Judiciary.
"Independence of judiciary is untouchable and no go zone. But we cannot work as an island, we need linkages with other state departments. However, there should be a clear separation of these linkages and the Judiciary's independence," she said.
Koome said the Judiciary has for years experienced financial constraints due to budgetary cuts, but with her good network and skills in negotiation, she would seek donor funds to run some of the Judiciary activities.
She said she would prioritise the use of modern technology and clearance of case backlog in her first days in office.
"My aim would be to have a Supreme Court and a judicial service that is its image is projected to set precedents that will be referred to in many generations to come," she said.