The tragic tale of John Pombe Magufuli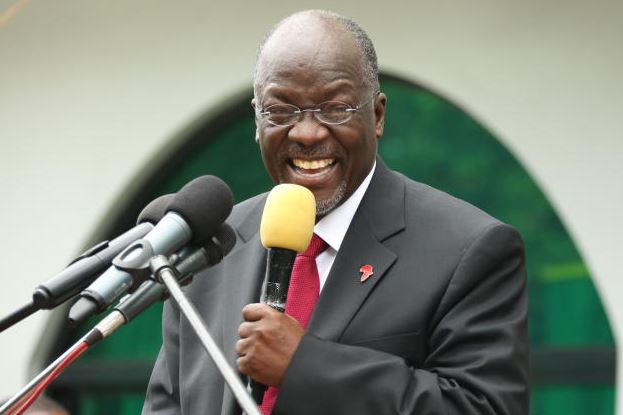 The story of Dr John Pombe Magufuli begins on the shores of Lake Victoria where he strutted his small frame and signed up to his destiny as one of Africa's most controversial leaders.
Emerging barefoot from a grass-thatched hut every morning, he would rise to be driven into the imposing State House every evening in a majestic convoy. In-between, the sum of his life under the sun was a contradiction of terms.
He stood little chance for the better part of his life; he was of peasant stock, unremarkable strain of ambition and not so promising physique, the kind that propels some to sudden feats of athletic achievement.
"Our home was grass-thatched and like many boys, I was assigned to herd cattle as well as sell milk and fish to support my family," he said during his election campaigns in 2015.
It is these traits that made him first to flirt with religion, having been born of Roman Catholic parents Joseph and Suzana, and to the straight jacket of science where premises always inevitably lead to clear conclusions.
From Chato Primary School in mid-1960s to Katoke Seminary and from Lake Secondary to Mkwawa High School in the late 1970s, Magufuli transitioned to Mkwawa College of Education for a diploma in education science before taking up teaching duties at Sengerema Secondary School.
At Sengerema, Magufuli was the quintessential mathematics and chemistry teacher; stocky, rough-edged and a free spirit. He was quite at home with a piece of chalk but was equally restless. He would later earn his Bachelor of Science degree majoring in chemistry and mathematics at the University of Dar es Salaam and a masters and doctorate degrees from the same university.
Dumping the chalk in late '80s, he went to work as an industrial chemist at Nyanza Cooperative Union from where he joined politics in 1995 as MP for Chato. In national politics, Magufuli played low but smart, incrementally building an image of a doer.
Serving in Benjamin Mkapa and Jakaya Kikwete's governments, Magufuli bulldozed his way into the national psyche so that by the time Kikwete was anointing him in 2015, he only required the additive of beguiling Diamond Platinumz's music to soar high.
"He collected me from the dustbin," he once spoke of his endearment to Mkapa.
His nomination to be CCM's flag bearer almost split the giant independence party, with equally ambitious stalwarts such as Edward Lowassa electing to jump ship to the opposition party, Chama Cha Demokrasia na Maendeleo (Chadema).
Lowassa had not seen it coming, having served the party and the country as a prime minister. He was steamrolled out of the centre of the nation's politics, coming a distant second.
And then the real colours of Magufuli began to come out. Riding on over 80 per cent endorsement, he began to consolidate his grip on power, crushing opponents like locusts while at the same time endearing himself to the masses.
From the charm of Kikwete's diplomacy, Magufuli implanted a hard-nosed, confrontational and tit-for-tat approach to international relations. Inward looking, he renewed conversations on patriotism, democracy, human rights and neighbourliness.
His often too pronounced defence of Tanzania's sovereignty would come with a price tag for the very people he promised to defend and protect. Still, they earned him adoration not just in Tanzania, but from neighbours.
"What would Magufuli do?" Kenyans posed against the backdrop of spiralling public debt, foreign travels by their president and elected leaders, runaway corruption and other governance ills.
Magufuli always had an instant solution to all problems. A recalcitrant contractor was terminated on the spot. A nonchalant public official would be dismissed without appeal. Ghost workers vanished into thin air.
He put paid to wasteful international travel, leading from the front. He kept public officials on their toes and brought back honour to Tanzanian masses who had been treading under the winepress of a corrupt governance system for much too long.
As time went by, Magufuli began to get lost in his own mission. The signs had been there but were always hazy. He banned pregnant girls and mothers from attending school, burned thousands of chicks coming from Kenya, closed down media stations and forced opposition leaders into exile.
Abrasion and eccentricity took the best of him, arresting journalists, scaring neighbours and arm-twisting media houses to apologise, profusely. Gradually, his tone changed from persuasion and endearment to force and power.
He began to warn of the excesses of freedom and to speak more on the importance of peace than freedom, a rather familiar talk. He was now a full-blown John Pombe Magufuli.
"I have decided to sacrifice my life for the sake of Tanzania," he told residents of Chato last year.
"Hakuna, hata kwa robo, hayuko," he declared in the run-up to his own re-election, referring to the absence of worthy competitors.
And then at the tail end of his rule, coronavirus came knocking on the doors all over the world. The timing was bad for him; he would be facing re-election later in the year.
A scientist who had written on the decomposition of CaCo3 and thermodynamics of reaction, Magufuli turned his back on science when it mattered most. He doubted the existence of the virus and stopped his administration from tracking the infections.
While the countries the world over, including the most powerful of them, pulled all stops to implement measures to contain the spread of the virus, Magufuli led his people in mocking them, dismissing lockdowns as retrogressive and masks as absurd.
"Lockdown? Where will our fishermen get their fish? Where will workers get their wages? Where will our boda boda get customers in a lockdown? Even those looking for suitors, where are they going to get them with lockdown," he posed.
He spent his last days in power mourning one loss after another. His official Tweet handle read like an obituary, decorating departed officials with choice adjectives.
When he breathed his last, it was the end of an era for a man who brought honour to Tanzania, but also sacrificed his nation at the altar of false pride -- a hero and a villain merged in one.