Towns not equipped to fight infernos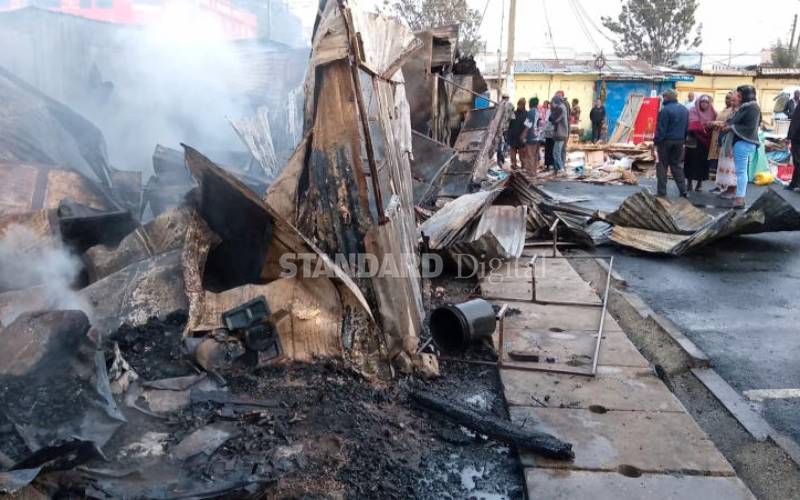 Four fire incidents in Nakuru and Naivasha towns that claimed the lives of two people in a span of one week have exposed the county government's poor fire preparedness.
In Nakuru, the death of a woman at White House estate last week caused an uproar among residents after a fire engine arrived at the site two hours after the incident was reported.
Attempts by neighbours to rescue her bore no fruits as she had already died when firefighters managed to access the three-bedroomed house after breaking the main door.
Residents have now called on the county government to establish fire stations in each sub-county to tame the rising cases of fires. Daniel Macharia, a local, said the devolved unit should ensure frequent fires are contained on time.
"The woman was burnt beyond recognition and the incident is unfortunate. It has been a challenge to put out fires without specialised training," said Macharia.
And Adow Sheikh was left counting losses running into millions of shillings after his four-bedroomed house was gutted by fire.
"The damages of household goods and other properties are over Sh6 million. The county needs to house at least fire brigades in sub-counties," he said.
And last week, a 15-year-old mentally challenged boy was burnt to death in Ihundu village as residents sought ways to put off the fire.
In the latest incident, fire broke out from a shop in the wee hours and spread fast, leaving a trail of destruction and misery.
Governor Lee Kinyanjui assured residents that the county government was in the process of revamping its Fire Fighting Services Department at a cost of Sh165 million.
"The upgrade will include putting up an ultra-modern central business district fire station within the premises that previously hosted the Old Town Hall Chambers," he said.