A case challenging appointment of Gurufa Location chief to be heard Feb 18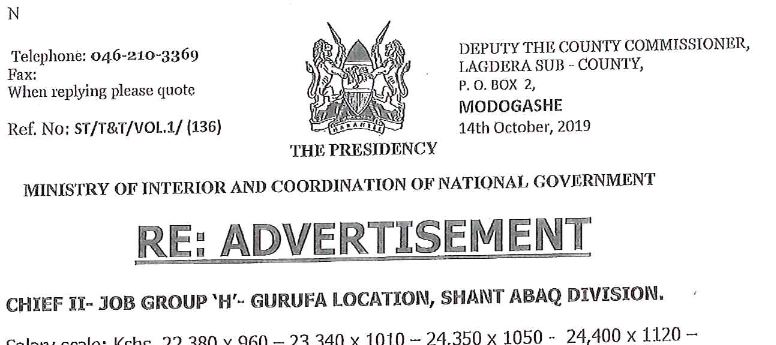 GARISSA, KENYA: Residents of Gurufa Location, Garissa County will have to wait for the court decision before newly appointed chief Abdirahman Makahil Rashid fully assumes office.
A Chief Magistrates Court in Garissa has barred Makahil from physically accessing the office of Chief 11 Gurufa Location and discharging the functions of the said office following a complaint from Salah Dubat Sigat.
In court papers, Sigat claims that he was one of the 13 applicants shortlisted for the position and despite meeting the qualifications of the job, the employer settled on Makahil whom he claims fell short of the job requirements.
The Ministry of Interior and Coordination advertised for the job on October 14, 2019. Some of the requirements for the job included education qualification of minimum C plain in the Kenya Certificate of Education, be a resident of Gurufa and be not less than 31 years of age.
"13 applicants got shortlisted for the position and were interviewed on November 16, 2019," says the complainant Sigat through his lawyer Suleiman Bashir.
"On June 26 while following up on the progress of the recruitment, I discovered that one Abdiraham Makahil Rashid was appointed to the said position."
He claims that Makahil did not meet the age requirement set by the employer two years short of the 30-year age requirement for a successful applicant. He also claims that Makahil attained a mean grade of D plus missing the requirement of C plain qualification at KCSE level.
The complainant further said in court papers that Makahil is not a resident of Gurufa location, therefore, is not suitable to discharge the administrative duties as a chief.
"There was a considerable delay before results of the recruitment were announced which appeared odd and irregular to the applicant herein."
A court order issued at Garissa Chief Magistrate on November 2, 2020, requires Makahil to step aside pending the hearing and determination of the application in court that challenges his recruitment.
"Despite service of the order, Makahil has illegally assumed the office of Chief II Gurufa Location in disregard of the court's order," added Bashir.
The complaint is about disrespect of court orders, violation of the constitution of Kenya 2020, and willful failure to uphold the rule of law.
The matter has been filed at the chief magistrate's court at Garissa. The AG has since applied for more time to put in his response in the matter.
The matter will be heard on February 18, 2021 at Garissa courts.