Counting the cost: Price society pays for gender violence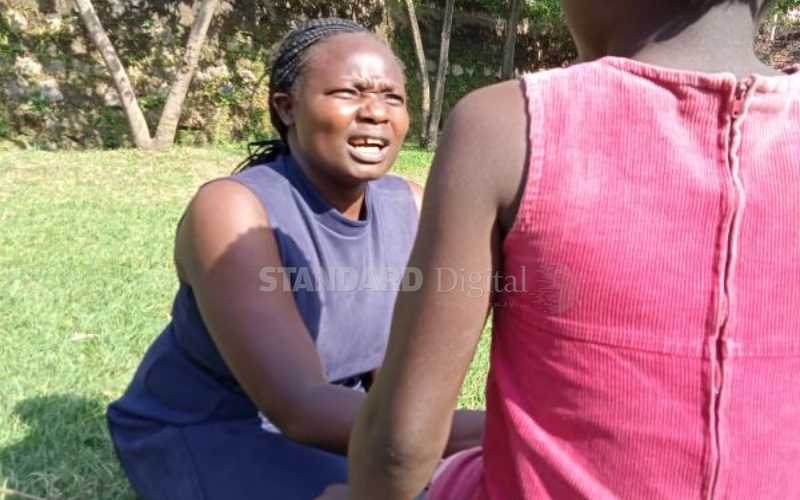 Joyce* runs a mobile money shop in the heart of Kakamega town along the busy Kakamega-Webuye road.
She occasionally stops our conversation to serve customers with a beaming smile that conceals her dark past.
In 2011, her father defiled her. She was just 16. She got pregnant and gave birth, and when her child was four, her father, then in his late 60s, was handed a life sentence after being convicted of incest.
When she got pregnant after the defilement, Joyce says her life stopped. It has been hard to pick up the pieces.
As much as she would like to use her story to highlight issues of incest in the region, she is scared that potential suitors might stay away if they see her photo or her name in the media. She strictly warned us against publishing her image.
After she was sexually violated, she moved in with her uncle and spent most of her days during the pregnancy indoors. She had to stop her education for two years to care for her son.
Her uncle later convinced her to go back to school after the State intervened to find a children's home for her baby.
"I love my child. I even go to check on him when the motherly instinct kicks in, but the thought that I sired him with my father keeps coming back whenever I think of staying with him. What will I say when he demands to know who his real father is?" she asks. Joyce's woes began on May 14, 2011, when her father locked her in their house and turned her into a sex slave after her mother died.
He defiled repeatedly for days, according to court documents. Her step-brothers rescued her by breaking down the door of the room where she had been locked for days.
It took three months to arrest her father who was apprehended on September 23, 2011. It then took four years to have the case heard and determined at the Bungoma law courts. "The four years of going to court to find justice against my father were agonising," Joyce recalls.
The lengthy period her father's conviction took is illustrative of the tolerant standards society places on gender-based violence, the National Gender and Equality Commission (NGEC) says.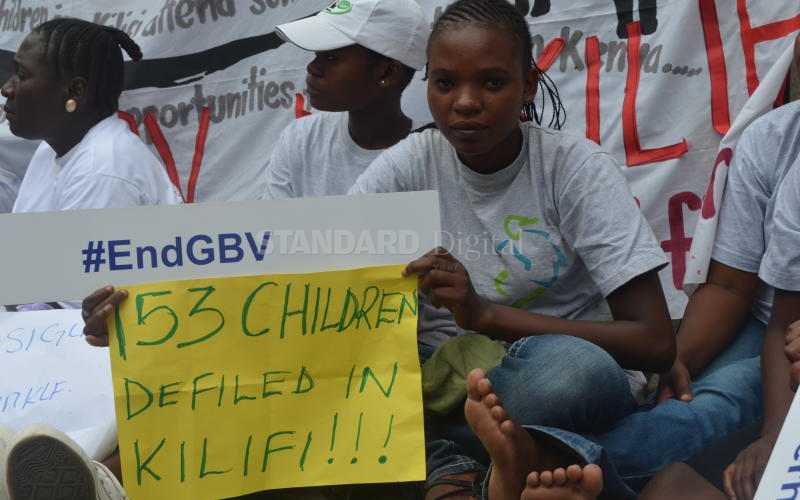 The commission characterises gender-based violence (GBV) as "the most widespread and socially tolerated human rights violation" in the country in a report.
"About 39 per cent of women and girls in Kenya aged 15 and above have experienced physical violence, with approximately one in four experiencing such violence each year," the Economic Burden on GBV Survivors report says.
Joyce's case is similar to that of another 15-year-old who is housed at the Peace Girl Rescue Centre in Kakamega and undergoing therapy to heal from an incest ordeal.
"I see her attitude shift to the worst in the week she attends court to testify against her father, who is accused of defiling her. The pressure from her community who are against her testifying made the Children's department bring her here," said Judith Naliaka who cares for about 20 girls rescued from sexual violations at the facility.
"I have to constantly talk to her to ward off the pressure and to get her to return to her normal self."
The rescue centre also houses two girls who were rescued in 2019 from their mother, a barmaid in Kawangware's Nairobi. The Children's officer report that admitted them to the centre shows their mother was a drug addict and would bring different men to their house, and have sex as the children watched.
"Mother works as a part-time prostitute. The clients the mother brings to the house have attempted to molest the girls who are highly exposed to defilement," reads the report.
While cases of GBV are higher among women and girls than men and boys, Maendeleo Ya Wanaume Chairman Nderitu Njoka says any case of GBV deserves decent treatment.
"I have had to walk to police stations several times to protest at how men brutalised by their wives are handled. A man goes to book an assault case against him by his wife and he is asked to bring the wife for the matter to be booked," said Njoka.
"How can you drag a person who beat you and is arguably greater in might than you to the police?"
He said some officers treat male victims with contempt, while others demand bribes to book cases, an issue NGEC documented in its report.
The 2016 study provided disturbing statistics on the economic burden of gender-based violence to survivors and to the country.
The report put the average cost of medical-related expenses for every survivor and family of GBV victims at Sh16, 464.
"Reporting the incident to a chief costs Sh3, 111, reporting to the police costs Sh3,756, while productivity losses from serious injuries amounted to Sh223,476.
The study put productivity losses from minor injuries at Sh18,623, and productivity losses from premature mortality from GBV at Sh5.8 million.
The report further indicates that perpetrators of GBV and their families incur heavy losses arising from incarceration, litigation, social stigma, and loss of time and productivity.
A perpetrator incurred costs of about Sh33,000 in legal fees, Sh85,000 in court fines and Sh20,000 in other costs.