Nairobi Expressway works to blame for dry taps in city estates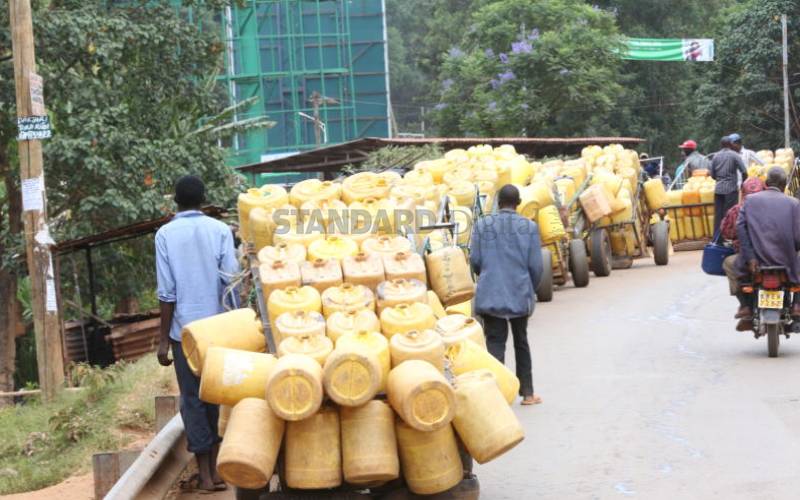 Water pipes relocation occasioned by the construction of the Nairobi Expressway has been linked to constant shortage in city estates.
According to Nairobi City Water and Sewerage Company MD Nahason Muguna, the Sh62 billion project has especially hurt the Buru Buru supply. However, he added that 90 per cent of the relocation is completed and water connection shall soon return to normalcy.
Some estates have gone without regular water supply for close to a month.
In Buru Buru Phase III, a 20-litre Jerrican goes for Sh30.
She said cartels have taken advantage of the situation to hike water prices.
Other than water, power supply has also been affected by the construction of the expressway.
The Sh62 billion project, which was started late last year, could revolutionalise transport in Nairobi and ease traffic jams on Mombasa Road.
Transport Cabinet Secretary James Macharia in August last year said they had asked the contractor to speed up the works. "The project started in June, but there was a bit of delay because of Covid-19 but we have asked the contractor to fast track the construction to take between 18 months to two years so that we can have the road by June 2022," said Macharia.
He said the traffic jam on Mombasa road cost the country millions of shillings in fuel and wasted time and the expressway ease that.
"We are now negotiating with the contractor to ensure that once completed the tolling cost will be affordable for the motorist," he said.
The project is being implemented at a time the Nairobi Metropolitan Service (NMS) is reshaping Nairobi, once known as The Green City in the Sun.