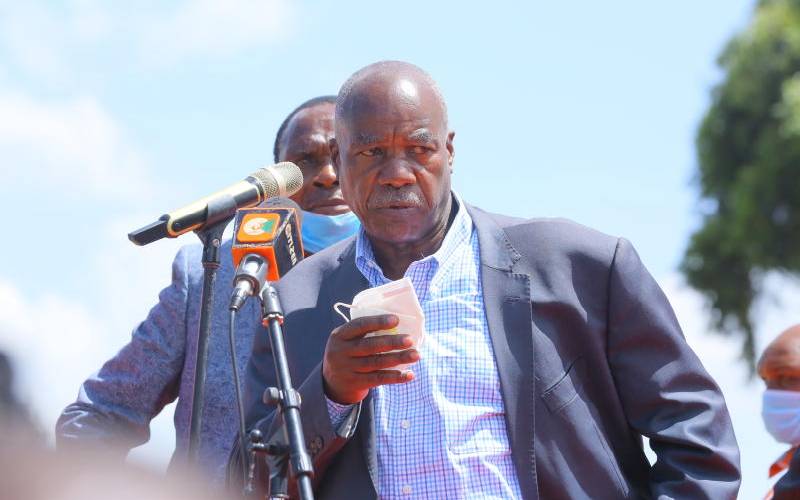 Nyamira County Assembly has rejected the nomination of Dr James Gesami (pictured) as deputy governor.
On Tuesday evening, the assembly voted to adopt the report that rejected Gesami's nomination.
This means Governor Amos Nyaribo will have to go back to the drawing board to pick another nominee.
The vote was conducted through secret ballot where those in support of the report carried the day with 21 votes while those against were 15.
The results are a culmination of two weeks of lobbying against and for the nominee of the deputy governor nominee. Earlier on, tempers flared after the Appointments Committee rejected Gesami.
The morning and afternoon sessions saw MCAs opposed to Gesami's nomination sticking to their guns against attempts to amend the report.
According to MCAs who were pushing for Gesami, the Committee on Appointments erred by not allowing Gesami to present some documents that required time to process.
The committee pointed out that the nominee did not present a clearance certificate from the Higher Education Loans Board, the National Police Service, and the Credit Reference Bureau.
Nyamaiya MCA Raban Masira asked the Speaker why Assembly officers refused to receive the missing documents on Monday evening to clear doubt over his suitability.
The MCA said there was an urgent need for the House to amend the committee's report and include the documents.
Majority Leader Callen Atuya while reading the report, told the House that Gesami had fallen short of basic requisites for the post.
The committee awarded the nominee 41.67 per cent.
The verdict attracted the response from some MCAs, who said the committee had no powers to reject the appointment of the nominee.
George Abuga, who is Gesami's MCA from Bogichora, said Gesami was not given a proper hearing.
Raban Masira of Nyamaiya said Gesami listed his qualifications well and his experience was laid bare for all and he should not be rejected based on documents which he had already acquired.
"What kind of experience do you require if he stated all the good works he has done for the country as an assistant minister and as an MP?" Masira posed.