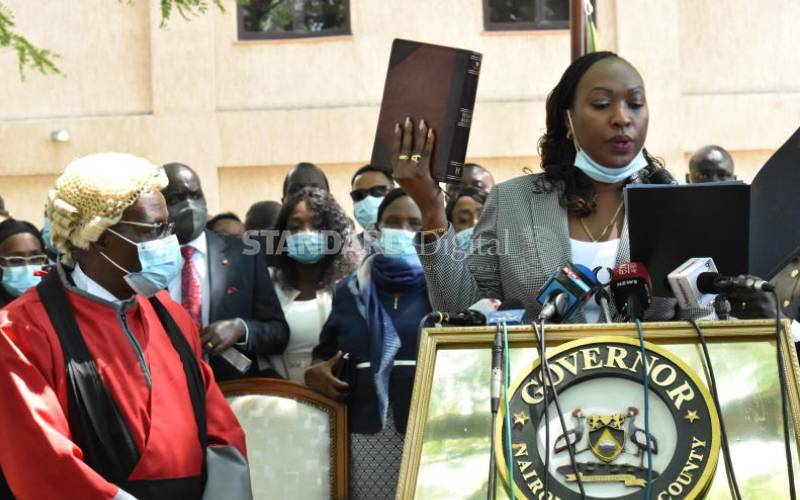 The Thirdway Alliance has described Anne Kananu's swearing in as Nairobi deputy governor as a clear indication that Kenya is sinking into a pit of dictatorship.
In a statement signed by party leader Miruru Waweru, Thirdway said Kananu's swearing in is a coup against the will of the people to elect leaders of their choice.
Thirdway said today's events at the Nairobi county assembly and the illegal manoeuvres by a section of the political class undermine the will of the people.
It added that the journey to a society guided by laws and not whims is far from over.
"Never in our nation's 60 years history, and especially under the 10-year-old progressive Constitution have we witnessed such blatant state-sponsored attacks on constitutionalism."
Read More
Waweru said Thirdway Alliance has severally tried to firewall these attacksagainst mounting legal challenges in its bid to defend the right of the people.
"Unchecked, this will act as a test for the political establishment to circumvent the will of the people as enshrined in the constitution."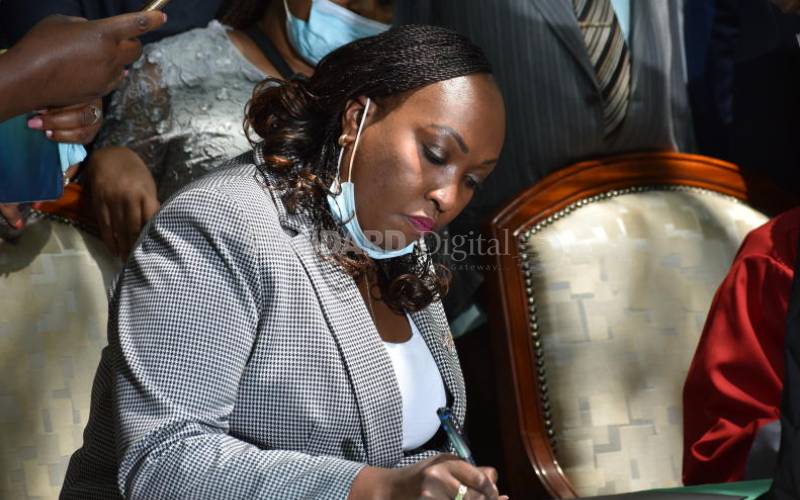 Waweru went on, adding that the consequences for the unconstitutional experiment, escalated in many other elections in the country, will be too grave to allow.
Having scored her first victory at about 8am when the High Court dismissed two petitions seeking to block her vetting, Kananu strode into the County Assembly plenary chambers at 9am, ready to face the panel that would set the process in motion about 10 minutes later.
The process would last for about one hour until 10.10am. At 11am, the County Assembly convened a special sitting that saw the whole House adopt a report compiled in record time by the Vetting and Appointments committee recommending for the approval of Kananu as the deputy governor.
During debate on the report, only a handful of MCAs, mainly consisting of the house leadership from both sides of the political divide, were given a chance to speak before the mover of the motion – Majority Leader Abdi Guyo – was called to respond.
This was contrary to normal procedure where as many members as possible are slotted to contribute.
The vetting panel was chaired by Guyo, the vice chair, since his boss Benson Mutura could not take on the role as he is currently acting as governor, following the impeachment of Mike Sonko last month.
All this was not without the palpable anxiety from the ward legislators to dispense with the day's business within the shortest time possible.
With just nine minutes to 2pm, Justice John Mativo swore in Kananu as the second deputy governor of Nairobi County at the Kenyatta International Convention Centre (KICC).