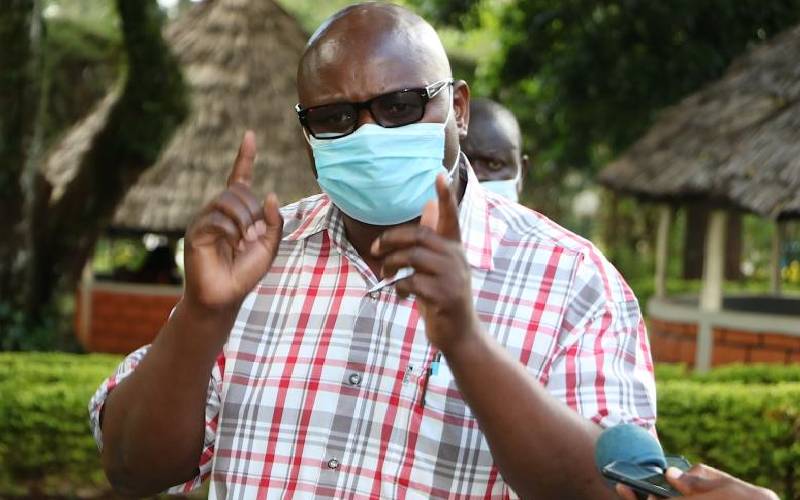 The Kenya National Union of Nurses (KNUN) has told the State to compensate families of the 26 nurses who have died of Covid-19.
This is their condition before they can resume duty.
KNUN Secretary-General Seth Panyako says 23,000 nurses have started an industrial action and will only resume duty when their demands are met.
"We have about 26,000 nurses, but those from Kenyatta National Hospital ad Moi Teaching and Referral Hospital will not down tools because the two institutions have had made arrangements with the nurses," said Panyako.
Speaking during an interview with KTN News on Monday, Panyako accused the national and county governments of doing nothing as nurses died of Covid-19.
He said 26 nurses had lost their lives to the disease, adding that the union could not allow more to die in their line of duty.
"How many nurses must die for the government to come in? We need an insurance cover for our nurses before we can go back to work," he said.
"We have been left on our own, when a nurse dies, we form WhatsApp groups to contribute money yet we work for the government."
Panyako said Covid-19 has been declared an occupational hazard, therefore, the 26 must be compensated.
KNUN also insist that nurses must be given risks allowances and health cover to curb the rising number of Covid-19 related deaths before they can resume work.
According to Panyako, KNUN has sent its officials to lead negotiations with the government but nothing positive has come from the talks.
"We sent our officials to negotiate on our behalf, but nothing much to warrant strike suspension has happened."
Panyako said they will not suspend the strike like the doctors because the government has not shown any commitment to address their plight.
"We are not suspending our strikes, doctors have the best allowances with a risk allowance of Sh20,000 compared to nurses' Sh3,800 so they don't know what we nurses go through," he said.
He cited Vihiga County where nurses have not been paid for 15 months yet they have been working saying, salary for services rendered should be paid without any talks.
"Already services have been delivered how do you negotiate that? It is either you pay or we don't go to work," he said.
Panyako said the nurses will not go to work until the government pay nurses their salaries and allowances and provide nurses with PPEs to protect them from contracting Covid-19.
He also wants the government to employ 7000 nurses who are jobless today to boost the fight against Covid-19.
He also revisited the 2017 CBA signed between the nurses and the government to be implemented fully before they can resume duties.
"As we speak, only Moi Teaching and Referral Hospital has fully implemented the 2017 CBA and that is why our members there will not take part in the strike," he said.