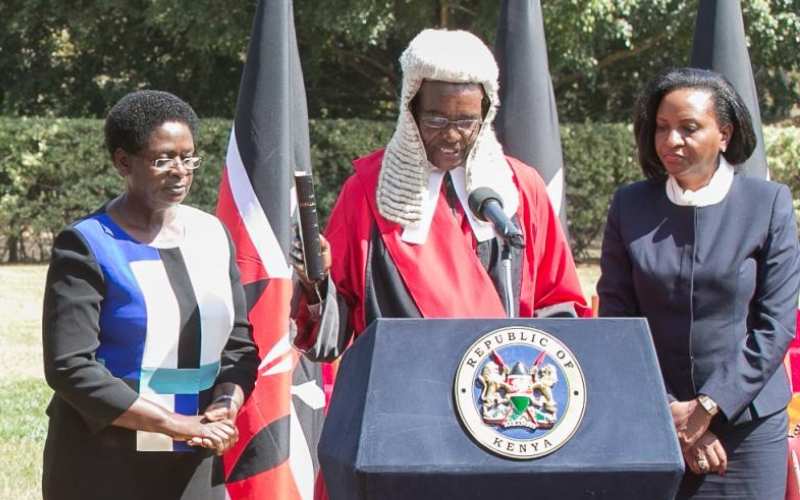 When a weary Chief Justice David Kenani Maraga walked onto the Supreme Court to deliver verdict on a presidential election petition on September 1, 2017, he carried with him the full weight of the nation in his judicial robe.
Millions of eyes were on him as he settled down to make sense out of the complex case, but also to give the country a way forward from the ritualistic political abyss that faces the country every five years.
His flapping eyes betrayed a man who had just had a long night, the firm contortions of his lips promised a thunderbolt and the staccato delivery of his speech invoked a momentous time in history.
"The greatness of a nation lies in its fidelity to its Constitution and strict adherence to the rule of law and above all the fear of God," he broke the ice with this quote.
What followed next is the stuff of judicial legend; the overturning of a presidential election victory.
"Having carefully considered the issues, the following is the majority decision of the court, with Judges Hon Justice Ndung'u and Hon Justice Ojwang dissenting…. the presidential election held on 8th August 2017 was not conducted in accordance with Constitution and the applicable law rendering the declared results invalid, null and void," Maraga said.
In that instant, hearts sunk as others livened. Before he could sign the final orders, senior counsel Paul Muite was on his feet, menacing and eyes almost popping out. Behind him, Dr PLO Lumumba cringed, holding onto his wig. An overexcited Opondo Kaluma grinned, holding out a burst of victorious laugh.
On the side, MP Millie Odhiambo wriggled with a runaway tear while behind her, the main victor, Opposition leader Raila Odinga effortlessly beamed at the good news. Other Opposition leaders Kalonzo Musyoka, Musalia Mudavadi and Moses Wetang'ula were ecstatic.
"It's a binding decision of the apex court in the land. In 2013, the first petitioner said he had accepted the judgment of the court. Today again, the petitioner has accepted the decision. As wise as the court was in 2013 decision, the court is as wise as it was then," James Orengo crowned it with sarcasm.
No sooner had Maraga left the courtroom than it transformed into a ball. Opposition leaders Johnstone Muthama, Chris Wamalwa and Gladys Wanga found a reason to walk on the hallowed benches of the court singing "bado mapambano" as "Jowi" cries rent the place.
Lawyer Evans Monari was livid. MP Kang'ata Irungu and his band of Jubilee members slithered away, drowned in jeers.
And soon thereafter, hell and heaven descended on Maraga and his colleagues; condemnation and praise in equal measure.
To one side, Maraga was the devil incarnate while to the other, he was an angel.
International media described him as "the judge who made Kenyan history."
His victory taken away, a livid President Uhuru Kenyatta took to a frenzied crowd in Burma market to vent:
"(Chief Justice) Maraga and his thugs have decided to cancel the election. Now I am no longer the president-elect. I am the serving president... Maraga should know that he is now dealing with the serving president," he said. He promised to "revisit" the Judiciary once re-elected, and to "fix" it.
Maraga moved on, like nothing had happened, and was at hand to swear in Kenyatta as a President following a repeat poll boycotted by Raila.
It did not take long before the Executive came knocking at the Supreme Court. Director of Criminal Investigations (DCI) George Kinoti and Director of Public Prosecutions Noordin Haji went knocking at Supreme Court and they left, with Deputy CJ Philomena Mwilu in tow.
Some argued Maraga failed to protect his deputy, and let her to be spirited away in shame. Others said it was negotiated in the boardroom to avoid greater embarrassing scenes.
But what he lost out in a feeble defense of his deputy, Maraga made it in protesting at the massive Judiciary budget cuts. He amplified it again in his protests against the President's refusal to swear in new judges. If he had any cool left, he lost it then.
He took to his favourite protestation spot, the steps of Supreme Court, to wail his frustrations to the nation.
"They are trying to control the Judiciary." "They want to make us puppets." "Some CSs are saying I will go before the year ends, kumbe hii Kenya ina wenyewe". "I don't serve under the mercy of anybody."
In the process of his protestations, he messed up with an awful analogy, which was picked up by critics.
"The CJ has no Mercedes car, we were told its wastage yet the two speakers of the National Assembly have them. I have a Mercedes 350, which is affordable to many while speakers of both houses have Mercedes 500," he said.
Earlier this year in a live address, Maraga lectured Uhuru on his constitutional mandate as far as appointment of judges is concerned. He told him that nothing more or less is expected of him than to appoint judges referred to him by the Judicial Service Commission.
"The president is obliged by two court orders to appoint those 41 judges. His disregard for court order does not bode well for our constitutional democracy and is potentially recipe for anarchy," he said.
In his penchant for addressing the president directly, he talked of Executive's pattern of disregarding court decisions and settlement of decrees. He said he had been unable to get the President to sit down with him to talk about these issues.
"How can we expect God to bless our nation when we are so callous?"
Maraga's constant refrain all through was that court orders must be obeyed. He never wasted any opportunity to remind the president and his government as much. But he also never failed to concede on the prevalence of corruption in the Judiciary.
"The Akasha case is a shame to our country. It is one matter that embarrasses all of us, but I am sure you have the reports," he conceded to President Kenyatta on the Akasha extradition quagmire.
When everyone thought he had settled for new normal of a frustrated Judiciary, and was in a mellow mood to please Executive, Maraga pulled the axe on the other arm of government – Legislature. In a bolt from the blue, he advised the President to dissolve Parliament over its repeated failure to address the gender conundrum.
The reactions
There was hue and cry, and confusion from every direction, including the very beneficiary of his advice. The very courts he presides over slammed brakes on it, and saved many a career.
A sworn teetotaler who has earlier drank away 20 years of his life until he found Jesus, Maraga is exiting the Judiciary in style. Like he was wont to, he addressed him in first person.
"To our President wherever you are, it is clear that there is a difference of opinion between me and you. But I want to assure you, and the entire nation, that I have nothing personal against you."
It was not always gloom and doom for Maraga. At his farewell speech yesterday, he joked about his deputy Mwilu and Chief Registrar Anne Amadi, saying they had been ordering him around.
"These women give me hell, but it is well… I want to thank them, these ladies pick my calls even late at night. Yesterday, I had gone home and she (Amadi) ordered me to come back for some work and I came back," he said.
As defiant as he was when coming in – rejecting upfront to work on Sabbath Day – Maraga is leaving with his head high.
"It was my singular honour and privilege to be of service to you as your Chief Justice. If in any way, I annoyed you or did not live up to your expectations, please understand that I am human and forgive me. Though I did not achieve what I planned to do, I retire a very happy man," he said.