Education PS Belio Kipsang urges discipline in observing Covid-19 protocols in schools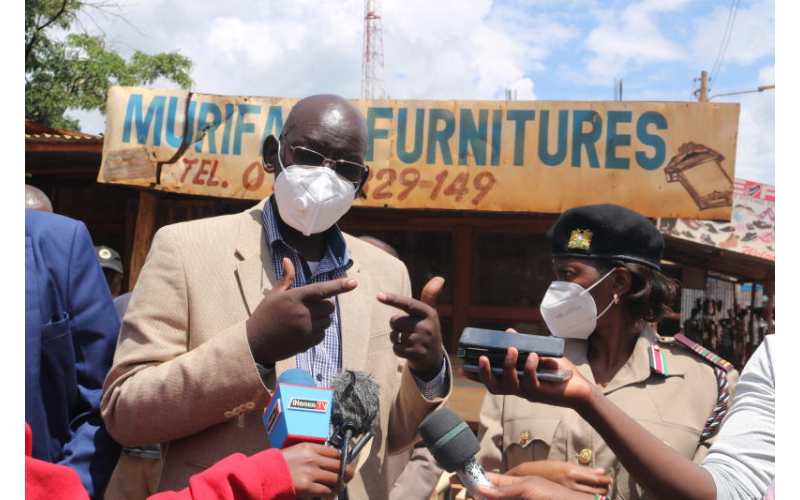 Education Principal Secretary Belio Kipsang has urged adults at household level to ensure they are disciplined in observing health guidelines aimed at containing Covid-19 to ensure the same is done in schools.
According to Dr Kipsang, the safety of the learners, 75 per cent of them being day scholars, depends on discipline in the areas where the children come from.
"This is because schools are in the community where currently Covid-19 has infiltrated hence the probability of affecting the schools is high," said the PS while on an inspection tour on the status of situation on coronavirus in schools in Embu.
Dr Kipsang assured that so far there is no major challenge of the pandemic in schools across the country.
He added that the ministry was closely monitoring the situation at Bahati Girls in Nakuru where 66 students have been affected and in Kolanya Secondary, Busia which has 52 cases.
"We are working closely with the two counties to ensure the situation in these schools is contained. Countrywide, learners affected by the virus are less than 200," he said.
On reopening of schools in January 2021 for the 12 million learners at home, Kipsang said they are going to hold a stakeholder's meeting to prepare a calendar of events.
He added that the learners who are currently in schools are expected to sit for their national examinations in the month of April next year.
On the progress of the desks project in schools, the PS observed that it is now at 75 per cent completion, adding that they expect to conclude the program at the end of this month as they prepare for reopening.
"We appreciate the artisans who are preparing the desks for the good and timely progress. There is huge potential in Kenyans to deliver what is expected," he said.
Embu West Deputy County Commissioner Caroline Imaya said the Ministry of Interior has collaborated with other ministries to ensure each school is assigned a health facility.
Imaya also noted the Ministry of Interior and Ministry of Education are working closely to ensure the desks being made meet required specifications.