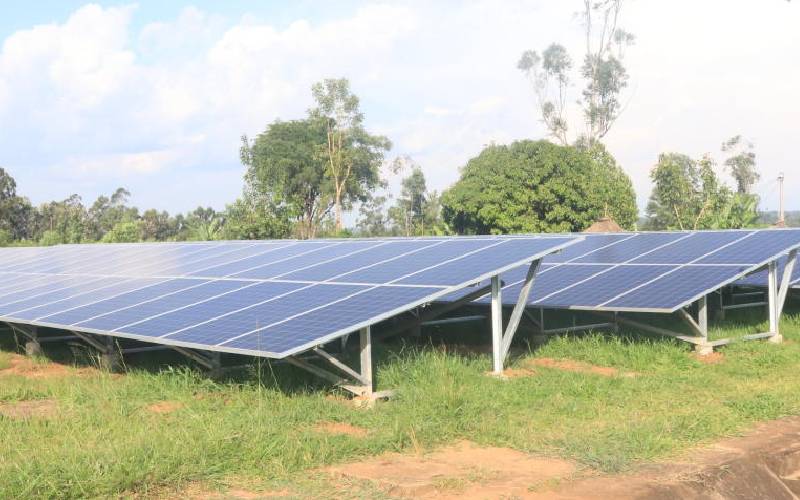 Residents of off-grid areas are poised to benefit from the sale of quality solar and clean cooking products following the release of Sh500 million from the Kenya Off-Grid Solar Access Project (KOSAP) to 19 companies to facilitate the sale of their products in these counties.
The release of funds will boost the setting up of infrastructure for standalone solar systems and modern cookstoves.
A statement from the Energy ministry on Saturday stated that the plan is part of the Sh15 billion Kenya Off-Grid Solar Access Project (KOSAP).
The project aims at spurring private sector actors to invest in modern solar solutions and provide clean cooking solutions in counties that are not served by the national electricity grid.
Read More
KOSAP is extending financing to the selected companies as part of the government efforts to achieve universal access to electricity by 2022 and universal access to clean cooking by 2028, as per the Kenya National Electrification Strategy and the Kenya Sustainable Energy for Action Agenda respectively.
Energy CS Charles Keter said, "This project will enable us to provide Stand-alone Solar Systems (SSS) and Clean Cooking Solutions (CCS) for households in 14 counties that are currently underserved by the national electricity grid, as a critical lever for achieving inclusion, a higher standard of living for our citizens and overall socio-economic development."
The 10 Solar Service Providers (SSPs) will be active in Turkana, West Pokot, Isiolo, Wajir, Garissa, Samburu, Marsabit, Isiolo, Tana River, Lamu, Kwale, Kilifi, Taita Taveta and Narok. Under this first round of funding, the solar companies have received Sh300 million cumulatively.
At the same time, the nine CCS vendors have received Sh200 million cumulatively and are expected to sell about 85,000 stoves in West Pokot, Turkana, Marsabit, Samburu and Isiolo.
KOSAP is supported by the World Bank and implemented by the Ministry of Energy, Kenya Power and Lighting Company and Rural Electrification & Renewable Energy Corporation (REREC). It seeks to have 250,000 households served by stand-alone solar systems and 150,000 households served by CCS.
It further seeks to construct 157 mini-grids in the targeted counties that will be used to connect about 61,500 households with solar power.
Similarly, about 473 public facilities including secondary schools, health clinics as well as administrative offices will be supplied with solar power under the project.
Some 380 boreholes that currently use diesel and other fuels will also benefit with installation of renewable solar power.
In February, President Uhuru Kenyatta said the initiative is part of the government's target of attaining an additional 1.9 million solar-based connections through the Kenya National Electrification Strategy launched in 2018.
"To achieve our electrification programme through off-grid solutions, my administration recognises the importance of partnering with the private sector," Uhuru said.