Senate Health Committee says NMS vs Sonko wars worsening healthcare in the city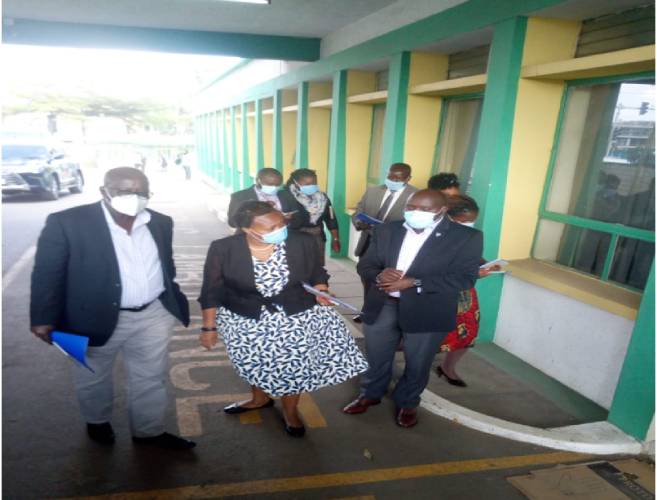 The Senate Health Committee in its fact-finding mission has resolved to suspend the services of the security firm that was on duty at the Pumwani Maternity hospital when a woman gave birth at the facility's entrance.
The committee said the decision was reached following the recent incident where a woman gave birth at the entrance of the facility, after being denied access.
"We have decided to temporarily stop the services of the security firm in charge of this hospital, for denying the woman her constitutional right. It was not only wrong but inhumane for them to do that to an expectant woman," said Mbito Michael, the chairperson of the Senate health committee.
The senators also noted that disharmony between the Nairobi City County government and the Nairobi metropolitan Services, has seen a deteriorating state of service delivery, not only at the Pumwani hospital but also several other health facilities in the county.
"The current tiff between NMS and the County has contributed to the sorry state of the hospitals in the county. Some health services which were transferred to the NMS were not conclusively done," added Senator Millicent Omanga.
The committee also alluded to the fact that the Pumwani Maternity Hospital management had a responsibility to carry, for not defending its clients who, just like the recent incident were turned away.
Similarly, the committee has also said that the Directorate of Criminal Investigations (DCI), was invited to probe any other issues raised concerning the hospital.
Two days ago the NMS made changes in the security department of the four main public hospitals in the city. Police officers were deployed to secure the facilities to prevent any further concerns.
In a statement, NMS' Director of Health Services, Dr. Josephine Kibaru-Mbae, however, blamed the incident on the health workers' strike.
The NMS nevertheless apologized for the unfortunate incident, promising to seal any other loopholes in the healthcare industry.
"We take this opportunity to apologize to all Kenyans and mothers in particular for this unfortunate incident," Dr. Kibaru-Mbae said.
According to the Constitution, all Kenyans have the right to access free emergency care, in all hospitals.
On its part, the Jubilee government, when coming into office, also waived all maternity fees, to allow for safe and decent deliveries in the country.
About seven years ago, President Uhuru Kenyatta said the plan was to ensure all mothers go to hospitals and reduce the rate of maternal deaths in the country.
"My government has made adequate budgetary arrangements to enable all pregnant mothers to access free maternal services in all public facilities with effect from June 1, 2013," he said.