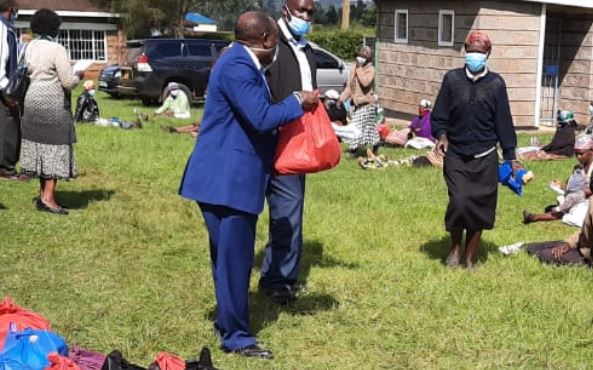 More than 250 families this weekend benefited from a donation of 8,000 masks and foodstuff worth a half a million shillings from The Mater Hospital Chief Executive Officer Professor Dominic Mwenja the founder of Miramar International Foundation.

Professor Mwenja who was born and raised in Lari, Kiambu County said he was giving back to the community in his capacity. He said he was contributing towards government efforts not only to raise awareness on the anti-COVID-19 measures but also to help mitigate the social-economic impact of the pandemic.

"I have done this in collaboration with the local administration including chiefs and assistant chiefs. They are the ones who know who the needy families are," said Prof. Mwenja.

"We did it differently whereby instead of taking the money to wholesalers, big supermarkets and millers, we bought the donations from local kiosks and this has a big impact on boosting the small traders," he added.

Professor Mwenja took the opportunity to educate the locals on the need to adhere to government anti-covid19 measures including washing hands frequently, wearing face masks when in public, and observing social distancing.

"With the help of chiefs, the beneficiaries were grouped according to villages. They sat six feet apart as we distributed the relief food. That way we avoided getting stampedes like has been happening elsewhere." Said Mwenja.
Kiambu Governor James Nyoro, during the launch of the Kiambu Covid-19 kitty at the county headquarters, said the county was still in dire need of Sh2 billion, which will go a long way in the fight against the deadly virus.
Nyoro said businesses had been adversely affected and the county government had waived cess fees to all food transporters following a directive by the Council of Governors.
Several businesses in Kiambu County have threatened closure and layoffs of employees over the pandemic period.
Many companies have been operating under tight Covid-19 regulations, which have seen many incur loses.
"We have received distress calls from the traders and farmers, most of whom sell chicken, milk, and eggs among others who have suffered after hotels closed and thousands lost jobs. Plans to boost these businesses are underway," he noted.