Uhuru to meet Trump at White House today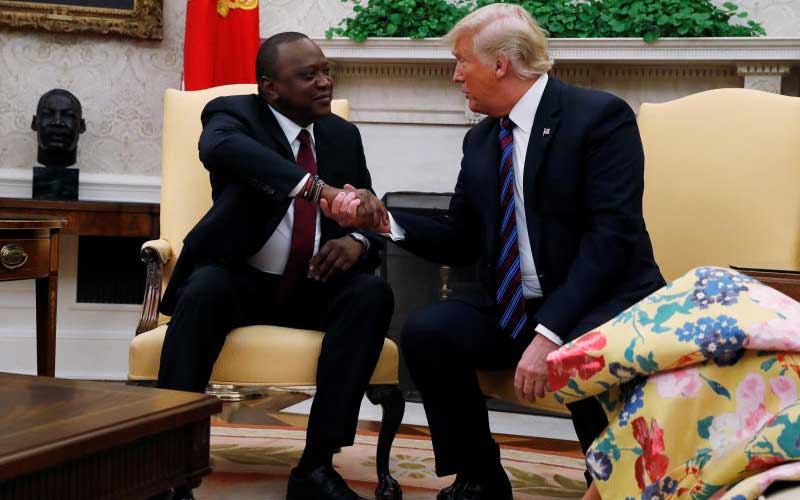 President Uhuru Kenyatta will today meet US President Donald Trump hours after the latter was acquitted by the US Senate following a historic impeachment trial.
US Press Secretary Stephanie Grisham said they are scheduled to meet at the White House in Washington, 528 days after their first meeting.
"Since President Uhuru's August 2018 visit, when the two leaders established the United States-Kenya Bilateral Strategic Dialogue, we have expanded our partnership across many areas," Grisham said in a statement.
She noted that Trump was looking forward to building on that momentum and that they will discuss new opportunities to advance cooperation and trade.
"Kenya continues to be a vital partner to the United States in Africa and beyond," she said.
According to US news reports, Uhuru and Trump are preparing to announce negotiations on a free-trade agreement.
This will be America's first such deal with a sub-Saharan nation.
At the close of the last meeting in 2018, Uhuru bagged investments worth Sh24 billion. Two US companies agreed to invest $238 million (Sh24 billion) worth of projects in Kenya targeting energy and food security.
Trump said the trade ties were getting "bigger" and some "excellent deals" for both countries were in the offing.
"We have a tremendous relationship with Kenya. We have terrorism, a lot of trade, getting bigger all the time we are working on a major infrastructure project, a massive roadway that will be record-setting. We are going to conclude a lot of things, we have the president's representative in the next room and we are going to be making some excellent deals for both countries," he said.
Uhuru is in the US together with ODM leader Raila Odinga for a series of meetings. On Wednesday, they had a presentation on their handshake at an international luncheon at the US National Prayer Breakfast.
President Uhuru Kenyatta also met leaders of the Atlantic Council at a forum dubbed "The Future of The US-Kenya Strategic Partnership".
The Atlantic Council is an American Atlanticist international affairs think-tank founded in 1961 as a non-partisan institution aimed at galvanizing the US leadership and engaging with the world for purposes of finding solutions to global challenges.
He asked American institutions to support indigenous African solutions fashioned to address governance challenges facing the continent.
According to his press team, Uhuru also cautioned the institutions against advancing democracy as a one-size-fits-all prescription saying the approach undermines the foundations upon which the concept is based.
He advised that African countries need to be given opportunities to come up with approaches that support democracy in line with their realities.
"It requires bringing more nuance to how we make judgements about politics, and the resulting interventions countries like the United States should undertake," he said.