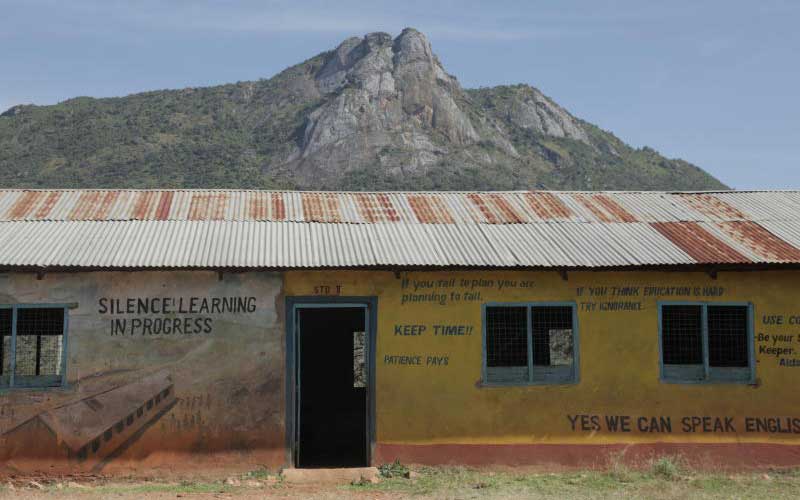 There is nowhere to hide. Not even in the shadow of misty blue mountains. Morpus is not tall enough. Right at the foot of the gigantic hill, nestles a school named after it, where the Noah's Ark appears to have outlived its usefulness.
The ark's door is secured with a piece of rusted binding wire but there is nothing to steal for local bandits whose standard weapon is AK 47 assault rifle.
Still, there is evidence of floods, though of a different nature. The last time there were substantial rains in this part of West Pokot, which is mostly thirsty county, was in the middle of December.
The body of evidence is caked mud, which is peeling off like scabs from a wound in a compound that boasts of a collection of scales of snakes. A lonely capsicum plant has also defied the sweltering heat and is triumphantly wearing a crown of red fruits.
The ark has since been evacuated and its computers transferred into a relatively newer building, whose metallic door is locked from outside and secured with a shiny padlock. The computers are however visible through the curtains.
In this perched desert, are strategically placed notices of encouragements, screams of unvoiced desires, career dreams and floods of tears. Tears of hope and despair of young souls violently robbed off their innocence and womanhood.
And there are other notices warning careless caressing and other pitfalls of predatory romance that usually ruin young lives even before they are lived.
Solitary girl
It is four days to Christmas. A solitary girl is seated inside Standard 8W, next to the Penrose Computer Laboratory constructed jointly by the World Vision, Intel, Microsoft and Kenya government. It was opened on August 7, 2014 by Christopher Stallberg. Maryanne* is deep in contemplation.
For 24 long months the girl had been dreaming of going back home and hugging her mother. The reunion did not take place last Christmas and is unlikely to take place in the foreseeable future.
The last time the girl contacted a relative, she used the phone belonging to James Lokuk, her former head teacher. She was looking forward to a reunion with her family.
However, the response from her brother was heart-breaking. She was not welcome at home, and her father had died while she was away. Her mother missed her but she feared for the prodigal daughter's life should she return.
Now she is stuck at Morpus Mixed Primary School. It has become her shelter after she ran away from her irate parents and scandalised neighbours. She had reportedly squandered her chance to become a wife and a mother at 14 years and the society is not yet ready to forgive her.
As her she plays with a discarded plastic soda-bottle, her gaze is transfixed into space, the girl ponders her next move, a tear lingering in the corner of her eye. "In the next two weeks, schools will open. This will mean looking for another place to call home because I am no longer a pupil. I came here in January 2018 and I do not know where I will go."
Momentarily forgetting her nightmare, Maryanne smiles at the mention of the Kenya Certificate of Primary Education examination which she sat last year.
"I scored 320 marks and I have been admitted to a boarding school in West Pokot..." she says. But her haunted look returns as she offers: "I do not know who will pay my school fees or meet my upkeep."
She adds: "All my life I never talked to my father. Culture and traditions dictated that I channel all my communications through my mother."
Maryanne fled from her home in Kaptimot Village in Ortum after a neighbour, who was in his 60s started making frequent visits to her home. The man was looking for a wife, a fourth wife.
At one point, she learnt that a herd of 40 cows had been driven to her father's compound, as an installment of bride price, awaiting her initiation. "I sneaked out of my mother's hut when everybody was out in the fields. I walked for hours, even at night because I was not ready to be a stepmother to some of my classmates. I was just about to be subjected to female genital mutilation."
During Maryanne's flight, she was sheltered by a woman, whose husband was enchanted by her beauty and declared that he would not mind making her his fourth wife.
She insisted that she wanted to continue with her education and fled again at night. This is how she ended at Morpus, more than 30 kilometres from her home.
According to Lokuk, Maryanne is one of the 22 girls who are living in the informal rescue centre that was established at Morpus Primary School, in 2003 to offer a temporary home to girls running away from forced or early marriages and female genital mutilation.
Ironically, although Morpus is not recognised as a rescue centre by the government, most of the 400 girls it has sheltered in the last 16 years have been referred by State agencies to keep them away from bullies and paedophiles.
"These girls cannot go home. They are still wanted by the guardians who tried to marry them off. We have received many threats from morans who accuse us of shielding their brides. That is why we have deployed two watchmen to guard this place during the day and at night."
According to West Pokot County Commissioner Apolo Okello, forced marriage of underage girls after they are subjected to female genital mutilation has been suppressed in some areas.
However, in remote areas such as those neighbouring Uganda, teenage girls are still being abducted, circumcised and exchanged for cows without their consent.
"A number of people from Pokot North have moved to Uganda where they are being forced to undergo FGM. This has been happening during school holidays. We have no direct ways of getting the girls back from Uganda," Mr Okello said.
Although FGM is not as entrenched in West Pokot now as it was 15 years ago, it is still rampant in half the county and is done secretly.
"Some chiefs who are supposed to assist the government in eradicating the vice are secretly encouraging it.
"Just Last week I interdicted a chief who had allowed some locals to mutilate their daughters," Okello said. Executive committee member for health for West Pokot, Geoffrey Lipale, said FGM has had a heavy toll on the region and was to blame for the high number of early marriages and fistula. "FGM is now done in private unlike in the past when there would be huge ceremonies to mark the circumcision season. We know girls are being secretly brutalised," he said.
Still rampant
The cost of this harmful practice is grim as West Pokot has been recording 443 maternal deaths per every 100,000 mothers.
"We are losing many mothers. Majority still prefer using traditional birth attendants instead of going to hospital; they are only referred to health facilities when they develop complications. We are trying to break this cord by giving mothers gifts when they deliver in hospitals," Mr Lipale said.
In a county where only 17 per cent of the people embrace family planning, politicians urge mothers to give birth to as many children as possible so that their county can be allocated more resources by the national government. Rarely, Lipale explained do politicians publicly talk against FGM for fear of losing votes.
Even as the United Nations Population Fund (UNFPA) tries to build on the promises of Nairobi ICPD 25, it has to win over morans who are expected to marry girls who have not undergone FGM.
The West Pokot Council of Elders has endorsed the fight against FGM, and UNFPA Humanitarian Programme Specialist John Wafula believes some gains are being made, that will ultimately eradicate female cut by 2022.
Lalamat Aparianor, 81, a member of West Pokot Council of Elders offers similar perspective.
"I have three wives who have born seven daughters. Daughters are a symbol of wealth. I got my dowry without any problem even though three of them had not been cut."