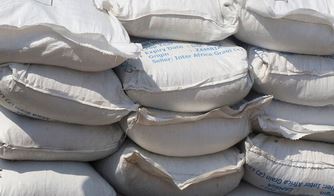 Kenya has received Sh100 million worth of food aid from the Russian government to feed victims of floods across the country. The contribution was made by Russian Ambassador to Kenya Dmitry Maksimychev to the United Nations World Food Programme (WFP). "This support is an expression of solidarity of the Russian people with the people of Kenya. It will contribute to the achievement by Kenya of the Sustainable Development Goals and the Government of Kenya's Big Four Agenda on food security," said Mr Maksimychev.
SEE ALSO: UK 'likely to reject' Russia coronavirus vaccine set for mass rollout in October
The envoy said the donation reflected the spirit of the recent Russia-Africa Summit, which was attended by a host of African leaders. The donation was lauded by Foreign Affairs Principal Secretary Macharia Kamau who said it is a good gesture of continued cooperation between the two countries. "Kenya welcomes the cooperation and support of the Russian Federation. And particularly that this support and cooperation is in line with the Big Four priorities of the President targeting food security. This is especially welcome given that it came so soon after the Russia-Africa summit, which President Kenyatta attended," said Amb Kamau. The ongoing rains have amplified the effects of the just ended drought experienced in at least 10 counties, mostly in northern and northeastern Kenya, putting an estimated 3.1 million people facing food shortage. Kamau's sentiments were echoed by UN Resident Coordinator to Kenya, Siddhart Chatterjee, who received the donation on behalf of the WFP.
SEE ALSO: No backup for striker Haaland next season - Dortmund Sporting Director
"I would like to deeply appreciate the Government of Russia for this support to the people of Kenya through the United Nations World Food Programme. We stand with the people of Kenya and remain committed to relieving those suffering from hunger," said Chatterjee.