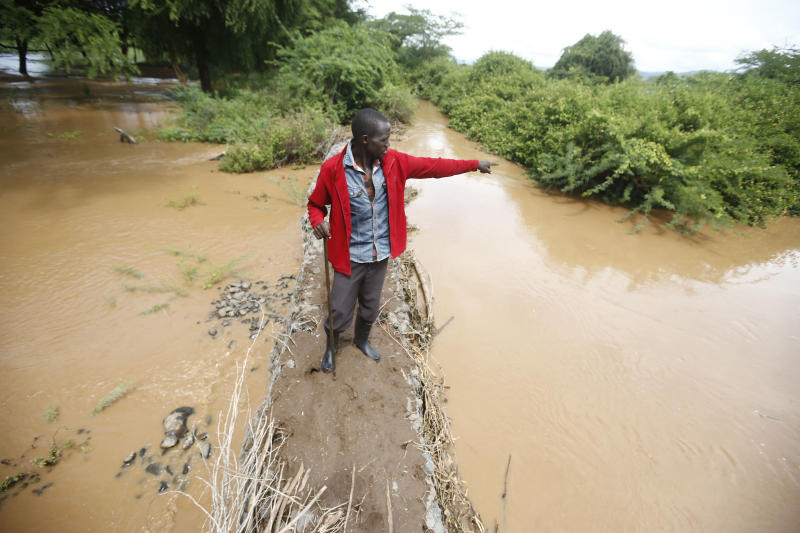 Over 100 families have been displaced by floods that swept through three villages in Marigat, Baringo.
This is despite the construction of dykes to control floods at a cost of Sh11 million four months ago.
The dykes, erected on the banks of Perkerra River, failed to contain the pressure of the storm water following heavy rains.
The project, under the National Water Harvesting and Storage Authority, was launched by Water and Irrigation Cabinet Secretary Simon Chelugui on August 3, 2019, after floods hit the villages of Ng'ambo, Sintaan and Leswa.
Now people have started leaving the area, with many saying they had lost property to the floods.
Simon Nkoroto, a resident of Sintaan village, said he had nothing left, even as he waded through the flood waters in his compound.
"I have lost all my property, all my crops and farm produce have been swept away," said Nkoroto.
Levis Kikenyi, another resident, said although two floodgates were constructed, they had not assisted in containing the floods.
"We are being told to move to higher ground, yet almost all of this area is flat. We are just trying to avoid this place as the water level keeps rising each day. The gabions constructed are not up to standard and are being swept away," said Washington Kauraki.
Nancy Lagaitu, a mother of seven, said the government should address the issue of flooding once and for all. She said she had lost her two acres of watermelon and over 50 goats.
The emergency works that had been carried out along Perkerra River included blocking two floodgates using gabion boxes filled with hardcore and quarry stones, and bush clearing and removal of logs along the river near Sintaan Primary School.
National Water Harvesting and Storage Authority Chief Executive Officer Sammy Mburu said they needed more funds to carry out more works.
"We need to do more, we had an issue with the budget," said Mburu.
Baringo Governor Stanley Kiptis said the county government was mobilising funds to assist those affected.
Kiptis said those living in affected areas should move out to avert any fatalities.
County Commissioner Henry Wafula said though no one had died, people should avoid areas close to River Perkerra.
In Bomet, the disaster management team retrieved three more bodies from two rivers yesterday.
Two men aged 41 and 42 died as they were crossing Almakach-Kiplekwet River in Bomet Central, while a 54-year-old woman was swept downstream in Chepalungu.
Kanusin Senior Assistant Chief Joseph Koech said the two men were from a drinking den and were on their way home. "The two moved in to the area a few days ago. It's unfortunate to lose them," said Koech.
Residents spent a better part of yesterday searching for the bodies.
"Water levels has gone up since the rains started. Bridges made by the public have been swept away and it's a great risk crossing the river," said Joseph Kitur, a resident.
In Chepalungu, Kimaya Assistant Chief Paul Rotich said the woman was from routine duties and in the company of another woman when the incident occurred.