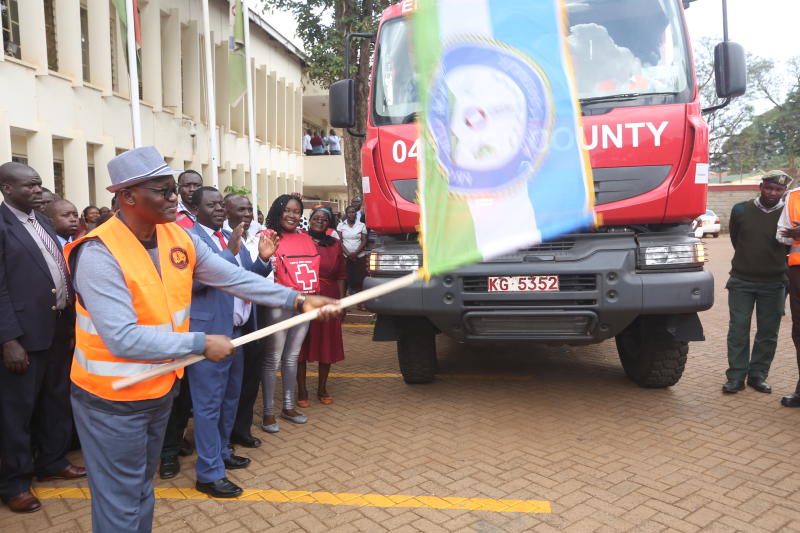 Kisii County has made a big leap in disaster management and preparedness after acquiring a modern fire engine and a rapid response vehicle. Governor James Ongwae recently launched the firefighting engines in a ceremony attended by acting County Commissioner William Murindat, County Assembly Speaker David Kombo, MCAs, County Secretary and County Executive Committee members. "The fire engines have a liquid carrying capacity of 10,000 and 750 liters, respectively. The machines are capable of effectively extinguishing fierce fires without refilling. This will ensure the hard earned investments and lives are saved at any given time," said Ongwae. The vehicle has ladders that can reach up to the fourth floor of any building, adding that the county has opened all hydrants in Kisii town to ensure the engines can be easily filled.
SEE ALSO: Opening churches: Bishops fault cap on faithful
Municipal council "I am happy to announce that we now have three fire engines, including an old Renault engine which we inherited from the defunct municipal council. This will improve our firefighting services," he said. The governor said the county will also purchase another fire engine to be stationed at Ogembo to effectively serve the Gucha region. "A number of our officers in the fire department have been trained in disaster response to ensure effective service delivery. We will be seeking partnerships with established groups locally and internationally to help us build capacity in this area going forward," he said. Ongwae said the officers have undergone intense training in various disaster management courses at Kiambu Fire Academy, sponsored by the Polish Centre for International Aid (PCPM) and another one co-sponsored by PCPM and Kenya Fire Brigade Association (KENFIBA).
SEE ALSO: Police arrest man caught on camera stealing at M-Pesa shop
The governor said the county fire station with a capacity to operate up to four high capacity fire engines is nearing completion. "This will be a state-of-the-art disaster response and training centre which will serve the entire Lake Region," he said. He said the disaster department has developed a crisis management plan which is due for ratification by the Cabinet. Murindat and Kombo commended the governor for acquiring the machines. Murindat recalled that in 2017, the county experienced numerous fire incidents, especially in schools, saying the incidents will be a thing of the past. He urged the emergency team to be on a high alert. Administration and Corporate Services executive Walter Okibo said with the coming of the fire engines, the country will be able to respond swiftly to all forms of disasters.
SEE ALSO: Family of girl gang raped in Kisii demands justice