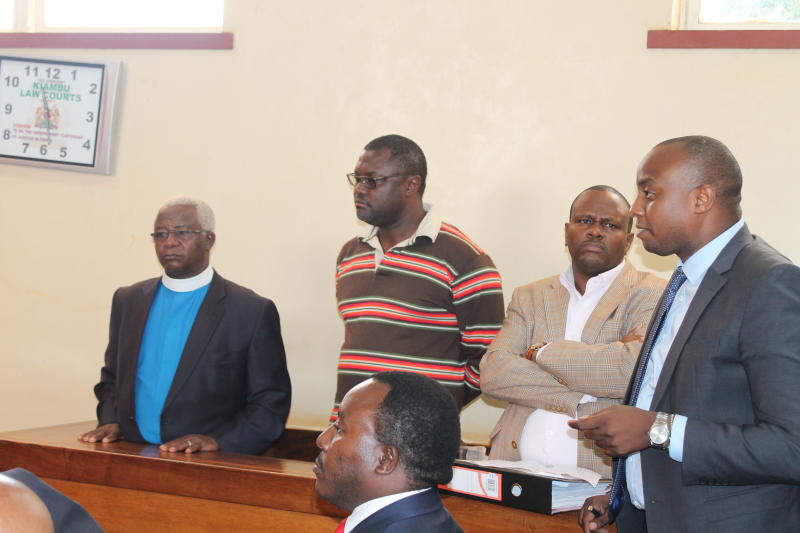 The Presbyterian Church of East Africa (PCEA) has demanded that typographical and clerical errors in a charge sheet of fraud case involving former church officials be corrected before hearing begins.
The church has written to Office of Director of Public Prosecutions (ODPP) over the matter while expressing fears that the Sh50 million fraud case might collapse if issues raised are not addressed.
PCEA has written twice to ODPP and the letters were copied to the Director of Criminal Investigations and the Inspector General of Police.
"I am apprehensive that unless the issues raised in my letter are fully addressed, the trial will be a futile exercise and the church will be denied justice. Kindly update as the matter is now scheduled for full hearing this month," said the letter to the DPP. The case is slated for hearing on October 29, 30 and 31.
Former Presbyterian Church of Eastern Africa moderator David Ritho Gathanju, James Muiruri Njane and Peter Mwangi Kamuthu were in March this year charged with stealing Sh50 million from the church.
Read More
The three were charged that on diverse dates between January 2, 2016, and June 30, 2017, at PCEA headquarters in Nairobi's South C estate, they stole Sh50.9 million from the church. In a second count, they were accused of stealing Sh50.9 million that came into their possession by virtue of their employment.
They had earlier in October 2017 been charged with stealing Sh39.9 from the church between January 2, 2016 and June 30, 2017, but were released in October 2017 on a Sh3 million bond or cash bail of Sh1 million each.
The letter indicated that the errors mean Muiruri, a former finance officer would be facing charges that ought to be press against Mwangi- a former director of communications at the church.
The church said proceeding with the hearing of the case without review or overhaul of the current charge sheet would not achieve justice but a futile exercise. Mr Gathanju, served as moderator of the church between 2009 and 2015.