Kingi calls Coast MPs, MCAs for meeting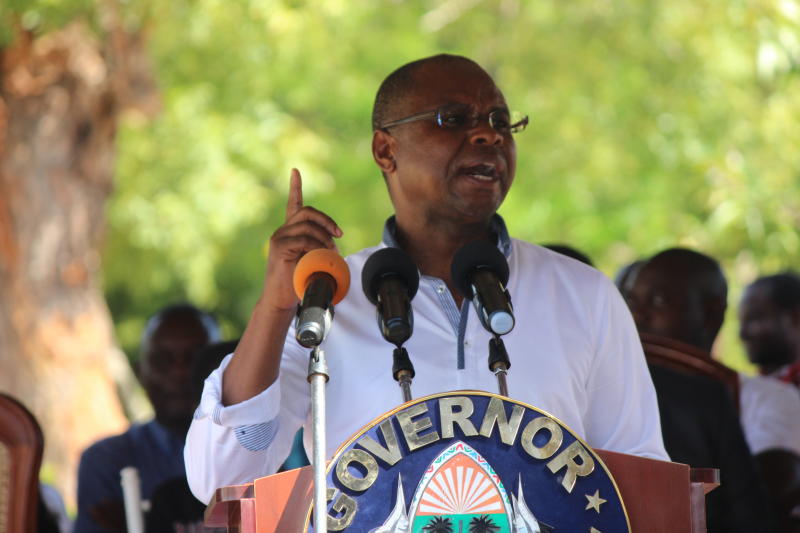 Kilifi Governor Amason Kingi has invited all Coast MPs and MCAs to a meeting meant to chart the region's political course, which is seen as renewing the supremacy battle with his Mombasa counterpart Hassan Joho.
The message of invitation explained that the meeting planned for Tuesday was to discuss several issues in light of the recent developments regionally and nationally, including the diminishing business at the port of Mombasa.
Early this month, President Uhuru Kenyatta met six governors and some elected leaders from the region to allay fears that his Government was trying to weaken the economy of the region by moving business to dry port.
Kingi's meeting is the third in over a year. It comes a year after he hosted 19 MPs and later 21 MPs at Sun N Sun Hotel in Kilifi to discuss how they could benefit from the March 9 handshake between the President and Opposition chief Raila Odinga.
MPs from Taita Taveta, Tana River, Kwale, Mombasa and Lamu counties and a number of MCAs from the region's six devolved units attended the meeting.
The Tuesday meeting comes after recent separate tours by the President and his deputy William Ruto in the region during which they dwelt on economic and political matters.
Coast region has been witnessing renewed political activity and shift of political alliances.
There was talk that MPs from all the six counties of the Coast region were mooting formation of a national party in what signals new political realignment ahead of 2022.
The meeting is likely to renew the supremacy battles between Kingi and Joho, who were once close political allies, but have both declared interest in presidency after the end of their second terms.
Kingi has previously said he is working on a party that would bring together the region, while Joho has insisted that he will seek to ascend to the top seat in the country through ODM party.
Joho did not attend last year's meeting, but sent apologies. He was said to have been out of the country.
The Mombasa governor's attempt to host a similar meeting a month later did not materialise.
Joho has been playing national politics, and has toured several parts of the country. He addressed rallies in Rift Valley and Nyanza.
Whereas Kingi has adopted a "charity begins at home" approach and put his energy to galvanising the region politically, Joho is keen on riding on his key position as ODM deputy leader and national appeal to woo the region.
Both, however, have renewed calls for a united Coast, even as they forge different paths to national politics as their tenure as governors near the end.
But their paths have taken them to separate directions. As Joho looks at the national politics with a target of inheriting Raila's political constituency, Kingi has opted to build political networks from within the region, which he hopes will catapult him strongly to the national arena.