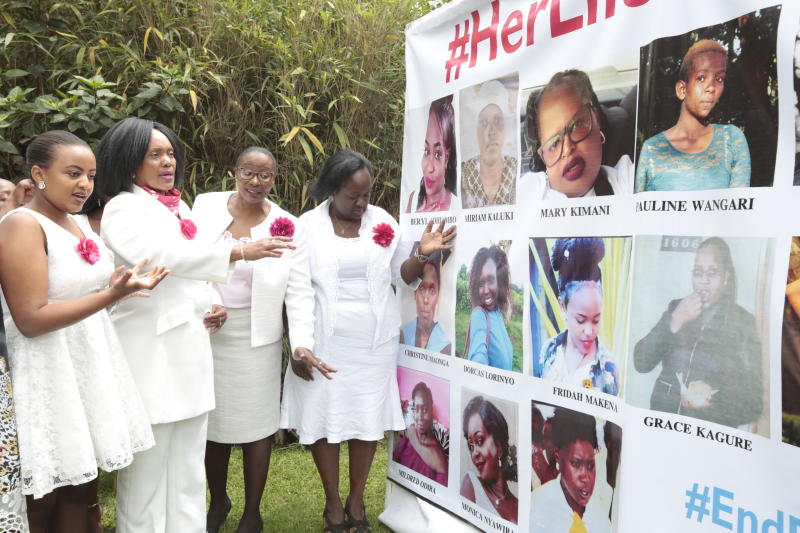 A nationwide campaign to rally Kenyans around efforts to curb cases of violence against women will kick off in Nairobi today.
The Embrace Women Group, which comprises female leaders and organisations such as UN Women, Equality Now, Creaw, Ngaaf, Black Light, among others, will lead the initiative.
Participants, who will dress in white with a touch of pink, will take time to reflect on the worrying killings that have rocked the nation in recent months.
A vigil will be held in the evening at the University of Nairobi in memory of the victims.
"We are holding this vigil because from January we have witnessed a lot of cases reported in the media that focus on women who have been killed by their partners, husbands or boyfriends, and the numbers keep escalating," said Wangeci Wachira from the Centre for Rights Education and Awareness (Creaw).
Read More
She continued: "Given this trend, I don't think as a country we can go on. There are 40 cases we have heard of and these are the ones that have been reported; there could be more."
Ms Wangeci said apart from honouring their departed sisters and friends, it was also time for the country to have a conversation on the issue.
"We need to know what the underlying root cause of the violence against women is. Could it be stress or mental health issues?" she said.
The Creaw official cited the lack of rescue centres to offer refuge to victims as one of the reasons why women remained in abusive relationships.
Wangeci said in cases where women were violated, they were often asked to return to their violent and abusive homes, which turned out to be death traps.
"We do not have shelters today that are run by the State. The Government should consider this so that when one does not feel secure, they have a place to go."
Walk away
She advised women to walk away from violent relationships whenever they felt unsafe.
Wangeci called on men to also come out and speak against domestic violence, saying not all husbands and partners were abusive.
David Oginde of Christ is the Answer Ministries said couples had lost the social networks that held them together.
"In the good old days, one got married into a family and a community so that when you had problems people could help you. But now everybody is on their own and they can easily kill each other in the house," said Bishop Oginde.
Wangeci faulted Government institutions for failing to come out and speak about the rising incidents of women being killed.
"If it was another disaster, for example 40 people crashed in a road accident, we would see the Transport and Interior ministries running up and down, imposing rules and such," she said.
Wangeci accused the Judiciary of "being in a hurry" to grant cash bail to alleged perpetrators of such crimes.
"What does that mean for a case of such magnitude as death? Are the witnesses likely to be compromised?" she asked.
The women's group asked the Judiciary to review the issuance of cash bails and reduce the hearing time of cases of domestic violence so that victims could get speedy justice.
Faith Simiyu, a psychologist, said many of the cases were linked to depression, frustration and societal pressure, adding that the triggers caused men to turn against their partners and kill them.
Ms Simiyu said there was fear of the unknown and insecurities that surrounded relationships. She gave the example of demands placed on men where they heavily invested emotionally and financially in relationships.
"Some of them cannot stand being jilted; they cannot handle rejection and would rather kill than have another man have their partners," Simiyu said.
Felix Opondo, a psychologist, said when someone committed murder, it was usually an action they had thought about for some time.
Mr Opondo noted that not everybody who killed their partner was depressed, adding that bottled-up anger, hurt and disappointment could lead a rational person to do harm.
"Maybe there could be certain factors or lack of justification hindering them from fulfilling these acts. Therefore, they just wait for a precipitating factor like being jilted, and then the accumulated or bottled anger comes out," he said.
National Council of Churches of Kenya General Secretary Peter Karanja said a study needed to be done on the issue. He said the Government had a responsibility to commission studies by relevant agencies to establish the cause of the violence and to provide ways to mitigate the crisis.
He called on universities and academics studying for their Masters and PhDs to consider conducting research on the matter.
Outcome of breakdown
"We may now be seeing the outcome of a breakdown of support social structures that has happened progressively. It may be getting to a climax if nothing is done about it," said Canon Karanja, adding that individuals often found themselves unable to cope with their situations and without anywhere to turn to for support. "If this is the case, then there is a reason for us as a nation to revisit the kind of support structures we have so that this issue of killing self and loved ones is checked and contained," he said.
He urged families to realise that they had to work to provide support for their children and loved ones.
Karanja said family strain and infidelity in marriages and relationships seemed to be playing a big role in the killings.
"Individuals who are in relationships must value integrity and fidelity. If you are in a committed relationship, recognise that to double-deal shows disrespect and disloyalty," Karanja said.