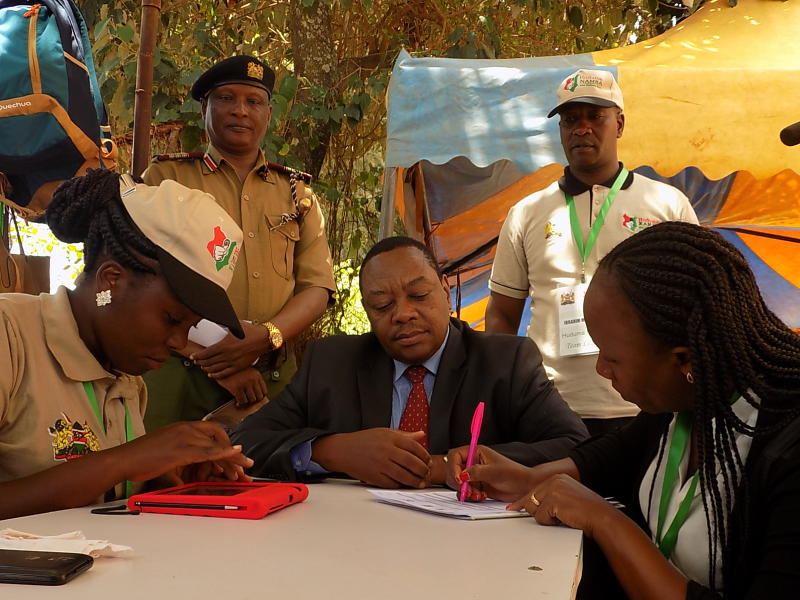 The Government has sought to allay fears that personal data collected under a new digital registration system would be misused. The authorities explained that the National Integrated Identity Management System (NIIMS), which is in its pilot stage, was an updated database that would link information held by various State agencies to inform national planning. The registration is expected ensure real-time update of data, which could in future eliminate the need for periodic registration of voters and national censuses. Although Sh7.7 billion had been allocated for the registration, the Government has said the cost of the entire exercise would go down to between Sh5 billion and Sh6 billion after the State opted to use civil servants to come up with the technology being used as opposed to procuring it from IT firms. The Government acquired only 31,500 biometric registration kits from a French firm, IDEMIA, for Sh1.7 billion. Interior Affairs Principal Secretary Karanja Kibicho said a campaign would be rolled out to iron out any misunderstandings among the public about the digital registration whose piloting ends today. "We will immediately roll out the campaign to enlighten the public about this process. This will be done ahead of March 15, when the mass registration begins countrywide," the PS said. In an interview with The Standard yesterday, the PS said Kenyans would only be required to provide information that is in an identification document, which could be a birth certificate, national identity card, driving licence, Kenya Revenue Authority personal identification card (PIN), NHIF, NSSF cards, and passport number.
A digital picture, name, gender, date of birth, age, citizenship, information about parents or guardians, place of birth, phone number, education level, employment status, email address, physical and permanent residence and marital status are some of the details to be captured. The PS said some 50,000 registration officials would be attached to various assistant chiefs' offices to carry out the task within 90 days. Following is the interview with the PS.
Q: Why NIIMS and why now?
What we are doing is not different from what we started in 1963, when Kenyans began obtaining IDs. For us to have a data base of all IDS, we must have a system that integrates information from other departments such as registration of births and deaths, passport, driving licence, NHIF, NSSF, KRA in one platform. And that is exactly what we are doing. Every Government project is always viewed with suspicion until we demonstrate why it is important. We are already on the pilot programme and we will also roll out an aggressive media campaign to educate the public about the exercise. The current data base is analogue. Now we moving it to digital.
Q: Who are the personnel involved and how were they recruited?
Assistant chiefs have been appointed as registration officers. They will be assisted by clerks. Each administrator will get five clerks from his or her location to work with for 90 days. The clerks will be paid Sh1,500 a day. County commissioners will be the overall coordinators of the exercise.
Q: Why is this exercise important?
The aim is to get accurate data that can help the Government in planning. For instance, the system will show us that this number of children have attained the age of six and the Ministry of Education can plan effectively on provision of books for Class One. Treasury, Labour, Industry and other ministries can plan using data on employment while the Ministry of Agriculture can obtain data from NIIMS on agricultural activities.
Q: How did you pick the supplier of kits?
We wanted to procure directly from the supplier and floated a tender in 2017. Three firms expressed an interest. IDEMIA (French), Coopper-Nick (French) and Credence (American). After evaluation, IDEMIA emerged as the least expensive and got a tender to supply Morpho 2S kits at Sh1.7 billion. I am glad to state that this is among the very few tenders that have not been contested in court or review board.
Q: Why didn't you borrow kits from other state agencies such as the Independent Electoral and Boundaries Commission?
We wanted to obtain our own gadgets because this will be a permanent exercise. After the mass registration, the kits will remain with the chiefs. Q: How did you acquire the technology and software for the exercise? The development of the technology was done by our local staff at zero cost. That is why we will save more than Sh1.7 billion.
Q: There are fears that critical data can fall in the hands of foreign entities. What is your response?
That is farfetched. We are not outsourcing the storage of our data. We have not and do not plan to outsource a system to store the data. This has been done locally by our staff. In fact, we only bought the gadgets because they are not locally manufactured, unlike the systems that have been developed by our own and are secure.
Q: How secure is the system from hackers?
It will take at least 10 geniuses working for long hours to hack us. And even if they did that, we have a clear backup to protect our data.
Q: This matter is being contested in court, aren't you afraid it will derail the exercise?
Luckily the court has not issued any restraining orders and therefore we shall continue with the programme. The matter came up in court today and we have made our argument. Our hope is that the Judiciary will find some merit in our arguments about the system.
Q: Some argue what you are doing is like duplicating the forthcoming census. Is that so?
That is not true. From the onset we wanted to conduct the exercise in early 2017, before the census this year, but because of the elections we delayed. These two are not related.
Q: From your explanation, it seems the country will have to do away with mass registration of voters and census since it will have real-time data on Kenyans?
That will be a debate for another day. If Kenyans in future find it easy to use information from NIIMS for such exercises, then they shall be free to decide. As for now, we shall work separately. By the time the next census will be done in 2029, this system will have been in place for 10 years and it will be gauged then to determine the need for census or not. Kenyans will also decide whether to use data from NIIMS for electoral purposes or not.