Kofi Annan, man who saved Kenya, takes final bow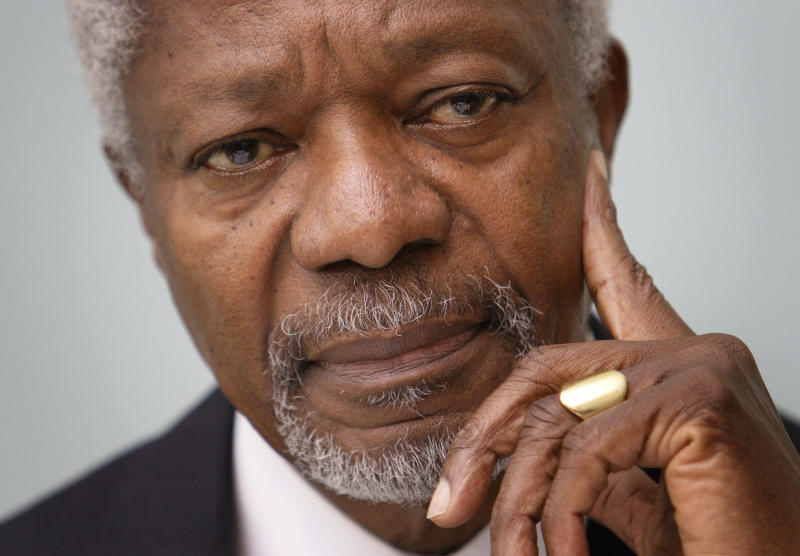 Soft spoken, silver haired and stocky, Kofi Annan arrived in Kenya on January 22, 2018 against the backdrop of failed mediation efforts to forestall runway violence then swallowing the country.
A number of sitting and former African presidents had been here, done that and left without getting former President Mwai Kibaki and Opposition leader Raila Odinga to budge on their diametric hard line positions regarding the outcome of the 2007 presidential election.
The AU chairman and Ghana's President at the time, John Kufuor, left empty-handed. Former Presidents Benjamin Mkapa (Tanzania), Ketumile Masire (Botswana), Joachim Chissano (Mozambique) and Kenneth Kaunda (Zambia) too had tried their luck with the stiff-necked Kenyans to little avail.
Nobel Laureate Desmond Tutu's hoarse screams couldn't get the two men talking. US Assistant Secretary of State for African Affairs Jendayi Frazier's 10-day stay in Nairobi had not helped much either.
But two days after his arrival, Annan had the two men greeting each other.
"Conscious that each day the parties stalled, more lives were being lost, Annan brought the two leaders together in a closed meeting on January 24," Elisabeth Lindenmayer and Josie Lianna Kaye wrote in A Search for Peace: The Story of 41 days of Mediation in Kenya.
"Using terminology that would, over the coming weeks, become familiar, Annan insisted that this was an extraordinary situation which needed an extraordinary solution," they wrote.
Eight days earlier, on the very day he was due to fly in, the man who would save Kenya had been rushed to hospital with a fever. Perhaps it was the apprehension of a heavy task at hand for all the burden he had carried over the escalation of the Rwandan genocide during his time as head of the UN peace keeping operations.
Apprehension or not, his stay at the hospital is said to have helped in mobilising the necessary political support for his mission in Kenya and in laying solid foundation for the mediation strategy.
Political melodrama
His 41-day stay in Kenya was the stuff of a typical Kenyan political melodrama.
From smashing the egos of cocky and vain Kenyan political players with his soft tongue to winning the hearts of Kenyan ladies with his silver hair, the man who always wore a golden "Egyptian Ankh" bracelet, seized the Kenyan psyche to its core.
Sometimes he would walk to town from Serena with bodyguards in tow as the people he was mediating with and for were sweating it out in traffic. When the mediators at Serena stonewalled on progress, he sidestepped them and went for their principals - Kibaki and Raila.
And when the pair were distracted from progress, he flew them out deep into the Savanna -- Kilaguni -- to square it out in the wild of Tsavo West.
And when Kialguni didn't help either, he locked them in a single office -- just the two of them, Jakaya Kikwete (whohad just succeeded Kufuor as AU chair) and himself -- to slug it out once and for all.
Those who worked with him say he knew his point. When they rejected Cyril Ramaphosa for his deputy, Annan quickly retreated and sprang them a surprise of a Nigerian diplomat they knew little about.
When she got bored of the Kenyan situation, Neha Sanghrajka, who worked for the mediation panel in Serena told Sunday Standard, Annan would tell her: "We don't have the luxury of giving up, we have to wake up every morning and push on…"
She said Annan's idealism, courage, hope and love for humanity was evident in his tireless efforts at doing what he believed was the right thing.
"I remember him saying 'we are the storytellers of our continent and we must do it justice'. Kofi Annan had broad shoulders and Kenya was lucky to have had his silent strength during trying times," she said.
Yesterday, Kibaki, who fell victim to his tough bargain, described Annan as a "man who matched" his inimitable elegance with enchanting eloquence."
Former Deputy Prime Minister Musalia Mudavadi whosquared it out with Annan in Serena termed him simply an attractive soul, one who had "the sensation of a peacemaker stuck on him like his skin."
"He learnt his lessons in the botched UN intervention in Rwanda and pursued human rights with vigour through the Balkans and Iraqi wars. This led to a deserved Nobel Prize for him and the UN in 2001," Mudavadi said.
Retired President Daniel arap Moi described Annan'sdeath as a great loss not only to Africa but to the rest of the world. "He was a public servant who was committed to peace and harmony for all mankind. His commitment to resolution of conflict through dialogue will be his biggest legacy," Moi said.
In their condolence messages, President Uhuru Kenyatta and Deputy William Ruto avoided Annan'smediation exploits in Kenya like plaque. It is through Annan's mediation journey that they ended up facing crimes against humanity at the International Criminal Court (ICC) in the Hague.
President Kenyatta once publicly dismissed Annan as a tourist. He restricted his tribute to Annan's role as a former UN Secretary General and a Nobel laureate. Ruto too was restricted, only remembering him in general terms of "an outstanding, remarkable and suave diplomat" and a "distinguished man and friend of humanity."