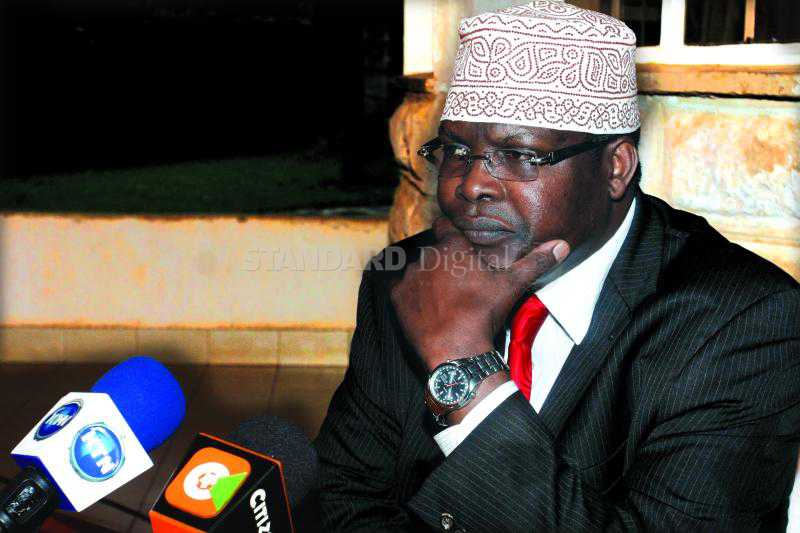 Firebrand lawyer Miguna Miguna has said his deportation to Canada will not silence his criticism of the Government.
The lawyer told The Standard he would make a triumphant return to the country to wage an epic legal battle against the State.
"I will come and launch the mother of all lawsuits in Kenya. I will sue for punitive damages, defamation and special damages resulting from myriad egregious injustices committed against me," he said.
Although Miguna did not give specific timelines for his return, he set out conditions under which he would come to engage in the legal fight.
"I must get guarantees that my tormentors will abide by the numerous court orders; guarantees that they will abide by the outcome of the appeal they are set to launch in the Court of Appeal after the High Court ruled that my deportation was illegal," he said.
Read More
"Those who deported me must guarantee my security and safety because it is my right," he added.
Travel documents
Miguna also want his travel documents back, and a first-class air ticket to Nairobi.
"I will be back as soon as they give me back my passport, buy a first-class ticket and not a crumpled economy seat as was the case when I was forced into a plane to Canada," he said.
"I will return in full suit and wearing shoes, not sandals during winter as was the case on February 6, which is torture," said the lawyer in reference to the dramatic events of the night of February 6, when he was deported aboard a KLM Royal Dutch Airlines flight wearing red sandals.
Miguna also demanded that he should be charged and tried in a Kenyan court if his accusers believed he committed any crimes.
"All these injustices committed against me, including a purported deportation, are just meant to prevent me from standing in a court of law in Kenya for they know they have nothing against me," he said.
Politician insisted
The politician also insisted he never renounced his citizenship and challenged anyone with evidence that he did to table it.
"Renouncing one's citizenship is a process of law, and by not producing evidence that I ever did it, my tormentors are faced with the fundamental question as to who then interprets the law."
The High Court declared yesterday that Miguna's deportation was illegal but the Government is challenging the ruling.
"In as much as the Government respects the court's decision, the Government still holds its earlier view that the deportation of Miguna Miguna was done in accordance with the law," said Interior Principal Secretary Karanja Kibicho in a statement.
At the time of Miguna's deportation, Ministry of Interior spokesman Mwenda Njoka claimed the lawyer lost his citizenship when he acquired a Canadian passport in 1988, after his application for a Kenyan one was denied on September 12, 1987.