Activist Okiya Omtatah has claimed that police have blocked him from accessing Communications Authority of Kenya (CA) Headquarters in Nairobi.
Mr Omtatah alleged that security officers denied him entry into CA on Friday to serve the authority with court orders suspending the media shutdown.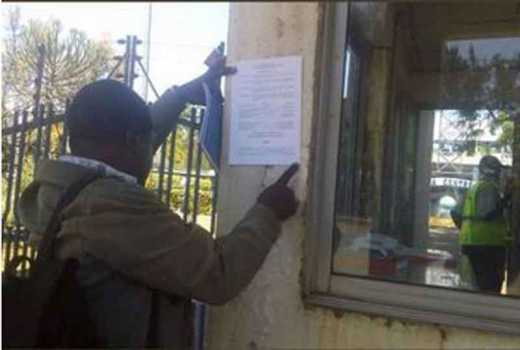 Omtata filed a petition on Thursday to overturn the Government's directive that led to switching off Kenya's leading TV stations, arguing the move is contravening the Constitution.
Read More
Media stations such as KTN News, Citizen TV, Inooro TV, NTV and Radio Citizen have been off-air following the directive from the State that they reported NASA's 'swearing-in' event that happened at Uhuru Park, Nairobi on January 30.
Omtata's petition highlights an argument that the Government's directive is in utter violations of Article 33 and 34 of the Constitution, which guarantee media freedom and access to information.
The activist is seeking to convince the court to compensate the affected media houses for losses that have been incurred during the days they have been off-air.
In the argument, the petition is of the view that both consumers of the content as well as media houses have had their rights repudiated following the implementation of the order.
The petition partly reads:
"Without warning and without giving any reasons, in the morning of 30th January, 2018, the Respondents switched off (shut down) free to air transmission on television channels owned by the first to third interested parties."
He emphasizes that freedom of speech and access to information is provided in the Constitution and cannot be limited through unconstitutional means.
The High Court on Thursday suspended the Government's directive to shut down the three leading TV stations in the country pending a full hearing of the case filed by Omtatah.
Judge Chacha Mwita ordered CA to restore live transmission for the stations.
He also barred the State from interfering with the signals of the various TV stations.
CA has, however, not responded to the High Court's order.
In a press briefing on Wednesday, Interior Cabinet Secretary Dr Fred Matiang'i maintained that the switch-off of the media houses would remain in place until investigations into NASA's National Resistance Movement (NRM) activities had been concluded.
"Media owners and all relevant actors had been given a full security situation brief well ahead of the illegal activities of NASA. Unfortunately, some media houses chose to disregard this advice, their own code of ethics, self- regulations and moral responsibility to every Kenyan to safeguard security of their fellow citizens," The CS stated at Harambee House, Nairobi.
The former Education CS further noted that coverage by the media would have led to incitement and a 'massacre of catastrophic proportions' was going to happen.
"The Government's responsibility is to protect the lives of people. We are committed to the rule of law," Matiang'i said.