New toilet technology meant for schools up and running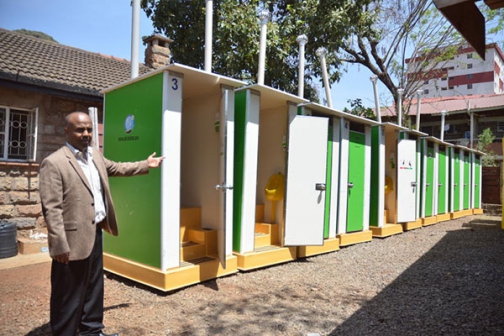 More schools are investing in a new toilet technology that replaces the traditional pit latrines.
EcoLoo, an odourless, sewage-free toilet that does not need flushing, can serve a school for over 10 years.
The locally assembled toilets consist of an aerobic digester system through which fluid and solid waste is quickly separated and broken down by bacteria. In the process, the waste is turned into liquid organic fertiliser.
The liquid fertiliser is odour-free, pathogen-free, safe to use and perfect for agriculture. It has a ventilation unit to ensure that the toilet remains odourless in the process of breaking down waste.
The ventilation system includes a fan that uses wind power while the roof is made from translucent material that allows in adequate light.
The technology seeks to address growing concerns about the sorry state of toilets in schools across the country.
PHASED OUT
At St Martin Deporress Primary School in Nairobi's Huruma estate, the new-look loos have phased out pit latrines.
Take a quick survey and help us improve our website!
Take a survey
"The children no longer go to the pit latrines we have. They would rather queue to use the Ecoloo," said Rhoda Kasubi, the headmistress.
She said the new toilets had reduced the school's water and electricity budgets.
The toilets do not need water and the translucent roofs let in enough light to rule out the need for an electric bulb.
The new toilet is also more child-friendly than the accident-prone traditional pit latrines.
Ecoloo Africa Limited Managing Partner Ahmed Mahat said it was the perfect solution for the poor state of school toilets in the country.
"The way the loo is designed, it will never get filled up so the issue of digging everywhere after every few years will not arise," he said.
Mr Mahat passionately defended the Sh95,000 installation cost.
"When you dig a pit latrine, you will use almost the same amount of money as the Eco-loo but every two or three years you have to do it all over again," he said.
Mahat is confident that the concept will address sanitation issues faced by most schools.
Global Peace Foundation-Kenya Country Director Daniel Juma said there was need to start initiatives to ensure that every school in the country has a decent toilet.
Following an exclusive exposé by The Standard on the sorry state of public school toilets in the country, the company has pledged to help three schools in Ugenya acquire the new technology.
The Standard Group has pledged to support a nationwide campaign to improve school sanitation.