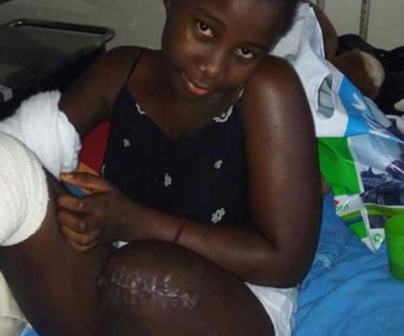 The girl who lost her legs after she was run over by a train can finally afford a smile.
Touched by Sharon Makungu's plight individuals and organisations have come forward to offer their support to the young girl whose story was published in The Standard on Sunday.
Kenya Red Cross (KRC) staff visited Sharon, 13, at her home on Sunday and Monday and took measurements to help acquire artificial limbs.
They will provide her with free prosthetic legs as well as a prosthetic hand as three fingers on her right hand were also severed by the train.
"With that kind of injury, she will need to be supported for a long time because her life will never be the same, so we are also giving her psycho-social support," said Michael Aiyabei, KRC regional co-ordinator.
Read More
"It will be a long journey because even with the prosthetics, the girl is still growing and they need to be adjusted as she grows."
Rotary International also came forward with an offer to fit her with free prosthetic limbs through the Jaipur Foot Project. In addition to the artificial limbs, they also volunteered to offer her free accommodation as they train her on how to walk using the prosthetic legs.
"When we read about her, we were touched by what happened to her because of her age," said Kamal Sanghani, the District Secretary for Rotary International District 9212.
"One of our core goals as Rotary is serving humanity, so we decided we would help her so that she can go back to school and learn and get the knowledge that she deserves."
Nominated MP Isaac Mwaura who was behind a campaign dubbed #justiceforsharon and has been supporting the family lauded the effort to support Sharon, and said that it is important to ensure she gets compensation.
"I am very happy that Red Cross and Rotary have come on board and I am hoping that there will be complementarity on how they work together so that the girl can also get physiotherapy services," said Mwaura.
"The other issue was about her schooling and I was able to transfer her to Matopeni Primary School and bought her a new uniform. We sensitised the whole school community, including parents, on how to take care of a child with disability."
He, however, said that she would fare better in a special boarding school but that this is expensive.
He said Sharon's mother also needs support to either get back into business or into some form of employment.
Sharon and her family expressed gratitude for the support.