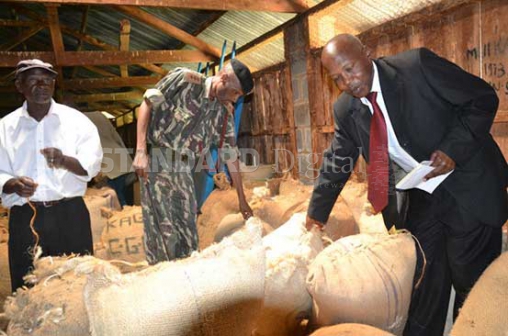 The emergence of cartels specialising in coffee theft in Central Kenya has left majority of peasant farmers wallowing in poverty. This is besides the numerous challenges facing the once lucrative coffee sector.
Even before the advent of the harvest season, more than 600 bags of parchment worth millions of shillings have been stolen from coffee factories in Mt Kenya region, with Nyeri the worst hit, over the last two months.
From previous assessments, Nyeri County loses more than Sh100 million annually to cartels masquerading as common thieves who raid factories at night.
The syndicated gangs transport their loot by road in broad day light and evade multiple police roadblocks erected along the busy 150km Nyeri – Nairobi highway.
But as authorities grapple with the mystery, farmers are questioning how the cartel manages to ferry their loot yet a close knitted procedure is required before a permit is issued to transporters.
There are fears that the thefts are inside jobs orchestrated by cartels comprising factory management committees, millers and marketers.
One recent incident lends credence to this argument. Armed gangsters broke into the stores of a Nyeri factory and made away with about 200 bags of parchment coffee estimated at Sh7 million. But upon an audit, it was discovered that the reported robbery could have been a ploy by the management of the society to fleece farmers.
When The Standard on Saturday visited the factory, the management insisted that coffee had been stolen.
Some farmers blame the mess on licencing of many millers. Solomon Kamau, the manager of the new Gatukuyu co-operative society, says the directorate should consider canceling licences to tame the theft.
"The reason behind the coffee theft from societies and farmers is to fill the vacuum by millers who have no coffee of their own but depend on other peoples sweat," Kamau said.
On Tuesday, farmers in Gaturiri Coffee Factory in Mathira lost 55 bags of coffee parchment valued at Sh2 million. Incidentally, the robbery was not reported to the authorities until the next morning.
As a result, top officials from the factory were taken in for questioning. Numerous cases of coffee theft reported in Nyeri, Murang'a, Kiambu and Kirinyaga point at well-coordinated inside job.
Despite these high cases over the past two years, security agencies have been unable to unearth where the parchment disappears to. The Standard on Saturday has found out that small coffee factories are easy targets for the thieves. Kayu coffee factory in Murang'a lost 40 bags of coffee worth Sh2 million. Wanjengi, Gachirago and Iyego lost produce worth Sh2 million last year.
On the Iyego theft, Kangema sub-county commissioner William Lenaremo told the media that police were investigating the matter following reports that the gang targeted a particular store.
"What amazes us is that the gang walked into the factory with their bags, an indication that they knew where quality coffee beans were stored," said the administrator.
But as investigations continue, the thieves are getting more daring. Stephen Waithaka, a member of the new Gatukunyu farmers' Co-operative Society in Gatundu North kimabu, woke up one morning to discover that half of his 1,500 coffee bushes had been harvested.
Waithaka blamed the rising cases of berries and parchment to large coffee estates, millers and marketers eager to boost their production capacity and meet demand.
Last year, the Murang'a County Security Committee warned the management of coffee factories against packing their coffee into bags before they make transport arrangements.
Last month, five co-operative societies in Murang'a claimed they were finding it difficult to guard their loaded coffee stores after the High Court suspended the issuing of movement permits to coffee co-operative societies. A movement permit is a mandatory requirement for farmers moving coffee from the pulping factories to dry mills.
Murang'a Farmers Co-operative Union delegates led by their chairman Francis Gathiga said a quick resolution of the matter would prevent the sector from plunging into a crisis.
Meanwhile, a group of coffee growers have gone to court to challenge the Coffee Regulations Rules 2016. The growers are incensed by regulations on licencing of private pulping stations, saying it could encourage coffee theft.
Under the new regulations, the role of issuing coffee movement permits had been handed to county governments.
But Mr Gathiga said the industry had been plunged into confusion after the court blocked county governments from issuing the permits. "We think coffee theft has been on the rise in Murang'a and Nyeri because the thieves know that our society stores are full of parchment," he said.
Coffee farmers, especially owners of pulping stations, have complained of delays by the authorities to deliberate over how the permits will be released to facilitate coffee movement.
Murang'a County Commissioner John Elungata said police patrols had been intensified around the factories. "There havealways been police patrols around coffee factories hence minimal coffee theft in Murang'a compared to other regions," said Elungata.
Nyeri County commissioner Onesenmus Musyoki said they have taken stringent measures to theft by conducting audits of the amount of coffee stock in beds and stores. Societies have been banned from retaining a huge amount of coffee in their stores as this was encouraging the vice.
Efforts to get comments from coffee directorate offices in Murang'a and Thika were futile as our calls went unanswered.
Stakeholders are proposing strict vetting to ensure only people of integrity are elected to factory committees. "The cooperatives act needs to be amended to keep corrupt individuals away from farmer's coffee," said George Muthii, the chairman of Mwerua Farmers Society in Kirinyaga.
During Rumukia factory management elections that took place in June, it emerged that one of the individuals had forged a certificate of good conduct to clinch the factory chairmanship.