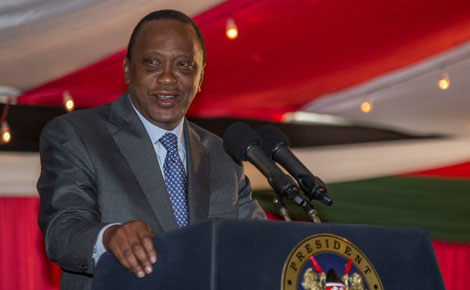 President Uhuru Kenyatta.
Kenya: The State is pressing three charges against a senior civil servant in Lamu arrested for allegedly insulting President Uhuru Kenyatta during a heated debate.
According to court documents seen by The Standard, the trial will take place at the Mpeketoni Law Courts next month.
The documents show that Lamu Ecosystem Conservator Donald Avude committed the alleged crimes on April 9 during a debate between revellers in a popular bar in Mpeketoni.
He is out on bond and is to appear in court on June 4 for the mention of the case during which a date for the start of the trial will be set.
According to the documents, the State now claims Avude resisted arrest.
Besides the charge of "resisting arrest," the State will also press charges of "offensive conduct," and "creating disturbance," after Avude allegedly accused some people he was arguing with of blind loyalty to the President.
According to local police framing the charges, the civil servant uttered words highly critical of and offensive to Uhuru, which were recorded by a National Intelligence Service official who forwarded the recording to the Criminal Investigations Department.
Avude's mobile phone has been switched off for days and he has been suspended from the Forestry department.
Yesterday, the Kenya Forest Service declined to release any details regarding Avude.
On Wednesday, Lamu County Police Commander Leonard Omolo confirmed Avude's arrest but did not disclose the charges facing him.