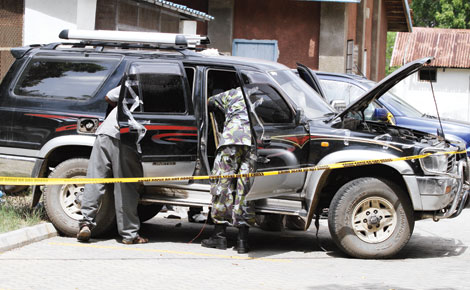 Car found with explosives in Mombasa         PHOTO: COURTESY
By PATRICK MATHANGANI and CYRUS OMBATI
Kenya:
Kenya is faltering in the war against crime and terror amid a rising threat amplifi ed by the discovery of powerful bombs at the Coast this week, The Standard on Saturday can report. Poor funding has left key units charged with combating terror and crime working on a slim budget, while infighting between the Inspector General of Police, David Kimaiyo, and the National Police Service Commission chairman Johnston Kavuludi is expected to worsen a dire situation. Only two aircraft are operational the Kenya Police Airwing, a rapid response unit that is key to quick deployment of police squads in times of attacks. It has 46 pilots.
SEE ALSO: UK orders recall of 741,000 coronavirus testing kits over safety concerns
Without a ready-to-fly helicopter, the unit is virtually grounded, as the two fixed-wing aircraft available are of little use in certain emergency situations.  The airwing's duties include anti-terror operations, search and rescue, evacuation, assistance of victims, crime prevention, crowd dispersal and aerial surveillance. To demonstrate the seriousness of the cash crunch facing police, a senior police officer told The Standard on Saturday that the Anti-Terrorism Police Unit (ATPU) has only Sh62,000 left to spend this month. The officer said the unit was allocated only about Sh200,000 for maintenance and fuel for cars, travel expenses and office supplies  in January, February and March. Other officers who spoke on condition of anonymity said they do not have bulletproof vests. ATPU also lacks vehicles in terrorism hotspots along the border with Somalia.
SEE ALSO: Politician Kajembe buried as two of his children taken ill
Kimaiyo admitted the unit was underfunded, but said this has not affected their work. "We usually give them the funds they need for any operation. I am aware of the situation," he said. ATPU is a specialised unit and gets much of its training from foreign countries including USA and Britain. The unit is not autonomous and relies on funds allocated to the Directorate of Criminal Investigations.
Challenges
It is mandated to detect terrorists and combat them in time. ATPU works with National Intelligence Service's Counter-Terrorism Unit and other security agencies.
SEE ALSO: Olympic champion Conseslus Kipruto tests positive for Covid-19
Mwenda Njoka, Communications Director and Advisor to the Cabinet Secretary in the Interior Ministry, could not confirm whether a military command for Nairobi, which was announced by President Kenyatta in December, had been operationised amid protests by police who feel the KDF could not assume civilian policing duties. Its key role was named as dealing with terrorism. "Given the kind of security challenges the country faces, you will appreciate that there are certain matters related to security operations that are best not discussed in the media," he said in an email to The Standard on Saturday. "Operationalisation or non-operationalisation of Nairobi Metropolitan Command is one such matter." However, he denied that plans for the command had been shelved following resistance by police and outcry by human rights groups. However, the seizure of powerful explosive devices at the Coast this week demonstrates that hard work by police can avert disaster even when they operate under difficult circumstances. It also brings home the reality of the terror threat Kenya is facing and the need to fund units charged with combating aggression. But it is the situation at the air wing that best exemplifies the problems faced by security forces even as the threat posed by Al Shabaab heightens. Among aircraft not in operation at the air wing are only three Mi-17 helicopters used for heavy transport and deployment of personnel. Each can deploy 32 fully armed troops or four tonnes of cargo and supplies. Many residents of Nairobi will recognise the Mi-17 as the large helicopters that have been used to patrol the city and spot a powerful searchlight. The only air ambulance, a BO105 helicopter that could come in handy in scenes like Westgate, was grounded more than five years ago. It belonged to Kenyatta National Hospital but had been handed to the police because the institution does not have its own pilots. The two operational Cessnas at the wing lack the versatility of helicopters and therefore cannot be used in certain emergency situations. During the Westgate assault, the wing provided air surveillance support to units on the ground. However, the airwing's commandant, Col Rodgers Mbithi, said as things stand now, the unit could not respond to emergencies or attacks.
Modernisation
"If there's no helicopter, there's nothing we can do," he told The Standard on Saturday when confirming key aircraft have been grounded. "We can only respond if another is hired elsewhere, and there's no helicopter in Wilson that can be used for such work."  Choppers operated by firms at the airport are single-engine helicopters, which are too risky to fly in densely populated areas. Regulations prohibit flights in urban areas and at night. The wing has seven serviceable aircraft: Two Cessna caravans, three Mi-17 helicopters and two Bell 206 choppers. Six other aircraft were condemned because they were beyond repair, bringing the tally to 13.  "The situation is not as bad as some have made it to appear," he said. "The six should have been sold a long time ago but this did not happen because they were not bonded." In the 2013-2014 budget, the Kenya Police was allocated Sh67 billion, less than half of the Sh150 billion Kimaiyo was demanding. Sh4 billion went to security equipment, Sh4.5 billion to enhance operations and Sh3 billion was to be used for leasing police vehicles. A further Sh1.2 billion was allocated for housing and Sh1.5 billion was for improving crime prevention methods and research. Mr Njoka said Kenya was facing a case of too many needs with few resources. "In the Government's efforts to provide adequate security for Kenya, it is good to appreciate that we have limited resources which must be shared across board and among many competing security interests," he said. "Until recently, terrorism was not a major threat to security but this has changed in recent times and it means more resources—both material and human—have to be allocated to counter this threat." Njoka said the government is committed to improve the police force through modernisation and allocation of more resources, the government has said. All sections and Units of the National Police Service would be modernised. "You will appreciate that the Government has limited resources that must be shared among many competing national interests, including modernizing the Police Service. You will also appreciate that buying aircraft is not a small or cheap undertaking," he said while commenting on the state of the Police Airwing. Aircraft grounded at the airwing include one Bell 47 helicopter and four Cessna aircraft. Mbithi, however, added the air ambulance from KNH was not ideal because it could only carry a single casualty, as opposed to the twin-engine MI-17s. The Bell helicopters could also not be used for air patrols, because of the single-engine chopper restrictions. The MI-17s were last operational in December last year. One will be serviced soon by Russian engineers and should be up and running in the next two months, said Mbithi.  The other two will be overhauled.
Poorly paid
However, the government has floated tenders for a new police surveillance helicopter. To be fitted with state-of-the-art equipment, it will have a forward-looking camera, a video downlink and night vision capability among others. Infra-red equipment, which sense heat, will be used to identify criminals who could not otherwise be seen with bare eyes. For instance, it can be used to sniff out gangs hiding under the canopy of dense forests. The downlink will allow commanders monitor events from a command centre on the ground and issue appropriate instructions, Mbithi said. Further, pilots are poorly paid, with some getting as low as a net of Sh30,000.  But Njoka said review of remuneration and working conditions are regularly carried out "to ensure that measures are put in place to prevent public service from losing the best, most qualified and experienced professionals, pilots included." He added that the government also has a plan to upgrade training of officers and improve their living and working conditions. "You will recall that President Uhuru Kenyatta recently launched an ambitious scheme to modernize Police motor vehicle fleet and already many police stations which did not have vehicles now have at least one," Njoka said.