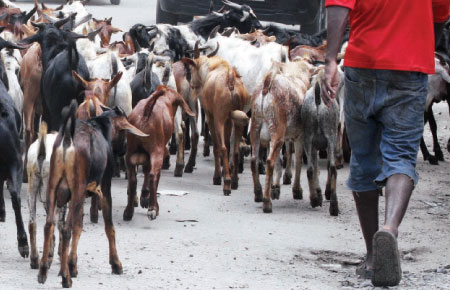 A herd of goats fight for the right of way with motorists on a busy city road
By HUDSON GUMBIHI and PKEMOI NG'ENO
NAIROBI, KENYA: When a female dog is on heat, just know it is supposed to be many paws away from other canines.
And whether on heat or not, no dog owner is expected to permit or cause the dog to cry or bark in a manner, which disturbs the "quiet, peace, rest, enjoyment, comfort or convenience" of the hood where the dog calls home.
They are also to be muzzled on the mouth to prevent them from biting a person or other animals.
The above are just a slew of City County By-laws on animal control. They are however, abused or ignored as the Inspectorate Department mandated to regulate them is grappling with myriad challenges, among them lack of a holding place for impounded animals.
Nairobi plays host to all kinds of animals contrary to the laws created to check on taming and husbandry. The situation is worsened by the existence of abattoirs without sufficient holding zones before the animals are slaughtered.
Apart from dogs, horse, mule, swine, sheep, rabbit, goat, cow and other bovine species are kept in the city. Poultry include: fowls, turkeys, geese and ducks.
Rearing of dogs, poultry and animals is not outlawed, but restricted with mapping done in areas where farming can be practiced. The idea from City Fathers is to promote rural/urban agriculture.
The director of the inspectorate department, Hillary Wambugu, says Animal Control Officers under his department are ill equipped and lack the capacity to impound straying animals. They do not have a vehicle to ferry seized canines, livestock or poultry.
The 20-acre holding field that had been allocated between Ruai and Njiru was grabbed by land developers in the early 1990s, according to Wambugu.
The presence of abattoirs in Huruma, Njiru and Dagoretti has also compounded the problem. These slaughterhouses have no sufficient holding spaces for the cows and goats. The owners are forced to roam around with them, even for days while waiting to sell their animals.
John Maingi a resident who has been keeping pigs and chicken in Bahati estate feigns ignorance on the existence of By-laws. "I started keeping pigs and chicken five years ago and I am yet to receive any visitor from City Council to inform me on their laws," he said.
But 'arresting' Maingi's investment is fraught with problems.
"Even if you impounded animals, where do you hold them as we wait to charge the owners? We are forced to seize only a handful of animals, which we temporarily hold at our training school in Dagoretti," explains Wambugu adding that "in slums we have been killing pigs in a bid to enforce the Bylaws based on what we are able to contain because we don't have a holding ground."
The routinely applied option is to drive the animals away through a tedious trek. There is no trailer or truck at City Hall to help in transportation.
Another issue is that of Maasai herders driving their cattle into Nairobi in search of pasture.
These herders have already erected Manyattas in Embakasi, Umoja, Kasarani, Donholm and Karen.
The movement of large herd of animals has been a source of conflict between the herders and city residents.
Driving livestock into most compounds have resulted in loss of crops or laundry.
Motorists and other road users have complained of traffic jams caused by animals crossing busy roads.
Martin Lemein, a herder around Donholm spends sleepless nights shepherding his 150 head of cattle and says, "I usually spend the nights here with the herd, but my family lives in Embakasi, I fear some people might steal them."
John Lamayan grazes his herd within Karen Shopping Centre where his father has erected a Manyatta. He migrated from Kajiado in June and will not be going back soon unless the heavens open up.