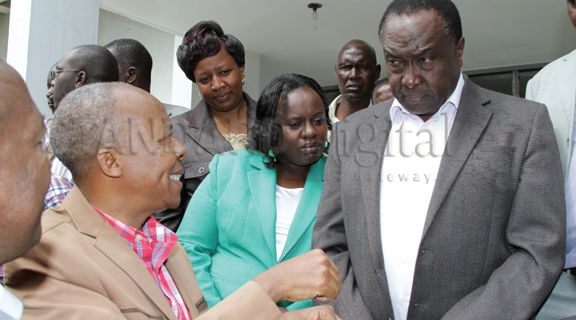 Roads and Transport Cabinet Secretary Michael Kamau (left) in a talk with Rongai MP Raymond Moi on the improvement of roads within Nakuru County Wednesday. [PHOTO: Bonface Thuku/Standard]
By KARANJA NJOROGE
KENYA: The government will demolish all structures illegally erected near roads because they pose danger to motorists and residents.
Roads and Transport Cabinet Secretary Michael Kamau said those who have illegally encroached on road reserves should immediately move out.
Kamau expressed shock over the mushrooming of structures in Pipeline along the Nakuru-Nairobi highway that expose residents to danger.
"We will have no mercy on anybody encroaching on the roads and those who have erected the structures should move out immediately," he said.
Read More
He added that besides endangering their lives, owners of the buildings were also blocking licenced and legal business operators.
Kamau took to task ministry officials for allowing traders to construct illegal structures near roads, especially along major highways.
"Government officers should implement the law especially when it comes to construction," he added.
He made the remarks in Nakuru Wednesday after meeting Governor Kinuthia Mbugua during a tour to assess the state of roads in the county.
Top officials from the ministry and roads authorities accompanied Kamau on a three-day familiarisation tour of counties in the Rift Valley and Western Kenya.
"We are visiting the counties to share plans with the governors in order to harmonise our operations and ensure county arrangements don't overlap with national plans," Mr Kamau added.
The governor appealed to the minister to intervene and have key roads in the agriculturally-rich county repaired to enable farmers access the markets.
"We are also concerned about the slow pace of repair works especially along the Kibunja-Molo-Olenguruone roads and the Kunste-Nyahururu road.
"The contractors should be asked to pull up their socks and keep to their timelines," Mbugua said.
Area residents have been up in arms over slow construction of the roads that provide vital links within the county and outlying regions.
Kamau asked the governor to identify roads requiring prioritisation and liaise with his ministry for consideration.
"All roads are currently with the national government until the transition to the county governments is complete," he said.