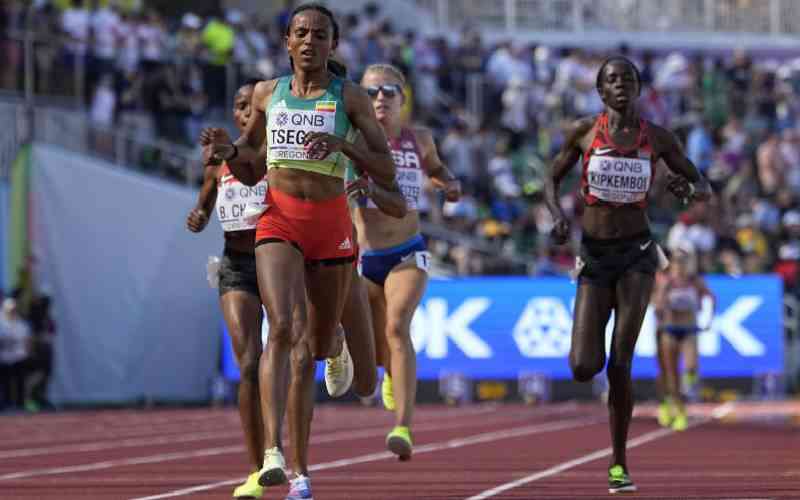 The first time I went to America was in 1990 and it happened to be the weekend of the New York marathon. Until that moment, I had not realised how big a deal Kenyans' running prowess was.
Though I was in Baltimore, anywhere I introduced myself as a Kenyan, people knew nothing else about Kenya except that it was comprised solely of runners. They were disappointed to learn that I could hardly finish 100 metres without gasping for air!
After a day I started embellishing my story; for the good of country. I also discovered that while most people in Kenya were only aware of the big races in which we starred, many towns in the West that factored sponsored races had Kenyans running in them, taking the first ten or so positions and winning small prizes.
Indeed, at some point many US towns started having a prize for the "First American to finish" otherwise the Kenyans had hogged all the prizes and sponsors were complaining. Kenya's proficiency was so well admired that in the same week I was there, the New York Times had covered the story of Kenyan runners in America on its front page.
Since then, I have followed Kenya's sportsmen and women achievements with dedication. I remember with sad longing the days when we owned all the long races from the 800 metres to the marathon. When we owned all city marathons. You can therefore feel my dismay at our increasing loss at these races including our losses at Oregon this week.
We no longer own the 800 to 1,500 metres. Our most recent loss is the 3,000 metres steeplechase which we have colonised fully for years since Benjamin Kogo won Olympic gold in the 1968 Tokyo Olympics.
While we still perform well in this "Kenya race" our 1-2-3 dominance is no more. We now share with the Ethiopians, Moroccans and I suppose soon with some American. It has not helped that we have also "exported" a large number of Kenyans who now win races for their adopted nations.
This year alone we lost four championship runners Norah Jeruto, Daisy Jepkemei, Shadrack Koech and Caroline Chepkoech to Kazakhstan. Many have moved to the Emirates and Europe.
For the record, I support those that make this painful decision; at the end of the day, one is principally responsible for their own welfare. In any event, Kenya is not short of fresh champions and we do not treat the ones we have so well. Part of the reason that makes these champions leave is the lack of focus by our policy makers on profiling our athletics better. It appears that many of our policy makers do not appreciate the brand enhancing these champions achieve for Kenya.
Our tourism benefits tremendously from the brand grown by these runners. Our coffee, tea and other exports would benefit if we strategically invested in improving our competitiveness and connecting our champions brand to our exportable products. But the policy makers appear disinterested in focussing on this sector as a major income earner for Kenya both directly and indirectly.
The manifestos of our leading political parties are alike in how casually they treat sports, and particularly athletics. Budget support for this sector remains dismal. As a friend told me the government strategy in athletics appears to be "hoping a Kalenjin will show up".
As we sit on our laurels and trust in nature, other countries have been copying our winning strategies and undoing our reputation. Soon, we will no longer be celebrated as the Kenya of runners. Yet we have a huge raw talent just hoping for the most basic of support to go carry our flag high and sell this beautiful country. What a distressing reality!