Kissimmee, Florida, Thursday,
Their sense of urgency growing as the clock runs down, Democrat Barack Obama and Republican John McCain are spending their time — and their money — trying to win over the same voters in those few states still too close to call.
"When the polls close on Tuesday, you don't want to say to yourself, 'Here's something I didn't do, here's an argument I didn't make, here's a hand I didn't shake,'" Obama told ABC's "Good Morning America" in an interview broadcast today.
Obama was targeting Florida, Virginia and Missouri yesterday while McCain was taking the fight to Defiance, Ohio, in a quest to tilt that swing state his way.
it's the economy stupid
Obama jumped on new data showing that the economy went backward in the third quarter of the year, as consumers cut back on their spending by the biggest amount in 28 years. It was the strongest signal yet the country has hurtled into recession. The gross domestic product shrank at a 0.3 per cent annual rate in last quarter, the Commerce Department reported.
"It is a direct result of the Bush administration's trickle down, Wall Street first, Main Street last policies that John McCain has embraced for the last eight years and plans to continue for the next four," Obama said in a statement.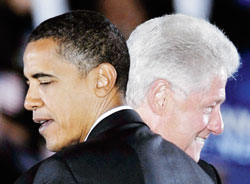 Democratic Presidential nominee Barack Obama embraces former President Bill Clinton at a campaign rally, marking the first time they have campaigned together, in Kissimmee, Florida, on Wednesday. Photos: Reuters

A senior McCain policy adviser, Doug Holtz-Eakin, said in a statement that Obama would only accelerate the economy's decline with "ideologically-driven plans to redistribute income."

"Barack Obama is change Americans cannot afford," Holtz-Eakin said, and he promised that a McCain presidency would get federal spending under control and "clean up Wall Street."

The Illinois senator holds leads in polls nationally and in most of the states still in competition. McCain, an Arizona senator, has tried to erode Obama's advantage by raising doubts about his tax plan and his ability to protect the nation.

Looking to the past

McCain's running mate, Alaska Governor Sarah Palin, says there is nothing wrong with calling out Obama on his past associations or other controversial elements of his record. Besides Obama's association with '60s-era radical Bill Ayers — Palin has accused Obama of "palling around with terrorists" — both McCain and Palin have now brought up Obama's friendship with a Palestinian-American professor, Rashid Khalidi, who has been critical of Israel.

Asked by ABC if she was suggesting in any of her criticism that Obama is un-American, Palin said: "No, not at all. Not calling him un-American." She added, "I am sure that Senator Obama cares as much for this country as McCain does."

Campaigns are famous for tightening and getting even more unpredictable at the end. McCain and Palin say they will surprise election predictors with a win.

Obama tried to lock up undecideds yesterday with a prime-time informercial that seamlessly cut to some live comments he was making in Florida. The air time cost $4 million.

For a capper, Obama got a big boost late in the evening from Bill Clinton. Pushing aside hard feelings over Obama's winning primary campaign against his wife, the former president got on stage with Obama for the first time and called him the future of the country.

McCain, in Florida, argued that Obama lacks "what it takes to protect America from terrorists" as he sought to shift attention away from the economy.

Associated Press-GfK polls taken within the past several days showed Obama ahead in four states that supported Bush in 2004, and essentially even with McCain in two others. A separate survey suggested even McCain's home state of Arizona was not safely in his column.

The campaigns will make a mad dash until Tuesday.

But in a telling comment in describing his 30-minute television ad, Obama said Wednesday: "At this stage, everything that needs to be said has probably been heard by a lot of voters. And what you want to do is just remind them one more time, 'Here's what I'm going to do.'"

—Reuters