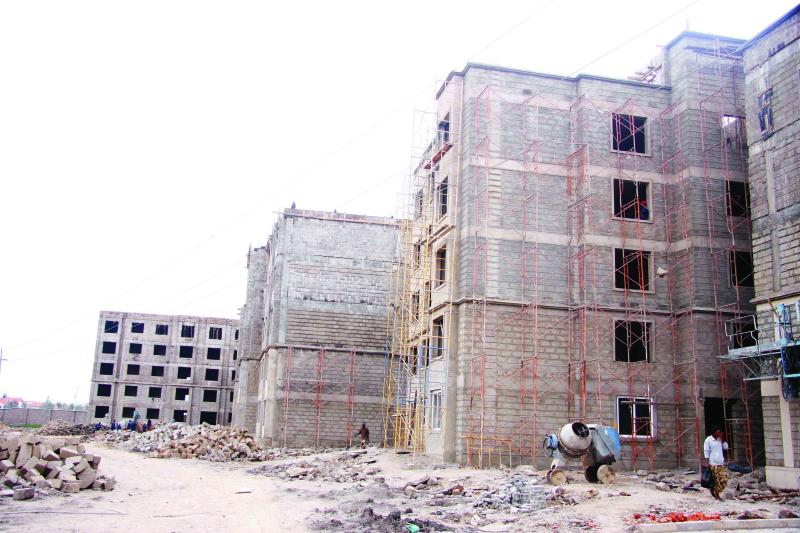 NAIROBI, KENYA: A week after Treasury Cabinet Secretary Henry Rotich presented the government estimates for the Financial Year 2018-19, questions are being asked as to why the housing sector was allocated meagre resources.
This despite the governments inclusion of the provision for affordable housing among its Big Four Agenda.
This year's budget was the largest ever, with the government planning to spend Sh2.5 trillion, up from Sh2.3 trillion in the current financial year.
Of this amount, the 'Big Four' components that include manufacturing, universal healthcare, food security and affordable housing were allocated Sh460 billion as cash for "sector drivers and their enabling sectors."
In this amount, construction of affordable housing received Sh6 billion: Sh3 billion for construction of affordable/social housing units, Sh1.5 billion for the construction of police and prison officers houses and Sh1.5 billion for the civil servants housing scheme.
Read More
Without giving specifics, Rotich once again turned to the private sector to drive this process through investments.
"To meet this requirement, we plan to increase the supply of affordable houses by partnering with the private sector to develop homes in serviced land. This will require reforms in property registrations, access to affordable financing and adoption of new low-cost building technologies, which we are prepared to undertake," he said. He also talked of a "comprehensive housing package" that will incentivise the private sector in the construction of low cost housing.
Old song
Among them is one theTreasury has dangled to developers in previous budgets – the reduction of corporate tax rates to 15 percent for developers who construct at least 100 units per year.
However, it was his proposal to amend the Employment Act that raised eyebrows. He wants both employer and employee to contribute to the National Housing Development Fund tailored after other statutory funds such as the National Social Security Fund.
In the proposals, the employer will contribute 0.5 per cent of the employee's gross monthly salary subject to a maximum of five thousand shillings while the employee will contribute 0.5per cent of their monthly gross earnings.
Some analysts say that while the proposals are feasible, they will impose an extra burden to wage earners. In Kenya, only 20 per cent are in formal employment while 80 per cent work informally.
Mucai Kunyiha, chairperson of the Kenya Property Developers Association says while the government needs to raise money to fund the housing process, it has to work on the structures supporting the program. "It is true we must raise money for affordable housing. However, we need to be careful that we do not overburden the individuals on the lower segment of the economy, the same people we are targeting with the houses. We should avoid a situation where an individual funds the scheme, then funds a mortgage created with his own money," he says.
Kunyiha says the new tax will have ripple effects in other sectors. He says labour costs will go up or employer may choose to lay off some workers in order to reduce his wage and tax burden.
Johnson Denge, senior investments manager for regional markets at Cytonn says what the government needs to do is amend parts of the public-private partnership regulations to remove the existing investment lacuna.
"The regulations should be amended to allow for more competitiveness. Since private funds are invested over the short term, an investor needs to know how to enter and exit especially if a project is long term," he says.
In addition, Denge says regulations behind some of the statutory funds such as NSSF also need to be looked into so as to allow more money to be invested in the construction of affordable houses.
"The Retirement Benefits Authority Act can be amended so that these bodies can commit more funds to housing than the current investment cap of 30 per cent," he says.
In his budget speech, Rotich talked of the government's plan to provide infrastructure and utilities to urban land owned by both national and county governments. This, he said will allow the private sector to develop affordable housing units.
Accordingly, Rotich said the government will restructure the Kenya Urban Support Programme, Kisumu Urban Project and Nairobi Metropolitan Services Improvement Project and provide Sh18.4 billion to support the servicing of land in various towns.
Still, Denge says the government needs to clarify how land that is owned by the government will come into the hands of private developers.
"It will be interesting to see how the government will transfer land in the PPP arrangement and make it a special purpose vehicle owned by both parties," he says.
At present, the affordable housing picture is still hazy. It is still unclear how the government will offer uptake incentives so that developers do not end up holding on to the houses longer than is necessary.