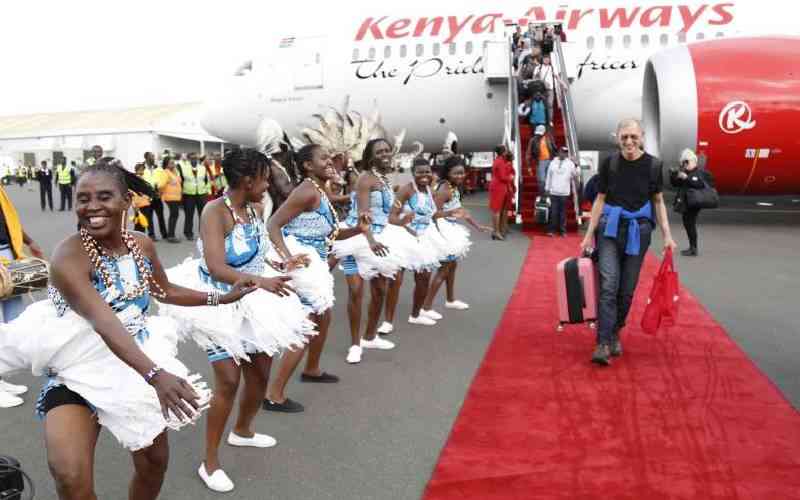 "KQ planes are always full. Why is KQ not making profits, and must the government bail it?"
That is the popular view of Kenya Airways, the pride of Africa. Others add, why not just sell it outright?
The Kenya Kwanza government was also sucked into Kenya Airways, promising to sell it off or seek a strategic investor.
The report that KQ sold its landing slot at Heathrow was seen as selling a birthright. Another complaint is timekeeping. We have not added the wait for dividends for shareholders, and I am one of them.
In the privacy of their thoughts, many Kenyans feel the government babysits KQ. And like a mother hen does, it should be kicked off.
I tried to get the truth from KQ itself.
The outsiders are correct in seeing full planes. Only that they can't see the costs. Profit is revenue minus the cost. Through the price and number of passengers, we see the revenue.
But cost is usually invisible. That invisibility is the secret weapon to profitability. You can keep reducing the cost while maintaining the same price. That will earn you a bigger market without rattling your competitors. Can KQ do that?
The operating costs of the planes are high, driven by the fact that in this industry, margins of error are almost zero. You can't have half-maintained planes, no slight intended, like a matatu. The pilots must be well trained, with no option for 'squads'. You can't use adulterated fuel or mitumba spares.
A few options would restore the pride in 'Pride of Africa'. It was once a case study on privatisation, we'll deliberately not live in the past and instead ask how KQ can be turned around.
One easy option is capacity utilisation, ensuring that current resources are put into use. That includes planes themselves. A parked aircraft is a waste unless under routine maintenance. What of landing slots? What of pilots? What of cabin crew? What of excess expertise and space?
Higher capacity utilisation brings in more revenues but raises costs. Good pricing and focusing on lucrative markets can strike a balance. West Africa is one such market and connects to North Africa. What of the Asian market?
I note that though Ethiopian flies many international routes, it has not forgotten that charity begins at home. Are there local markets that can be 'created' riding on our obsession with class and status? If matatu can create 'shuttles' for passengers in a hurry, there could be an air market for such passengers. Does KQ have helicopters for hire? Air taxis?
KQ could compete by being homely. Tusker makes us feel at home, but why is ugali missing from the menu? We get injera on Ethiopian!
Fuel is a big input cost, and supply disruption is expected as Opec change their prices, or shocks like the Ukraine war. Locally we are also not immune to the hike in fuel price, which has caused the prices of basic commodities to go up. Hedging has not worked.
Higher prices keep off customers. Any intelligence on possible price shifts would help. We make provisions for bad debt, and KQ should make provisions for the rise in fuel prices. We are unlikely to have electric planes soon.
The exchange rate is the economic millstone. KQ debt is in dollars, which has been appreciating. You need more Kenya shillings to pay for debt. That would demand more revenues to cover the loss in the exchange rate.
How much leverage does KQ have on its suppliers? That is a cost stream that is a low-lying fruit. How long are the supply contracts? And supply chains? Which ones can be re-negotiated? Any substitutes?
Image is everything. Beyond being a high-priced airline, what is the other image of our airline? Few Kenyans can doubt there is some pride in owning an airline - but more so when it is profitable.
The future of KQ lies in a pair of scissors. It needs both blades to cut. One blade reduces the costs. The other blade deepens and widens the market. What percentage of Kenyans have ever flown?
The blades can also be seen as competing at home and beyond the borders. For all the blades to cut, they must be sharpened by economic reality, espoused by fuel prices, a duopoly in aircraft supply, legacy debts and evidence-based decisions.
The ultimate solution to this industry is faster economic growth. This spawns a middle class more conscious of time and willing to fly for leisure and business. That growth needs two blades, too: private sector and public (read government).
Related Topics