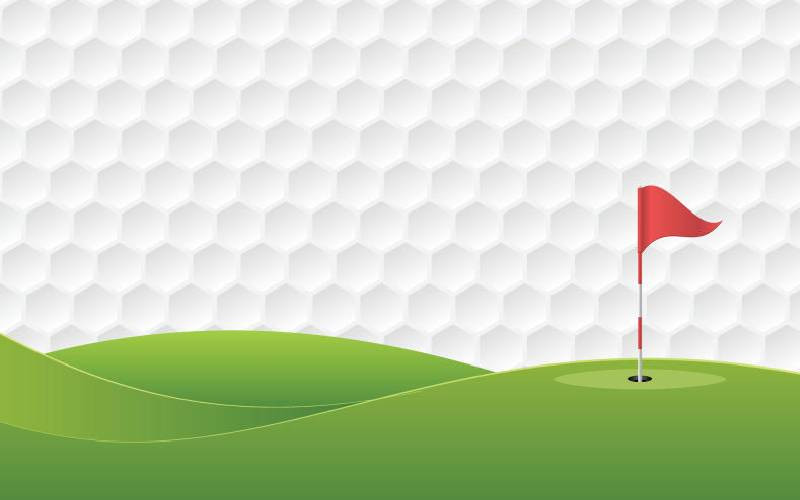 Last year, Nyahururu Golf Club, now a country club celebrated 100 years since the settlers founded it.
Vetlab is also celebrating 100 this year while Nairobi Royal celebrated 100 in 2006. Clearly, golf has been here for more than 100 years.
Like the railway, golf courses are a lasting reminder that Kenya was once a playground of the British Empire and its aristocrats.
A century has given us enough time to reflect on the future of this game associated with affluence and class in Kenya. I did not find the mysticism and mysteries associated with golf in the US.
The number of golf courses could be a factor as other status symbols. Golf is so mainstream in the US. It is taught as a subject in university.
Before we think about the future of golf, let's focus on its present. Kenya has 42 golf courses, according to former Kenya Golf Union chairman Muchau Githiaka. But there could be more; some are private and exclusive.
The US has 9,473, the UK has 1,888, and Germany 730. France 607, South Africa 450 and South Korea 514. Japan has 2,350 and China about 500, the first one constructed only in 1984!
We have too few golf courses in Kenya for our land mass and population. The few golf courses are distributed all over the country but predominantly in well-watered highlands or their neighbourhoods.
They are located where mzungu lived. Golf seems to move with capitalism. Noticed how China embraced golf as the market economy crept in?
Today, golf courses are seen as the last empty spaces in a country that has got easily crowded with a population rising from 8.7 million in 1963 to 53 million today.
Golf courses run the same risk as other open spaces like school fields, parks and forests. We dislike seeing wide open spaces, a big paradox because we lived in such places all our lives, particularly in the countryside.
It's more paradoxical because, we all dream of living in leafy suburbs with wide open spaces, just as we did when growing up in the countryside.
There is a belief that any empty space is being misused, there should be buildings there, money! The proposal to tax idle land was based on that premise.
Our failure to develop alternative investment opportunities has partly contributed to this thinking.
After all, the rich in most hamlets, villages and towns own a plot or building. With this mentality, we should declare all golf courses national monuments and protect them. They are national breathing spaces, just like your backyard or front yard.
High population
I am always fascinated by the amount of open space in countries like the UK, the US or Germany.
I used to think those countries are all like Nairobi, crowded. Nature and leisure can co-exist.
Our appetite for building on open spaces is a learnt behaviour.
The high population has led to a very high demand for space and driven up the price of land. The high price of land makes "empty land" an easy target for quick money, more so when land is "free," read public.
Add our misunderstanding of the capitalism system. It was never about money, but making money as you offer goods or services to the customer. Capitalism is about pursuing your interests as you better society.
Capitalism was never about free things or using privileged positions or information to acquire assets below the market price.
Yet we have elevated getting free things to heroism, albeit misplaced. At the core of the African traditional society and even Christianity, was respect for work.
The theft was an abomination. We have learnt to get free things, even violently. Land is one of the most sought after assets. Luckily, we are buried on it - no better testimony to our folly.
Back to golf. The need for more golf courses is reflected in higher membership fees and the speed at which the weekly online booking fills up. Some members are happy with that because of increased exclusiveness.
Yet exclusivity was never that extreme in our traditional society. We learnt the class system from Britons with their peerage.
American and Chinese influence does not seem to have muted our obsession with class and status - surprising, because our society is so religious and humility is central to all religions.
Internet and access to information have demystified lots of things. Should we not be demystifying golf, making it more open to Kenyans?
Even those opposed to the game will eventually like it. I used to be among them, but now I'm a golf evangelist and hope one day, I will own a golf course, even one hole. My WHS index is 9.4.
There is a general perception that golf is for the rich and affluent. That is good, it incentivises us to work hard, become affluent and play that game. If not us, our children or grandchildren.
We can demystify golf by building more courses, increasing supply to reduce the prices. Demand is going up, driven by rising affluence and appreciation of the game.
One easy way to increase the number of golf courses is to have shorter courses, say par 30 or 40.
Outdoing athletics
Play golf for fun. We can graduate into 18 holes later.
When is the public golf course at Kasarani getting ready? Can we have county golf in every county?
How can there be no golf course between Nairobi and Mombasa or Namanga? The 'new counties' not settled by mzungu could really benefit from the development of golf with new and exotic courses. That will create a golf ecosystem.
Remember we have sunshine 365 days and Kenya can be the golf capital, with the game outdoing athletics. Consider the jobs for caddies, equipment like carts, and the health benefits of walking and ambience. Since golf and drugs or alcohol are all addictive, can we use golf to address addiction in other areas - golf therapy?
We could also loop in golf into bottom-up economics. Building more golf courses will bring down the cost and demystify it, leading to a healthier and happier nation.
Who said hustlers could not play golf and enjoy it?
Related Topics