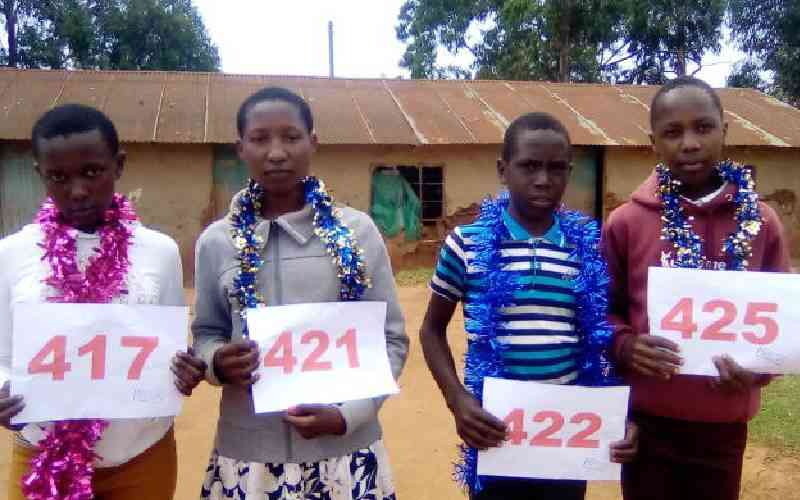 Our education system has gone through revolutions and evolutions in the last 127 years since Kenya became a British protectorate in 1895.
We have focused more on revolutions, particularly changes in the number of years a student spends in primary school, secondary school or university.
We shifted from hunting and gathering to a segregated colonial system, to A level, 8.4.4 and now to the Competence-Based Curriculum (CBC).
Some could add that we are still segregated, not based on colour but our income. The evolutions have been more subtle and occur in whimpers, not bangs. One such evolution is the slow death of competition.
Unable to abolish exams, we have tried to make them lose their sting by muting the competition they drive.
We have stopped ranking schools and students. Never mind the media has ways forced to do the ranking. Such stories are marketable. Let's be objective and ask if we should rank schools and students.
Economists will point out that ranking is a signal to the market on schools' performance. Parents and their children use that information to make choices on the best school to enrol their children in.
The ranking can be used to price the school too. Such ranking forces schools and students to work harder and improve their performance. They reach the optimal point.
The ranking could also force schools to use unorthodox methods to rank higher like using "back door" schools to register weak students.
The key argument against ranking is that students get stressed as they try to compete.
They lose self-esteem and get stigmatised for not meeting targets, yet IQ is naturally endowed and we can't do much about that.
Schools often neglect some activities like games to get a grade. Some argue that stress prepares them for the tough life after school, an inevitable reality.
That apart, there is a concerted effort to end this ranking which will end or mute competition.
It's paradoxical that the generation that went through ranking and brutal competition should want to reduce it. Yet it's that competition that made them who they are. Why now?
One hypothesis is that the next generation is not competitive and needs to be 'protected' against the competition. Why spoil the party they have enjoyed all their lives?
Would competition not bring out the best in each student? Think of Asian countries and how competition has brought out the best brains that have gone ahead to conquer the world with India becoming the pharmacy of the world and China the workshop.
Going global
Why would we push against meritocracy in a country that is so market oriented? Where do we compete for anything and everything?
Should schools not be the seedbed on which we learn how to compete locally before going global?
The reduced competition will appease the children but will kill the competitiveness of the country. That is on top of protecting them against 'brutal' teachers.
Now they can't be displaced, they don't need to compete. Life is fun. Maybe I am old-fashioned.
The big push against ranking masks a bigger issue; what to do with those who fall by the wayside. We know what happens to A or B students. What happens to D and E students?
In most countries, and we have tried here, there are schools for different abilities. There are no dropouts or failures. And jobs are plenty for graduates or those who get tired of school.
And there is no stigma associated with different schooling or jobs.
The best news in education in recent times is students forfeiting their place in the university to join TIVETs (Technical, Industrial, Vocational and Entrepreneurship Training).
Let us be a bit open; the push against ranking is among the many shifts that we are handling.
Remember the push for more women in politics? We do not want them to compete. What of the quota system and affirmative action, called 'the face of Kenya'? Why do we keep telling children to work and bring out their best but when it comes to jobs or good schools, we bring roadblocks like their gender or where they come from?
Is the dearth of ranking normalising these roadblocks?
Are we abolishing ranking in job interviews, seeking spouses, and other facets of competition? Will non-academic ways replace grades in accessing jobs and other privileges? How objective will be the alternative to grades?
Some conspiracy theorists suggest that the country has become too competitive, producing M-Pesa, expanding its banks across borders, and holding competitive elections every five years.
It must be slowed. What better way than push against the competition? Is the end of ranking driven by internal or external forces?
Where do we go from here?
I noted that schools now prefer to use bands in reporting their results. They will report how many students got marks below 300, 300-399, and above 400.
They are also grading using the Likert scale like below expectations, meet expectations or exceed expectations. All that hides the individual. Is exam moderation another avenue to push back against ranking and competition?
In the long run, we could become a nation of averages. My bigger worry is what happens to the best brains 'suppressed' by lack of competition. I have always wondered why there are no schools for the gifted in Kenya. Are they the national schools?
High-end jobs
Will such brains leave the country? Why are there so many Nigerians working in high-end jobs globally? In the US Deep South, I found competition is frowned upon and affirmative action entrenched.
And women's empowerment has flowered. In California and New England, competition is celebrated.
You can guess which regions are flourishing intellectually and economically. Will the death of ranking and competition make Kenya a California, New England or Deep South? It's an appropriate question to ask. Our president has been to the US two times since his swearing-in. And we benchmarked our constitution with America.
Finally, would the handicap system in golf be adopted in the examinations to equalise students? Something to think about during this festive season. Merry Christmas to all my countrymen wherever you are on this small planet. Let's make 2023 prosperous.
Related Topics