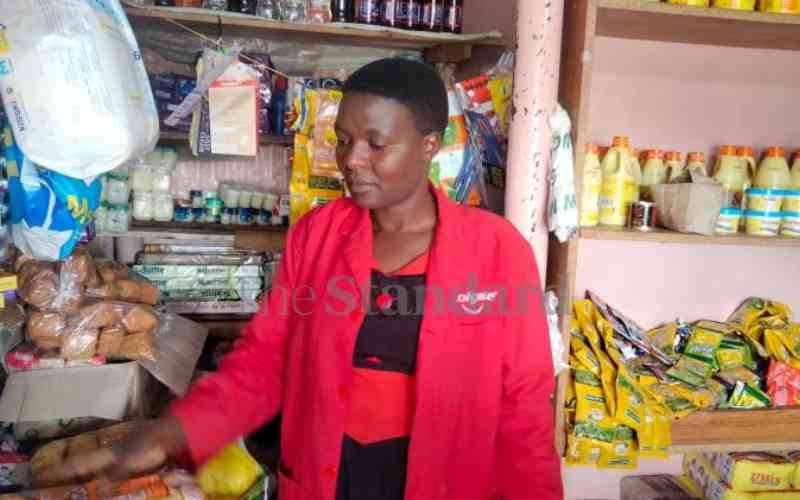 A woman who recently disarmed an armed bandit and thwarted a robbery attempt at her shop in Kitale has said she always wanted to be a police officer.
Speaking to the Sunday Standard for the first time after her scary ordeal, Caroline Nafula shared details of how she outwitted and subdued an armed robber with the help of her husband, Samuel Kamau.
The couple was at their Kanana shop when an armed thug ambushed and ordered them to surrender their sales for the day.
The mother of one says she and her husband were doing their final summation of the day's sales when a person entered the shop with a gun in his hand.
She stood up to attend to him, thinking he was a police officer on routine patrol. However, on getting closer, she realised he had a mask.
Before she could react, the thug immediately ordered all the occupants in the shop to lie down. Nafula says her husband and child were the first to obey the orders, but she remained standing.
"Since I was on my feet ready to serve him, I just raised my hands over my head as a sign of surrender as I moved out of the shop. He fired towards me, but luckily, he missed the target," she says.
But in a quick turn of events, she says she gained courage and pounced on him, hitting him hard in the stomach until he dropped the gun.
Nafula says she held on to the attacker fiercely, pressing on his stomach, so he could not make a move. Her husband dashed to her aid and hit the attacker's arm, who by this time was trying to repossess the gun.
He managed to subdue him, but the thug eventually managed to escape from the scene after the couple snatched the gun from his hands. Police are yet to arrest the suspect.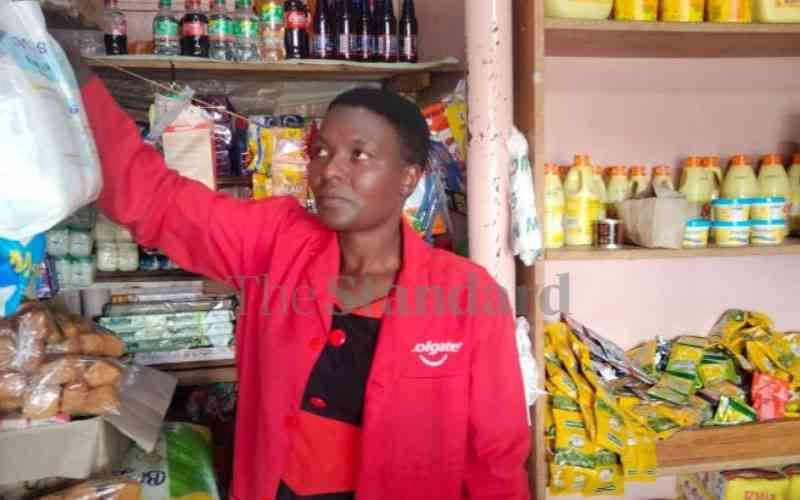 It was later established that the firearm, serial number 95070344, was violently stolen from a Kenya Prisons officer guarding a patient under arrest within the Kitale Level Four Hospital on April 18 this year.
Nafula says her husband praised her for the great courage she exhibited, saying she is a worthy wife.
Born and brought up by a single parent in Bikeke village, Kiminini sub-county, Nafula learnt early in life that she had to have strong determination to make it in life.
She schooled at Bikeke primary before proceeding to Bikeke mixed secondary school, which had just opened its doors, but it was a difficult task for her parent to pay school fees. As fate would have it, Nafula, who was the only girl in a family of four children, learnt how to endure difficulties in life.
"My brothers encouraged me to be strong and did not give me room to be lazy as their only sister. At times, we would fight hard and only for them to give up," she says.
At school, she was gifted with the art of poetry and athletics and participated in clubs, but stopped when she joined secondary school due to fewer activities in her school.
After secondary school, Nafula started working as an attendant at a community telephone booth in Kitale town in 2003 and would walk 10 kilometres to and from work.
"I would trek daily to save Sh100 I was paid as my day's wage and Sh20 meant for lunch," she says.
Nafula, who later volunteered as a behaviour change champion, says she was sacked in 2013, barely five years on, after falling pregnant.
Courtesy of a donor who spotted her potential while working for the Kitale Aids Program under the Catholic diocese of Kitale, Nafula pursued a diploma course in Human Resource Management.
She had wished to be a police officer and attempted recruitment several times but was unlucky. She later opened a retail shop in Kitale after failing to get formal employment.
Now a heroine in her own right, Nafula says her husband has finally accepted the prayer meetings she has been attending and has given her a green light to keep attending them.
Related Topics