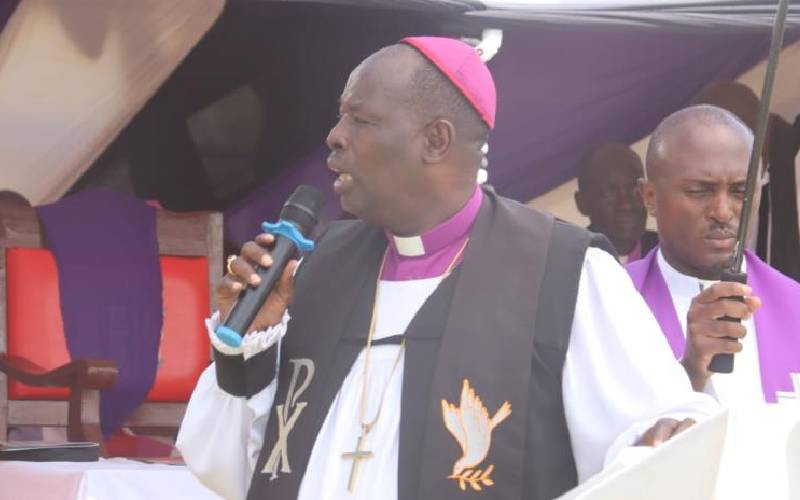 The Anglican Church of Kenya (ACK) has cautioned Christians to be wary of men of the cloth who propagate false doctrines.
Speaking at the burial of Mumias bishop emeritus Beneah Salala in Matungu constituency on Friday, ACK head Jackson ole Sapit regretted that the lack of knowledge was affecting hapless churchgoers.
"Look at Paul Makenzi who managed to use the Bible to dupe the masses into fasting with fatal consequences. Fasting is biblical but someone telling you to fast until you die can't resonate with any sound religious doctrine," he said.
He added: "I have as well learnt of a man called Yesu wa Tongaren who hails from Bungoma County. Ignore that man as he is an impersonator and misleads his followers. It's good to have some sanity in church."
The cleric challenged Christians to be vigilant so as not to fall prey to unsound teachings.
Sapit was speaking after Kakamega Deputy Governor Ayub Savula revealed the county lost at least nine people to the Kilifi-based Shakahola sect.
The deputy governor cautioned the locals to vet churches before joining them.
He also asked the government to vet churches so those with wayward doctrines are censured.
"With the massacre that occurred at Shakahola, it would be prudent for the State to deploy investigators to suspect churches so that our people don't continue to perish under false pastors," he said.
The Anglican head, at the same time, condemned the growing trend of LGBTQ+ in the country, terming it foreign and unbiblical.
"Going against the male and female union as demanded in the Bible is waywardness," he said.
Sapit eulogised Salala as a firm man who failed to clinch the Matungu MP seat because he was "too holy for politics".
"When he shared with me his political intention to vie for Matungu MP seat, I questioned him on how he would cope, for one had to be dirty to get into the dirty game," he said.
Related Topics