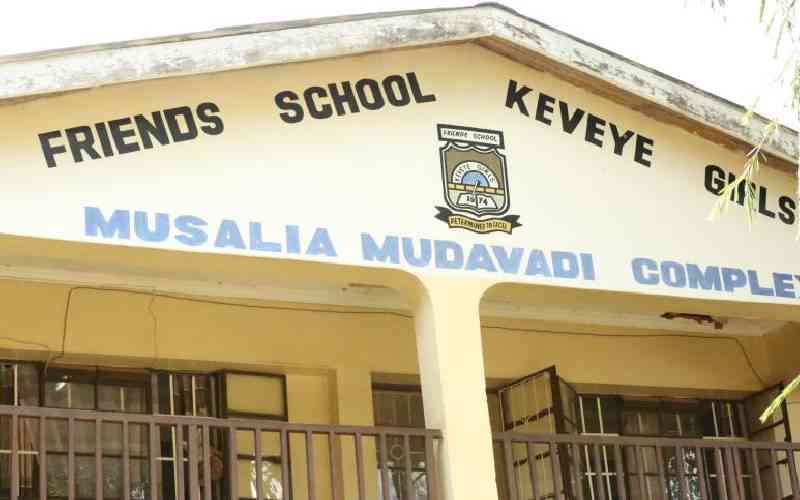 New Friends School Keveye Girls principal Violet Opala has taken over despite resistance.
Local politicians, the community and some members of the board of management of the school in Vihiga County had opposed Opala's transfer to the school over claims of a record of poor performance in her previous stations.
The Teachers Service Commission (TSC) transferred Opala to Keveye Girls, from Nyakach Girls High School in Kisumu County.
Ms Opala, who took over on Tuesday, replaces Christine Sifuna who, on May 11, was moved to Cardinal Otunga Girls High School in Bungoma in the same capacity.
Keveye Girls Board of Management (BoM) had threatened not to allow Opala to step foot in the school, also accusing her of being arrogant and reigning with an iron fist.
Political leadership
Local female political leadership, including the Chief Administrative Secretary for Environment and Climate Change Jackline Mwenesi and Vihiga nominated MCAs Venna Kaisha, were present to welcome Opala.
They assured the new principal of their support.
"We visited Keveye Girls High School to support the new principal who was initially rejected by selfish persons. It is clear that politics is being intertwined with education, which should not be the case," Mwenesi said.
Ms Mwenesi castigated local leaders who were against the posting of Opala to the Friends Church (Quakers) sponsored institution.
"We can't mix politics and education. That is why we are here to warn those who are meddling with this matter just to gain political mileage," Mwenesi said.
Among those who were castigated for unfair treatment of the new principal is Clement Sloya, the Sabatia MP, who a week ago led a group of board members to reject Ms Opala.
Local leadership
They claimed that TSC did not involve the local leadership when making the changes at the school.
Keveye Girls' board also accused Ms Opala of being arrogant and reigning with an iron fist.
Some stakeholders have however accused the board of being influenced by politics and condoning clan politics in the whole matter.
"Madam Opala posted a mean of 6.9 last year at Nyakach while at Keveye, we had a mean of 6.2. It makes no sense for those who opposed her over alleged poor performance. It is either they are focused on clan politics or they are corrupt and are afraid that Ms Opala will smoke them out because she is a good manager," said Mwenesi.
Ms Mwenesi urged politicians to focus on their mandate, which is to legislate and oversee the implementation of laws, instead of interfering with professional issues.
"As leaders, we should promote education and other critical sectors of the economy. We should avoid interfering with education, especially during the appointment of school principals and other education officials," Mwenesi said.
The CAS lauded the principal for her determination and commitment to her students citing the good performance she posted at Nyakach Girls and the increased enrollment of learners at the school during her tenure.
"Her story is a testament to the resilience of women leaders in our society. We must support them and ensure they get equal opportunities to serve in various leadership positions, including in the education sector," Mwenesi said.
Before transfer
Ms Opala served at Friends School Kaimosi Girls as a principal before he was transferred to Nyakach five years ago.
The principal, who also teaches Geography and CRE, was posted to the new station effective May 12, 2023.
Also castigated for not giving the new principal chance was the board of management chairman Mr Henry Kemoli. Kemoli had, together with the area MP, threaten to block Ms Opala from taking over.
"In our considered opinion that she would not serve the best interests of the school as currently programmed," said Kemoli in the previous interview.
When the media visited the school on Friday, Ms Opala was in class teaching. She did not address the media.
Related Topics