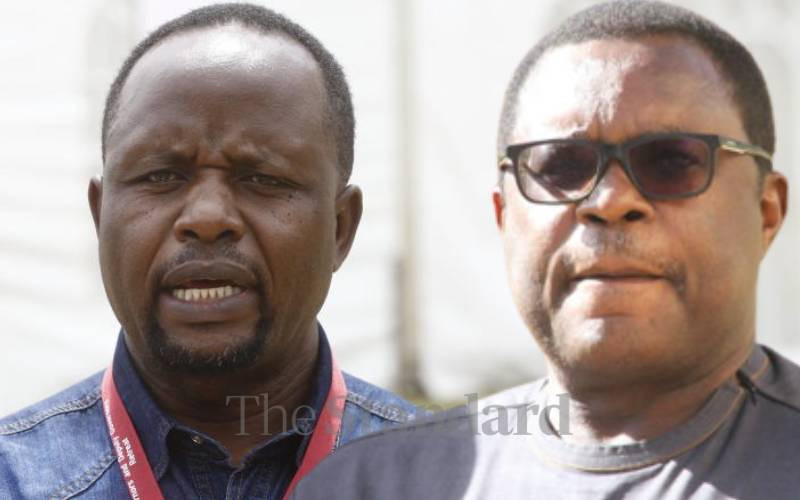 Bungoma and Trans Nzoia counties are fighting for the soul of Nzoia Water Services Company Limited (Nzowasco).
Trans Nzoia wants a 'divorce' by having Nzowasco de-clustered so that the devolved unit can run its own water supply company.
But Bungoma is against the 'divorce' as it would have to shut down the water company due to inadequate funds.
Nzowasco, strategically located along the Webuye-Malaba highway in Webuye Town, was established on February 4, 2004, through an Act of Parliament but came into full operation on February 9, 2005.
The government's mission was to supply the residents of the two counties with clean piped water.
The Standard has established that the conflict has been brought about by what residents of Trans Nzoia term unequal opportunities when it comes to employment, poor services and run-away corruption.
They also feel that they have been given a raw deal despite the fact that they contribute double the revenue the company gets from Bungoma County where Nzowasco is domiciled.
Trans Nzoia Governor George Natembeya has made it clear that the only way out is to part ways with Bungoma and establish their own water company.
Natembeya has maintained that to ensure everyone gets clean water in his county, Nzowasco must be de-clustered as opposed to depending on poor services from the water company where taps run dry for many months and still locals are charged standing charges.
"We pay Sh22 million in bills for using water supplied by Nzowasco and yet they collect a paltry Sh13 million from Bungoma. If we have our own water company, we will use this money to ensure everyone has access to clean water," said Natembeya
He went on: "We want to be independent and the Sh22 million going to Bungoma to come to us. It is inhumane to have all top managers at the company coming from Bungoma despite the company also collecting revenue from Trans Nzoia."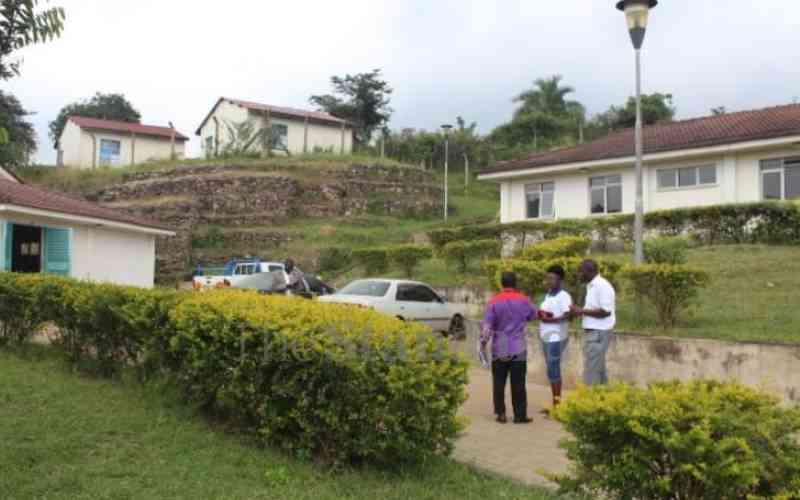 Bungoma Governor Ken Lusaka has been seeking a more amicable solution to the matter. Speaking to The Standard via phone Lusaka said that he is not opposed to the push by Trans Nzoia to de-cluster the water company but the process should not leave a bitter taste in the mouth
"Bungoma and Trans Nzoia are like twins from the same mother. We are by all accounts co-joined especially culturally" Lusaka said "I am open to the idea but the process should not be a bitter quarrel. We are still discussing the matter and will soon find a solution".
Lusaka said his government is already working with donors to develop the many water catchment points on Mt Elgon and therefore move away from what has been a long-time dependence on the Chereng'any water. For the last 19 years since its establishment, Nzowasco has had its main source of water in the neighbouring county Trans Nzoia.
For nearly two decades, everything moved like clockwork at Nzowasco but things went south between 2017-2022 after the change of top leadership at the company as well as the board of directors.
From breakage of pipes, and taps running dry to runaway corruption and nepotism when it comes to employment with top management allegedly employing kinsmen.
"The consumers of Nzowasco water are an unhappy lot. The biggest problem is the water supply. In case of breakage in pipes, it takes between 9-15 days to have them repaired. For the last six months, we have not seen a drop of water in the taps at our doorsteps yet we are slapped with standing charges of at least Sh350 per month," said a resident of Kiminini constituency who sought anonymity because he is a key stakeholder in Nzowasco.
He claimed that meter readers at the water company have also gone rogue and have now perfected the art of 'milking dry' unsuspecting consumers by confiscating their meters.
"The meter readers normally come when you are not around, they will confiscate your meter on claims of unpaid water bills. They don't return your meter until you bribe them."
He lamented that they have made several complaints to the management over the issue but no action has been taken.
Samuel Kiboi, the Chairperson of the Trans Nzoia County Government Workers Union said that for the last three months, they have not seen water in their taps and now have resorted to buying water that is hawked on the streets but at the end of the month, they pay Sh350 as standing charges.
"In Trans Nzoia, areas covered by Nzowasco have no water, when we make complains, they tell us to go to Webuye where Nzowasco headquarters sit, the Webuye office in turn tells you to go to Kitale."
Kiboi said that if they de-cluster Nzowasco, the Sh22 million they pay to Bungoma will be used to get water for the locals from Cherangany and Mt Elgon water catchment areas.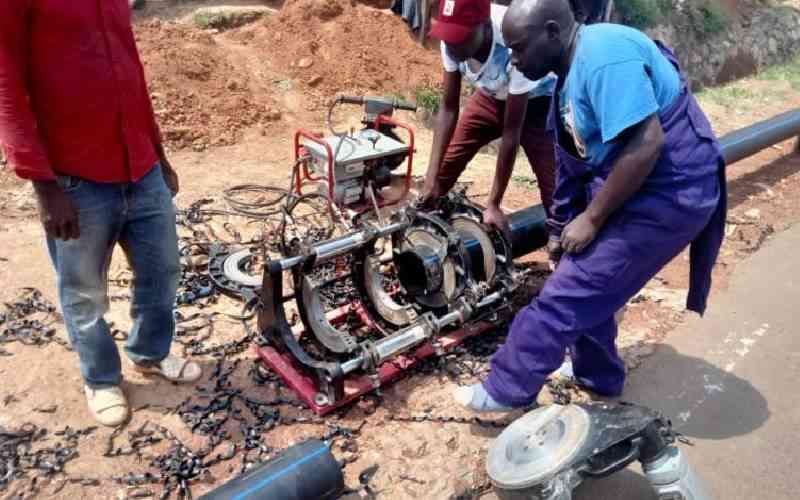 An employee of Nzowasco who sought anonymity claimed that Trans Nzoia is pushing for secession given that their people are not considered for top management jobs at the company.
"Senior management positions are given to people who are not from Bungoma or Trans Nzoia county but to the friends and relatives of the management. Some have employed their children who haven't finished school and are earning hefty salaries," claimed the employee.
He added: "We have more than 40 employees who we have worked with at Nzowasco for over 13 years but we have remained on contracts and on the same pay scale."
He claimed that the board of directors is hands-off when it comes to playing their oversight role in the running of the affairs of the company.
"The board members have been held at ransom. Those who try to have a contrary opinion to the decisions being made by the current management, are de - whipped and won't get any favours in future including not being invited to board meetings," said Wanyonyi
Philip Wekesa, a human rights activist said that some board members get paid allowances without attending meetings.
Mr Wekesa, the director of the Centre for Human Rights in Bungoma town said that some directors, especially in the previous board, would get Sh50,000 as allowances instead of the standard rate of Sh11,000 if the meetings are held in towns that haven't attained city status.
Investigations by The Standard established that a former senior employee at the County Assembly of Bungoma, a former Chief Officer from Trans Nzoia, current and former board of directors, the top management leadership and politicians all have relatives and friends employed at the company.
The Standard has established that a task force formed to look into mechanisms of de-clustering Nzowasco was unable to complete its mandate after the counties of Bungoma and Trans Nzoia in the previous regimes failed to provide funds to facilitate its work and no report came out.
Erick Wafula Mwangale, the Hospital ward rep and Trans Nzoia County Assembly Minority Leader said that the water company for the last five years has given them a raw deal. He has since moved a motion in the assembly for de-clustering Nzowasco.
According to Mwangale, Trans Nzoia is the major shareholder in the company controlling a stake of, at least, 61 per cent of its assets and liabilities but everything is micromanaged in Bungoma.
"Nzowasco must be dissolved so that Bungoma remains with their own company and as Trans Nzoia we get our own company. The process has taken too long but we are determined to be independent and free ourselves from the suffering meted on us by Nzowasco," said Mwangale
He went on: "When Nzowasco is dissolved, we demand that the company assets and liabilities be distributed equally. Let the Water Services Regulatory Board (WASREB) put in place plans to clear any pending bills for Bungoma and Trans Nzoia so that the company we are going to form doesn't kickstart her operations with huge bills."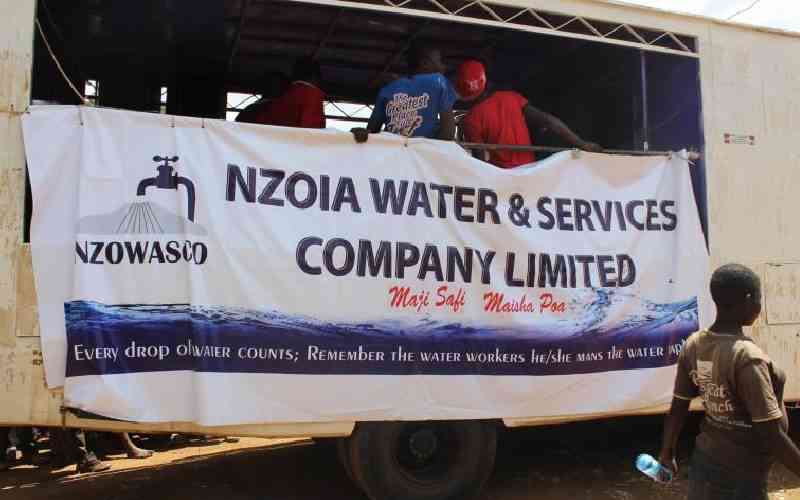 But Nzowasco Managing Director Mathew Maruti Wakhungu dismissed claims of the management employing their own relatives, friends and cronies, saying that the recruitment process is always above board in his letter to The Standard.
"The company has internal human resource recruitment mechanisms which are in compliance with the law and are fully adhered to. With regards to the recruitment of management, the same is done through a competitive process by the board of directors," said Maruti.
About the confiscation of meters by staff, Maruti said that no complaints had been registered to the management, arguing that if there's any evidence to that effect, they were willing to crack the whip as management.
The Nzowasco MD also denied claims that a section of the board of directors opposed to his style of leadership is normally not invited to board meetings. He, however, did not respond to claims of micro-managing the board by setting his own agenda and approving the same in board meetings.
"All Board members are officially invited to attend board meetings and attendance registersare duly signed. It is legally impossible to selectively invite some members to attendmeetings and leave out others," said Maruti
He added: "The board of directors makes decisions which are implemented by the management. The allegation on allowances to board members whose term has expired is unfounded,"
On Trans Nzoia seeking a divorce from Bungoma county when it comes to the provision of water by Nzowasco, Maruti said he has no authority to speak about the issues raised but rather it's a preserve of stakeholders.
"A task force to oversee the de-clustering of Nzowasco was formed by the stakeholders. Therefore, any matters regarding de-clustering can only be responded to by the stakeholders. With regards to the company revenue, this information is made public during the Annual General Meetings," said Maruti.
Related Topics