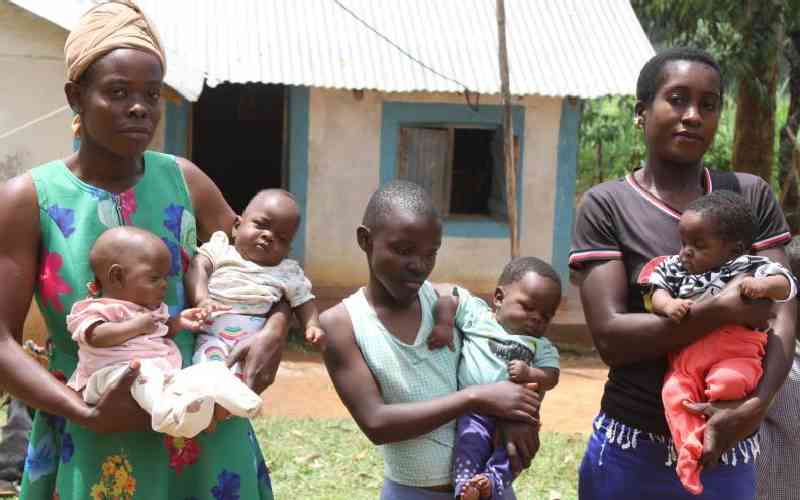 Alice Khasiala, 32, hurriedly hides her five-month-old quadruplets, all boys, inside her mud-walled house at Eshiahala village in Shinyalu, Kakamega County.
Her Luhya sub-tribe's cultural beliefs and norms forbid a woman who gives birth to twins, triplets, or quadruplets from allowing people to see her bundles of joy when they are below seven months.
"I wasn't expecting you; no one is allowed to see my sons. However, I will allow you to take photos from a distance," Khasiala says as she wraps one of her son's in a heavy warm piece of cloth.
The freshly-bathed newborns looked healthy and active, a sign of good care. They were weak and tiny when they were born in June at Kakamega County General Hospital.
Khasiala, who was mocked by relatives and friends for having only girls, was not sure her sons would survive.
Her community would have condemned them to death because it is a taboo for new mothers to give birth to twins or more children.
Such children would be killed or abandoned on the road far away from their mothers or given away to their uncles.
Fortunately for Khasiala, the quadruplets are the fourth born. She has three daughters. However, she cannot wish away the demand to keep the sons indoors from evil eyes and other misfortunes.
"It is a general communal rule that quadruplets cannot remain in the door; sometimes I have to dash inside our house with them whenever a visitor arrives without a prior appointment like was the case with you," says Khasiala.
"I will continue guarding them jealously in strict adherence to our cultural beliefs," says the mother of seven.
Nearly chased away
At one point, Khasiala was almost chased away because she could not give birth to boys.
"My relatives and friends used to mock me. In fact, they would tell me openly that I was carrying another girl. My husband was not happy; he badly wanted a boy child," she says.
She recalls when her husband told her that she would not be welcome home if she gave birth to a girl again during her fourth pregnancy. "I prayed to God silently to salvage my marriage and restore my dignity in society," she says.
When she developed a fever one morning, Khasiala never imagined she had conceived: "I thought it was malaria. I visited Kakamega County Hospital where a doctor broke the news to me that I was carrying quadruplets - all boys."
"I couldn't believe what I was told. I was weak and the doctor advised me to stay in the hospital for a while as they observed my condition for at least three weeks. I broke the news to my husband and he happily travelled from Bungoma to take care of me and our unborn sons at the hospital."
She says giving birth to boys saved her marriage: "I'm no longer the laughing stock in our village and community. My marriage has also grown stronger."
Her husband Oscar Makaka admits that pressure from relatives and the community was too much to bear.
"I came to accept that it is God who gives children, but things were not easy especially for me as a man because the community expects me to have a boy child."
The 37-year-old says pressure from the community brought conflict between him and the wife.
He says when he was informed that his wife had given birth to four sons, he was felt relieved from the mockery he had suffered.
"It was indeed a blessing and I thank God things are better. We are now at peace with my wife and things look rosy with the super blessings of the four boys," he says.
Makaka says they have kept the children indoors in line with Luhya customs to avoid people with "evil" eyes.
Some villagers have been peddling rumours that Khasiala might have lost her sons or sold them because they have never seen them since she left the hospital.
Judith Alara, a villager, says Khasalia was lucky as the birth of her sons has saved er marriage. "We thank the community for embracing the quadruplets; elsewhere, they would have been taken away from her," she says.
"Taking the children away from their mother was a form of cleansing that would help exorcise bad spirits but we thank God the belief is slowly fading away with time. However, keeping the babies indoors is not debatable."
Related Topics