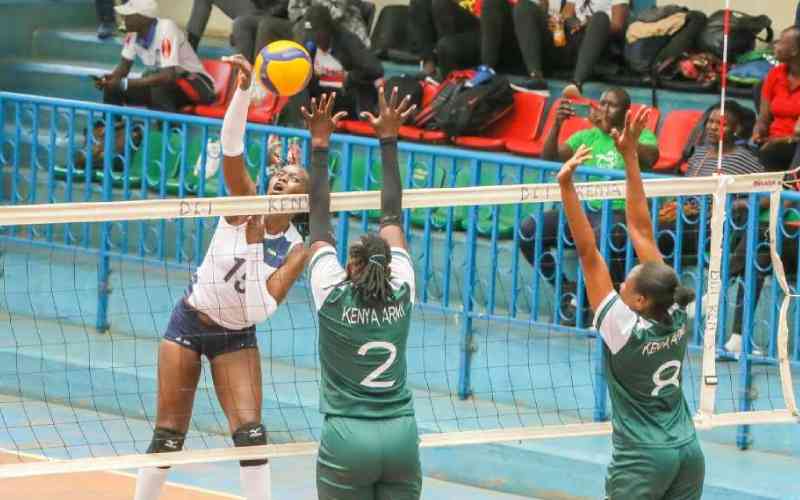 Last year's African Club Champions KCB hammered Kenya Army 3-0 in the Kenya Volleyball Federation (KVF) League fixture at the Nyayo Stadium this afternoon.
The bankers defeated their opponents by sets of (25-10), (25-13) and (25-7) to maintain their winning streak in the local league ahead of the playoffs scheduled for later this month.
KCB coach Japeth Munala handed youngsters Elizabeth Lemosiany and Pauline Chepkemoi starting spots in the 5th leg of the KVF league.
Malkia Striker's captain Mercy Moim, Juliana Namutira, Esther Mutinda, Belinda Barasa and Lincy Jeruto also started in the first set.
"We are keen on reclaiming the national title which has eluded us for a long-time. Today, I had an opportunity to give the youngsters and those players who did not participate in the national team a platform to showcase their skills and talents.
"I am happy because they have delivered and we are looking forward to finishing on the top spot ahead of the playoffs," said Munala.
Maria Musa, who has been a key player in the Munala-led side once again proved her class by sending powerful shots to earn KCB massive points in the second set.
Munala also rotated his squad with players like Magdalene Mwende, Juliana Namutira, and Edith Wisa joining the party in what seemed to be a one-sided affair in the three sets.
"I call upon my players to play better tomorrow, to give their all because we want to lead as the playoffs edge closer. We will make some tactical changes depending on the opponent's game plan."
The bankers will be eyeing a strong finish to the league phase of the season on Wednesday as they clash with Vihiga and Nairobi Water before the much-anticipated playoffs.
Related Topics