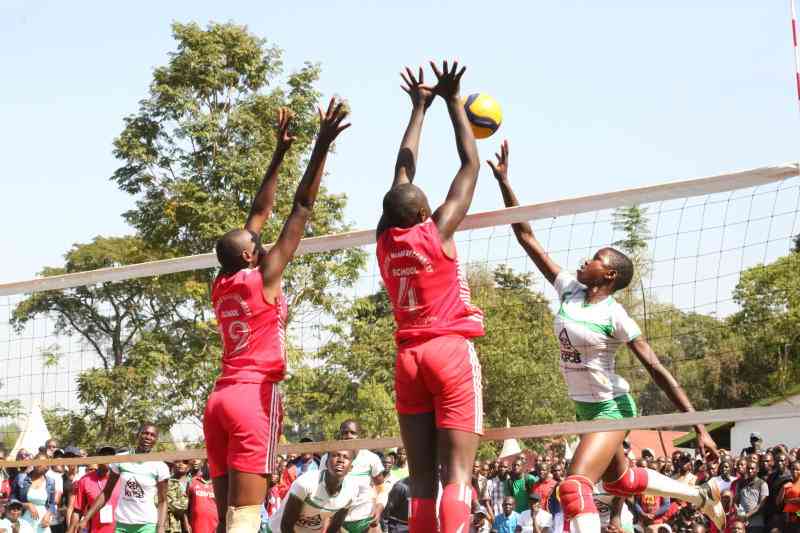 Kwanthanze and Namwela secondary schools were on Sunday crowned East Africa girls and boys volleyball champions.
The Kenyan boys and girls achieved the feat as this year's Federation of East Africa Secondary Sports Association games ended in Huye, Rwanda yesterday.
Wounded from their national loss to Kesogon, Kwanthanze put up a spirited fight to down Kesogon and retain their title.
Namwela on the other hand shook off the underdogs tag to beat Uganda's Namugongo Vocational College 3-1 and win their maiden regional title and ensure that the title returns to Kenya.
Namwela captain Steve Baraka said that last year they had carried home valuable lessons that propelled them to this year's victory.
"Last year we never made it to the knockouts but we didn't leave empty handed because the lessons we learned made us better. We were determined to make our return count and I'm glad we surpassed our expectations," Baraka said.
He added that settling in the match early gave them an edge over their opponents who were equally good.
"We had a good start and settled in the game despite our opponents snatching the second set. Our confidence grew with the immense support we were getting from Kenyans as they rallied us all the way to match point," he said.
The first and second sets were tightly contest with Namwela taking the first 27-26, Namugongo snatched the second 26-24.
Namwela would take the third and fourth sets 25-17 and 25-12 to the joy of Kenyans who broke into song and dance to celebrate the victory.
In the girls final, it was sweet revenge for Kwanthanze who fought from behind a number of times to retain their title in a five-set thriller.
Kesogon looked like the stronger side taking the first set 25-23 as fairly a younger Kwanthanze side comprising mostly of form one and two students struggled making some unforced errors.
They bounced back to take the second set 25-21 to level matters. Kesogon would snatch the third set 25-18 before Kwanzanthe leveled matters again 25-23 to set the stage for the tie break which saw Kwanzanthe outpace Kesogon to seal their seventh East Africa crown 15-13.
Kwanthanze coach Justine Kigwari was full of praise for his charges for the show of resilience.
"It was not an easy match and the girls played very well, they are new to the big stage but they fought tooth and nail to ensure that they don't loss the trophy," Kigwari said
Related Topics