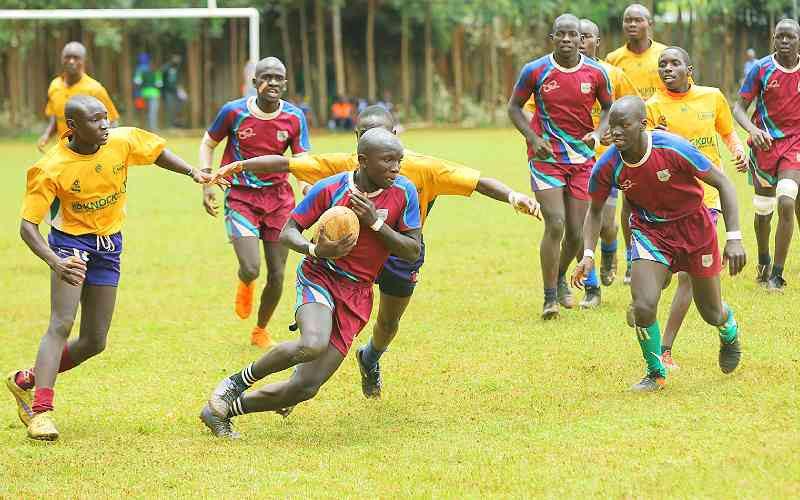 Last year's Kenya Secondary School games was full of surprises as little-unknown schools rose higher to be crowned champions.
Well, the rise of new champions seemed to have awaken the sleeping giants who dominated the county Term One games across the country.
From Kisumu to Mombasa, Kilifi to Trans Nzoia, Nakuru to Homa Bay, Meru to Siaya, Makueni to Kisii, among others, the top guns worked their way back to the top ahead of the regional games that are set for April 4-8.
In basketball, national boys and girls champions Dr Aggrey and Kaya Tiwi led the big shots in qualifying for the regional games.
In fact, Kaya Tiwi made a statement performance in Kwale County by winning four titles.
The school retained both boys and girls' basketball titles, before completing another double in boys and girls' handball.
In Machakos, Lukenya School defended boys' basketball title, while Muthetheni run away with the girls' trophy.
In Makueni, Mbooni Boys won in basketball, with Barazani winning the girls' title.
Onjiko and Nyakach won basketball crowns in Kisumu as Usenge and Barchando Girls took home the crowns in the Siaya games. Sinoko Boys and St Jospeh Girls Kitale won basketball titles in Trans Nzoia County.
In hockey, Nyamira Girls won the Siaya County secondary schools hockey title for a record eighth consecutive time on Saturday at St Mary's Yala, which hosted the Term One county games.
Nyamira won all their round-robin matches against Ng'iya Girls (4-0), Lwak Girls (6-0), Mbaga Girls (3-0) and Nyawara Girls (5-0).
"We want to win the Nyanza Regional title for the third consecutive year. That was our first goal of the year and I am happy we are just one step away," said Nyamira captain Vivian Akinyi.
"The county games provided us with the opportunity to gauge ourselves considering we played against lower sides at the sub county level. The job is not yet done for us though, since we want to be Kenyan hockey champions."
St Mary's Yala also sailed through in hockey after edging out Sawagongo High School.
In Kisumu, five-time East Africa champions Sinyolo Girls and Maseno School emerged tops.
Sinyolo Girls retained their title after seeing of Kisumu Girls 3-0 in penalty strokes after their match ended 1-1 in regular time.
On the other hand, Nyanza regional champions Kisumu Day lost their county title to Maseno School who edged them 2-1, also in penalty strokes after the match ended 0-0.
In Trans Nzoia County, St Joseph Kitale Girls reclaimed the county hockey title after five years when they saw of St Mark's Girls 1-0 in the final.
National girls hockey champions Trans Nzoia Mixed were knocked out in the sub-county level.
National boys hockey champions St Anthony's Boys Kitale also progressed to the regionals after retaining their title when they defeated Bwake Secondary 2-1.
In Migori County, Agenga Mixed and Kanyawanga Secondary will represent the county in the regionals as Ringa Boys and Andigo Girls fly Homa Bay County's flag at the games.
Kwale High and Matuga Girls went home with the boys and girls hockey trophies respectively
Related Topics