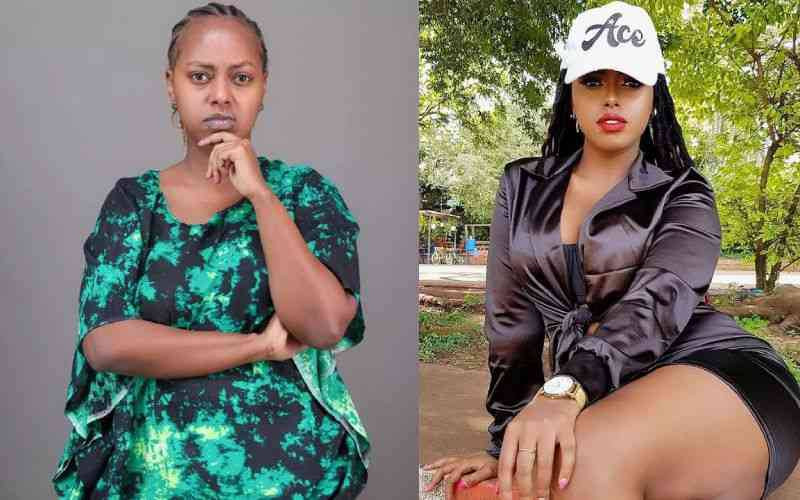 You are an actress, model and entrepreneur. Tell us about this woman that wears many hats.
Well, Aicy is an actress, content creator, digital marketing influencer and entrepreneur. I am also a commercial model. Every day, I do different things. On a normal day I get up at 5 am, do my morning run then catch up with the day's events. Often, I start with a quick brainstorming session with my team before delving into the day's schedule.
How did you venture into the acting scene?
In 2018, I discovered that I could act. It all started when I gave it a try in the web series, Bedsitter Chronicles, where I starred as a jealous girlfriend. With help from that talented team, I gained popularity. That gave me reason to continue.
You have been doing skits with Nick Kwach for years. When did you consider it a breakthrough?
Indeed, it has been four years of doing skits with him. Together, we have experimented with many characters and honed our skill set. A lot of what we do has seen us having fun with ideas; we are glad that others chose to share in the fun. As time went by, we would find our fans sharing our content everywhere, and that made us happy. We are thankful for the endless love they always show us. The number of our fans has tremendously grown over the past few years.
You seem to have perfected Mama Ryan's drama...
I always do that skit with passion. Before we shoot, I have to detach my soft character and wear Mama Ryan's persona. It is all about being the character you play, instead of playing it. A lot goes into studying the particular roles well, in a way that you just ooze life into that character.
Are there fans who believe that you and Nick have a thing?
You have no idea... We have heard all sorts of rumours going around. Our fans believe all sorts of things, some fascinating. It is hard to convince someone that it is just a skit, but we do not even get room to explain. The fact is that we are just onscreen lovers, the rest is but rumours.
What is it like being a content creator?
The evolution of content creation in business marketing strategies is a full-time job. Content creating requires new strategies coming up daily - you have to match up or you are out of business. It needs a lot of discipline, commitment and consistency. Whenever I feel like quitting, I remind myself of the end goal. I felt like giving up a couple of times, but I am glad I did not.
After Mama Ryan, will you take up another role?
Something much better is coming up. A YouTube series, Mtafraaaaia is about to be released. I won't disclose more details about it, but it is going to drop soon.
What would you like to be remembered for?
I have a heart for charity, and I believe in the course because I love giving back to society. I started the Aicy Stevens charity drive at the beginning of the year, and the next one is coming soon.
Related Topics