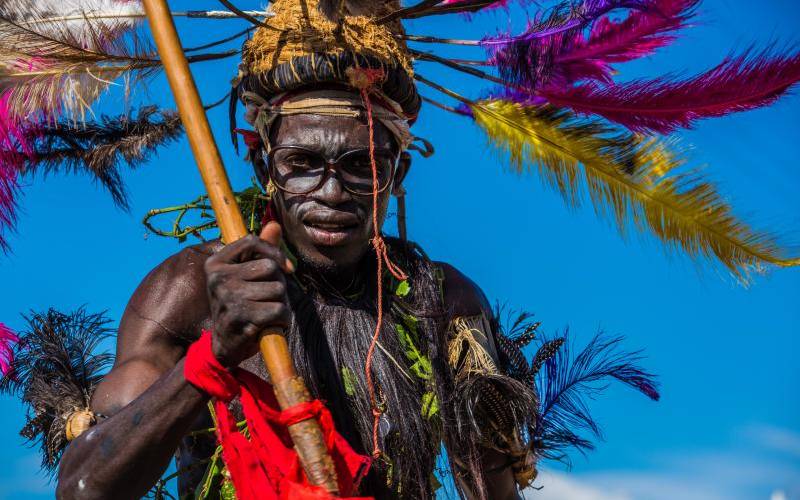 A popular Luo song, Adhiambo Sianda by musician Dola Kabarry compliments a woman named Adhiambo for her robust and shapely hips. Sianda is Dholuo for the backside. Culturally among the Nilotic community living on the shoulders of Lake Victoria, the shape and size of a woman's hips are key to female attraction and beauty.
Many musicians, including the late Benga giant Okach Biggy, composed songs extolling women with voluptuous figures.
Dr Malachi Fortune Apudo Ochola, who teaches music and culture at Maseno, describes culture as the sum total of a people's way of life from birth until death. He says there is as much of it as there are people in this world, hence its immense influence on music and other facets of life. Dr Ochola puts language at the core of culture.
"It is on this fulcrum of culture that music has flourished down the ages the world over," says Dr Ochola, a Cambridge Commonwealth scholar, giving the example of Lingala, a Congolese dialect that has contributed vastly to the popularity of African music. He says music often serves as a medium to teach language.
Dr Ochola says culture and the music that oscillates from it starts right from birth and runs through childhood, puberty, adulthood and death.
"Across communities globally, songs were on hand to celebrate the birth of a child, initiation into adulthood, marriage and death, all the stages steeped in culture," says Dr Ochola.
He says midwives among the Luo community composed songs to thank the gods for safely pulling the mother through the delivery ordeal to take care of the newborn, whose health would be greatly compromised in case she died.
Mothers also composed lullabies (cradle songs) to lull their babies to sleep and even had songs tailored for smooth breastfeeding and washing of their babies.
Puberty was accompanied by cultural rites of passage that varied from community to community, among them the now forfeited removal of six lower teeth by the Luo, male circumcision and female genital mutilation by many pastoral communities.
All these had bespoke songs meant to educate the initiates on their heritage and responsibilities society expected of them going forward, explains Dr Ochola, citing isukuti and drumming among the Luhya.
"There are songs to discourage and denigrate cowardice at initiation as a disgrace to themselves and their families, and those to laud and dignify bravery for the humor it engenders.
"It was at puberty that warrior songs extolling virtues of cultures hinged on bravery such as cattle rustling and the killing of a lion by the Maasai, which thrived among pastoral communities," says Dr Ochola.
"Freshly initiated young girls in the Luo community would sing and perform a dance known as dudu, that involved showing off their natural physical endowments such as hips, thighs and breasts while dressed in ochre-coloured sisal reeds to attract men. Dr Ochola constructs dudu as a graceful dance that philosophically was wrought with a lot of meaning.
"Young men on their part performed ramogi dance symbolic of activities that required them to be strong, muscular and courageous such as fishing in stormy and tempestuous waters to feed their families," states Dr Ochola.
He says the dance accompanied by music involved shaking of shoulders (otenga) and was performed bare-breasted to flaunt muscles they required to row fishing boats before the advent of engines. The final bow had its fair share of culture and music to symbolically honour or denigrate the dead depending on how the person lived his or her life.
Flashy cultural attributes such as the age-old tero buru that involved running with animals for long distances and spearing imaginary enemies were reserved for icons as happened during the burial of Jaramogi Oginga Odinga in 1994. Participants included his illustrious sons, Dr Oburu Oginga and his younger brother, former Prime Minister Raila Amolo Odinga.
Besides tero buru, death as the final phase in life engenders lots of music amongst the Luo, and status in society dictated how much music a dead person would command, says Dr Ochola.
Related Topics